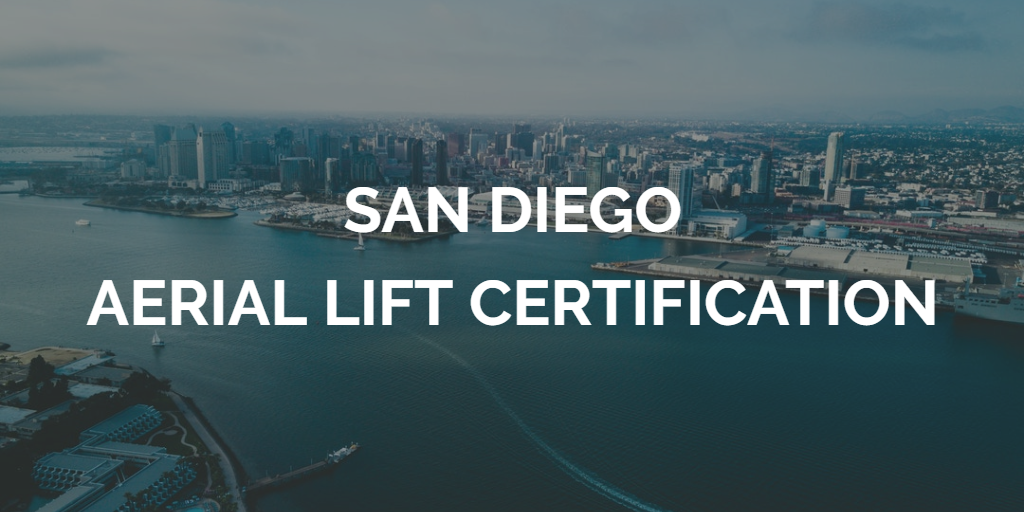 Known by locals as "America's Finest City", San Diego is one of North America's fastest growing cities. Famous for its sunshine, beaches and outdoor recreational activities, this city of 1.4 million people is among the ten most highly populated cities in the country, and in California is second only to Los Angeles in the total number of inhabitants. With its busy port and many dockyards, warehouses, construction companies and manufacturing facilities, the city has one of the hottest job markets in Southern California. Properly trained and certified aerial lift and scissor lift operators are always in demand.
There are plenty of public and private sector job opportunities in San Diego for properly trained and certified aerial lift operators, scissor lift operators and other aerial work platform (AWP) employees. Companies that regularly hire skilled equipment operators include Qualcomm, Sempra Energy, General Dynamics NASSCO, General Atomics, the U.S. Navy and the U.S. Marine Corps. Because of San Diego's great weather, aerial lift operators who work in construction and other outdoor jobs can look forward to steady year-round employment.

San Diego employers demand and expect only the best candidates for their job openings, and this is especially true when it comes to aerial lift and scissor lift operators. Fines and penalties from non-compliance with OSHA regulations can result in hefty fines and other penalties being imposed upon employers, so companies want scissor lift and aerial lift operators who have been properly trained and certified.
CertifyMeOnline.net's scissor lift and aerial lift training will give you a big advantage in landing a good job in San Diego. Our San Diego aerial lift training and certification program contains the most comprehensive content found in any AWP training program anywhere. Once you've completed our training, you'll be prepared for a hands-on evaluation of your operator skills, which leads to the issuance of your aerial lift operator's card. A great career as an aerial lift or scissor lift operator job in San Diego begins with CMO training and certification, so it makes sense to start today on your way to an exciting and rewarding new career!
Why San Diego Aerial Lift Certification?
Because aerial lifts and scissor lifts are being used so extensively throughout San Diego for a variety of indoor and outdoor activities, it's important that lift operators are trained in operator safety protocols. Untrained and uncertified workers lack the knowledge and skills needed to recognize and avoid workplace hazards that can result in accidents leading to injury and even death of workers, nearby pedestrians and passing motorists. Responsible employers won't hire workers who haven't received San Diego aerial lift and scissor lift certifications because they're unwilling to run the risk of workplace accidents or being fined by OSHA.
CMO's aerial lift certification in San Diego provides a number of benefits for both employers and employees. For companies that hire aerial lift and scissor lift operators, our training limits the employer's exposure to citations, fines and even litigation by reducing the possibility of workplace accidents. CMO's lift operator training also gives the business's safety supervisor the peace of mind that comes with knowing their workforce is OSHA compliant. For lift operators searching for jobs, our aerial lift operator training and certification in San Diego is the ultimate addition to their résumés – it's just the kind of information business owners love to see!
The Types of Aerial Lift and Scissor Lift Certification You Need in San Diego
With the huge demand for aerial lift operators in San Diego, there's also intense competition for the best jobs. If you want to stand out from other applicants and land your dream career position, you'll need the best possible aerial lift certification available in San Diego. Be sure the program you choose complies with all OSHA standards and regulations, combines video and written instruction and provides the paperwork needed for the required hands-on lift operator evaluation.
CertifyMeOnline is the leader in San Diego OSHA-approved online aerial lift training. We offer an easy five step process that will bring your workforce up to speed on the latest OSHA safety requirements, policies and procedures. We offer scissor lift certification, aerial lift training and more for businesses and employees in the San Diego area.

Aerial Lift Job Opportunities in San Diego
Aerial lift job opportunities in San Diego are virtually everywhere. These include aerial lift and scissor lift operators, aerial lift mechanics, retail center workers, overhead lighting workers, sign installers, window washers and window installers, HVAC system installers and repairers, arborists, aircraft workers, special events workers and more – the list goes on and on!. Some of the companies that offer exciting opportunities for trained aerial lift and scissor lift operators in San Diego include Berry Aviation Inc, Venture Dynamics, Arborwell Inc, and AccuFleet. Increase your chances of working at these and other great companies by getting your aerial lift certification in San Diego.
CMO Offers the Best San Diego Aerial and Scissor Lift Certifications Available
Aerial and scissor lift certification in San Diego doesn't need to cost employers a fortune when they choose CertifyMeOnline.net.  For the amazingly affordable price of $75 per operator, your workers will receive all the necessary training, certifications and paperwork to ensure compliance with OSHA regulations and help reduce the risks of workplace accidents and injuries. You can also rest assured knowing your business is covered in the event of a safety audit.
OSHA investigations can cost San Diego businesses literally thousands of dollars in penalties, fines and legal expenses. We believe it's better to take actions that help to avoid accidents before they occur. But even if accidents do happen, having proof of CertifyMeOnline certification on hand can be a great defense against potential legal action and other negative consequences.
CMO also offers in-depth fall protection training courses that incorporate all the latest OSHA guidelines. Your employees will gain invaluable knowledge with the most advanced harnessing techniques and other safety procedures. San Diego aerial lift and scissor lift certification, fall protection training and more – CertifyMeOnline.net is truly the proven leader and one-stop source for all your operator certification and safety training needs.
For more information on CMO's aerial lift and scissor lift operator training and certification programs in San Diego, contact us online today or call us at 602-277-0615 to speak with one of our training specialists. We look forward to working with you!