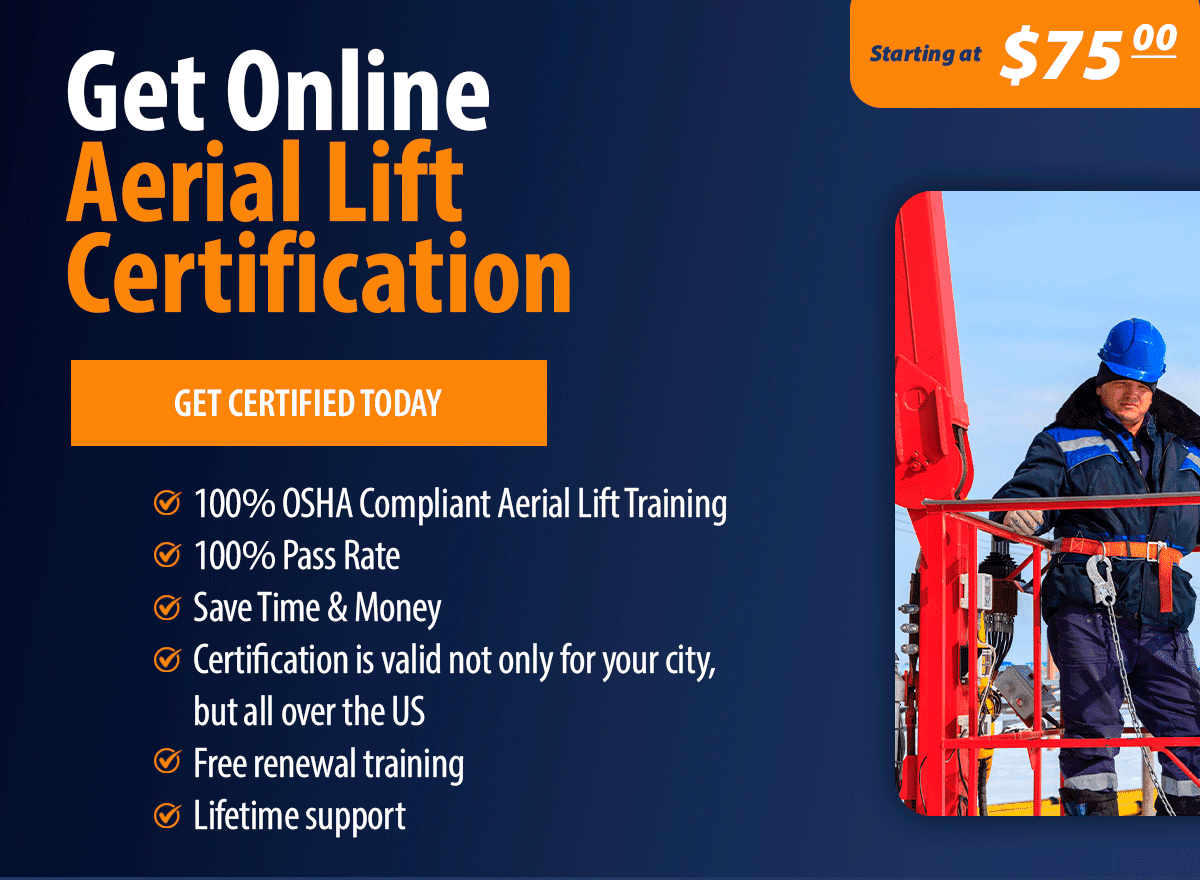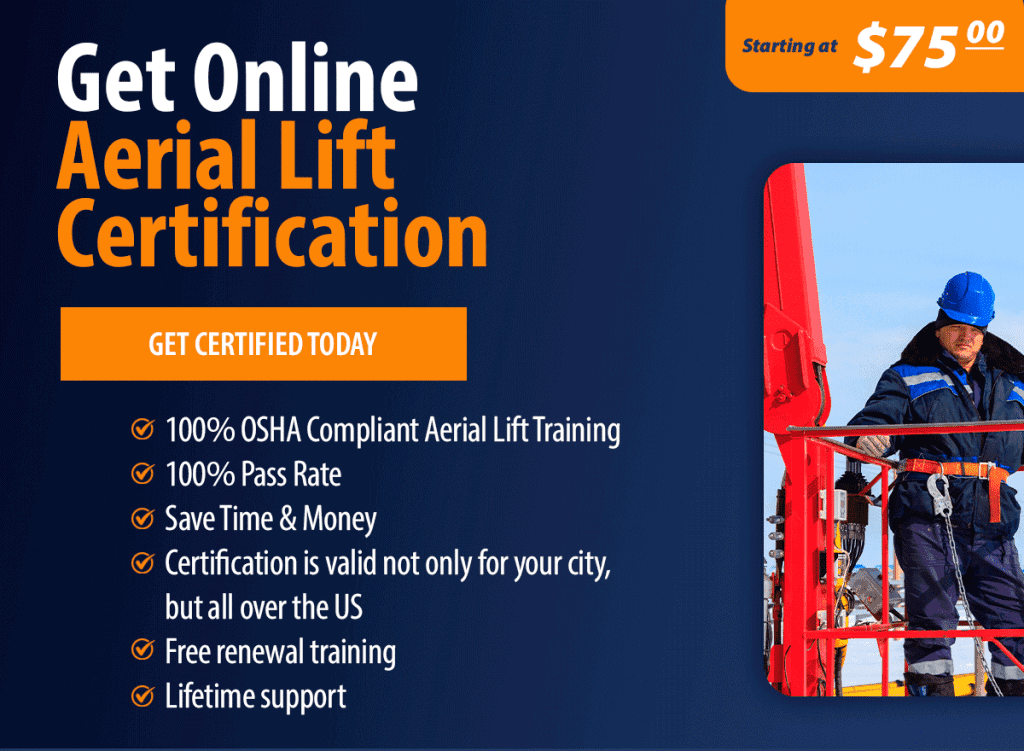 The internet has completely changed how we learn for jobs. You don't need to go in person for aerial lift certification in San Diego anymore. You can do the certification online.
CertifyMeOnline offers easy training choices for all kinds of businesses and jobs. Our online training lets you become certified to use aerial lifts in California and anywhere else in the country. You can pick from different training options:
Train the Trainer
Are you eager to invest in your organization's safety program? Select employees to become trainers for just $149. The class will teach them how to train new forklift operators and create the strongest in-house safety culture possible.
Aerial Lift Training
The ease of online aerial lift training can't be undervalued. In about 60 minutes, online learners can discover how to use lifts, prevent incidents, and follow safety best practices. At just $75, the value is another fantastic feature of our online training offers. 
Scissor Lift Training
Scissor lift operators can also get trained and certified online. Trainees will learn scissor lift operation fundamentals and how to maintain them for your business. This online scissor lift training course is an excellent investment in your organization's culture of safety, priced at an affordable $75.
Class 7 Aerial Lift Training
Class 7 aerial lift training includes everything from rough terrain forklift trucks to straight mast lifts and extended reach forklifts. These machines' safe and effective operation boils down to high-quality training.
Fall Protection Training
Fall Protection Training is perhaps the best investment you can make in your organization's workplace safety. Trainees can learn to prevent accidents and keep in line with OSHA requirements. Education can go a long way to creating a safe place to work.

How Online Aerial Lift Certification in San Diego Works
Instead of wasting valuable time and money on classroom training, get certified online instead. CMO courses allow learners to access courses anywhere and complete the material on their timeline. Our courses make it easy to train on the go. Aerial lift training in San Diego is easy – follow these steps, and you'll be certified before you know it:
Register Learners: Employers should sign up any trainees who need aerial lift training and certification.
Select Courses: Choose from a wide range of course options.
Finish Online Learning: Most trainees finish the coursework in about an hour.
Pass the Online Test: Learners may take the exam as often as needed to earn a passing score.
Undergo a Hands-On Test: An on-site employee of your organization must conduct a hands-on evaluation for trainees. Don't have someone in mind for the job? Our Train the Trainer course is the best way to teach an employee to oversee all future training.
Print Proof of Training: After completing the previous steps, certification cards will be ready to be printed and kept in personnel files.
Once training is done and the written and hands-on evaluations are passed, operators will be officially recognized as fully trained and certified to OSHA safety standards.
Why Choose CMO for San Diego Aerial Lift Certification
Seeking your San Diego aerial lift certification online lets you learn much about common workplace hazards. Employing certified operators can dramatically reduce the risk of workplace accidents. Our training helps your company align with OSHA regulations, preventing expensive fines. Other reasons to train with CMO include:
✓

24/7 Online Availability: Train whenever and wherever is most convenient for your busy lifestyle.

✓

Quick and Easy: Most people complete the class in about an hour.

✓

Instant Proof of Certification: You can print off certification cards as soon as training is finished. 

✓

Free Lifetime Renewals: Aerial lift operators must recertify every three years to stay OSHA compliant. CMO members enjoy a lifetime of free renewal training.

✓

Undeniable Value: Our courses are fairly priced and typically run just a fraction of what classroom training costs.
Our courses come with a 100 percent money-back guarantee. 

Frequently Asked Questions About Certify Me Online in San Diego
Do you still have questions about how to get aerial lift certified in San Diego? Here are the answers to a few of our most frequently asked questions:
Do I Need to be Aerial Lift Certified to Work in San Diego?
Yes, all aerial lift operators must be certified before using aerial lifts.
Do I Need Experience to Start Training?
Experience is optional for San Diego aerial lift certification training.
Are Aerial Lifts Really That Dangerous?
They can be very dangerous, particularly in the hands of untrained workers. Serious accidents in San Diego highlight the risks involved with using such tools.

Sign Up for Aerial Lift Training in San Diego, CA Today!
You can afford the cost of non-compliance. Why wait to get the best aerial lift and scissor lift certification in San Diego? Enroll your lift workers in CMO's San Diego aerial lift certification and training program and they can be certified in as little as one hour!
For more information, contact us online or call us at 602-277-0615 to speak with a CMO team member. We're here to help you get started on the road to fewer accidents, a safer, more productive workforce, and complete compliance with OSHA aerial lift regulations. Thanks for considering CMO for your San Diego aerial lift certification! We look forward to helping your company become a safer place for everyone today! Don't delay any longer – CMO is here to help whenever you're ready to go!