Complete Easy, Online, OSHA-Compliant Aerial Lift Certification in an Hour or Less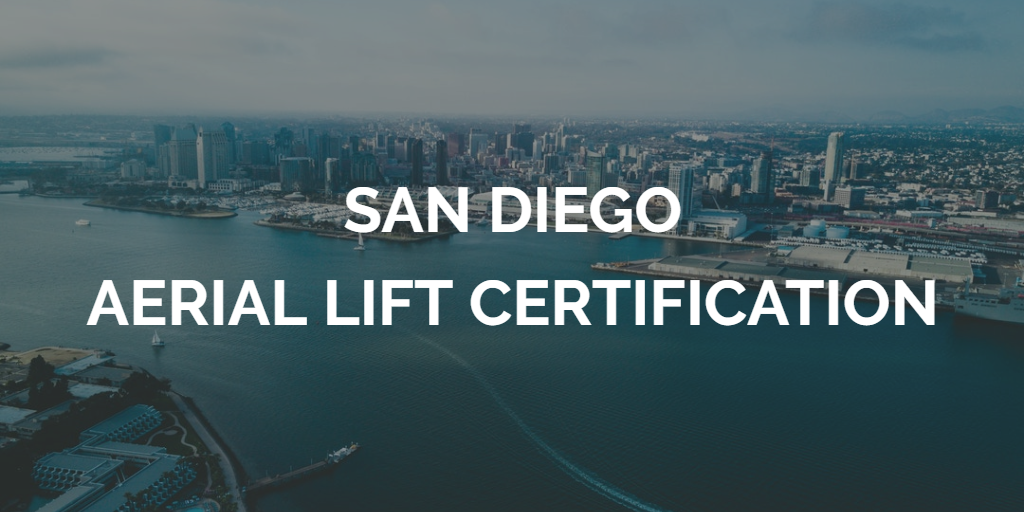 San Diego is one of the fastest-growing cities in the U.S. This means the demand for skilled aerial and scissor lift workers is always high – but only if they have their San Diego aerial lift certification. The mild climate allows for ongoing building projects all year round. Plus, large companies like Qualcomm, Sempra Energy, General Dynamics, and NASSCO (ship repair) are always looking for aerial workers. As a result, the demand for this skill is not likely to abate any time soon.
CMO helps keep your aerial lift workforce trained and certified with our online, OSHA-approved aerial lift certification in San Diego courses. These programs meet all OSHA guidelines for aerial and scissor lift training. They also provide many long-term benefits, including:
✓ Lifetime support
✓ Documentation support in case of an OSHA audit
✓ Free renewal training
✓ And more
Browse our course catalog to choose the San Diego aerial lift certification courses you need. Then enroll your aerial lift workers to ensure that your company is compliant with OSHA regulations. The training is fast, comprehensive, and affordable. It is also designed to teach your lift workers how to safely operate both scissor and boom lifts. If you're worried about the cost, you may be surprised to learn that it costs less than you think!
Sign up for Aerial Lift Certification in San Diego Today!

Protect Your Employees and Your Business With San Diego Aerial Lift Certification
OSHA requires anyone operating a scissor or aerial lift to be trained and certified. If you're an employer, this mandate can put your business at risk of costly fines. Worse, untrained lift workers are more likely to be involved in accidents on the job. These can often result in injury or death, which can lead to OSHA fines as well as workers' comp costs and expensive lawsuits. Suffering a serious injury or death due to lack of training can also ruin your company's reputation and increase insurance costs.
That's why San Diego aerial lift certification can't be ignored. It keeps your business compliant with OSHA guidelines. It reduces the chances of accidents, while creating a more productive workforce. Most of all, it keeps your employees and your business safe by making sure all lift workers have the training they need.
If you think aerial lift certification San Diego takes too much time or costs too much, check out online training from CertifyMeOnline.net. Our course fees are very affordable. And because the training is offered online, it can be taken anywhere you have an Internet connection. This eliminates the travel or hotel costs associated with off-site training.
Why You Need Aerial Lift Certification In San Diego
Aerial lift accidents happen every day in the U.S. Some of them are minor. Some of them are fatal. The best way to prevent these tragedies is to ensure all your lift operators have their San Diego aerial lift certifications. As an employer, you are responsible for making sure your lift workers are certified. Failure to provide the training exposes your business to large penalties and fines.
It's easy to think that serious accidents won't happen in your business; that they always happen to someone else. But consider the results of a survey recently conducted by CMO. We polled more than 100 companies that use aerial lifts, and the results surprised us. More than half (51%) of participants reported that OSHA had audited their safety plan. Eighty-two percent said they had paid an OSHA fine. Half of those fines cost more than $100,000!
Smart employers don't use lift workers without aerial lift certification in San Diego. Being certified offers benefits to your employees as well. Having a San Diego aerial lift certification allows them to:
✓ Qualify for better and higher-paying jobs
✓ Advance in their careers
✓ Stay safe on the job
If you use aerial lifts, CMO's aerial lift certification in San Diego should be a part of how your business operates. Our training limits your exposure to OSHA fines. It can prevent costly lawsuits by reducing the chances of workplace accidents. CMO's lift worker training also gives you and your safety supervisor the peace of mind that comes with knowing your workforce is OSHA compliant.
The Easy Way to Provide Aerial Lift Certification San Diego For Your Employees
These days, time is money. CMO's San Diego aerial lift certification helps you save on both with flexible options for completing the training.
✓ Workers don't have to travel to take the training courses.
✓ They can take the training on-site or anywhere they have an Internet connection.
✓ Workers can finish the coursework at their own pace.
With CMO, your workers can get their aerial lift certification in San Diego in five simple steps:
1. Register your company using the CMO website. There is no fee to register.
2. Register each lift worker and assign them passwords and usernames. It only costs $75 per operator and can be paid by credit card.
3. Have workers log into their accounts using a computer or mobile device.
4. Once logged in, workers proceed with the training at their own pace, taking the quizzes and tests as they go along.
5. After completing the training course, workers download and print their temporary operator cards.
Workers can take as long as they want to finish each course; there are no time limits. But some students finish the course in about an hour. CMO's pass rate is 100%. Once your safety manager determines the worker can safely operate an aerial lift, the newly certified employee is ready to start working!
Why CMO is the Best Choice for San Diego Aerial Lift Certification
CMO's scissor lift training and aerial lift certification in San Diego programs were designed with your workers in mind. Specifically, we wanted to make it as convenient and easy as possible for all workers taking the courses. That's why we designed our San Diego aerial lift certification courses to be fast and affordable.
Our classes teach lift workers how to safely operate different types of aerial lifts. This includes cherry pickers, bucket trucks, and boom lifts, as well as indoor and rough terrain scissor lifts. All training modules, exams, handouts, checklists, and other materials are included in the $75 per student enrollment fee – there's nothing else to buy.
Your workers will receive their temporary aerial lift operator cards and certificates right after completing the training. Permanent operator cards and certificates will be mailed to them within one to two weeks.
Still unsure if CMO is the right choice for your aerial lift certification in San Diego training? Keep in mind that your lift workers can:
✓ Study whenever and wherever they choose. All your workers need is an Internet connection.

✓ Work on the go. Your lift workers can access CMO's training courses with a smartphone, tablet, laptop or desktop computer – any time, anywhere.
✓ Complete their San Diego aerial lift certification courses quickly and easily. Most classes can be completed in as little as an hour.

✓ Be instantly certified. This provides proof they are trained and certified as soon as they complete the course.

CMO training saves your business time and money. It only costs $75 per student. All course materials are included. And you don't incur any travel costs because the training is all online.
Get Free Refresher Training and Recertification with CMO!
OSHA requires lift workers to get retrained and recertified every three years. When your workers pass our San Diego aerial lift certification, the retraining is free for life.
Over time, our free lifetime refresher training and recertifications can save your business hundreds or thousands of dollars.
We also offer a Train the Trainer program. This certifies one or more operators within your company to train other workers how to safely operate aerial and scissor lifts.
Sign Up Today!
Why wait? Enroll your lift workers in CMO's San Diego aerial lift certification and training program and they can be certified in as little as one hour!
For more information, contact us online or call us at 602-277-0615 to speak with a CMO team member. We're here to help you get started on the road to fewer accidents, a safer, more productive workforce, and complete compliance with OSHA aerial lift regulations.