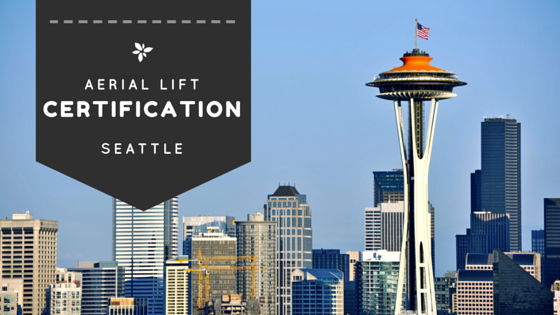 There is plenty to love about Seattle. It is surrounded by water, mountains and evergreen forests, and encompasses thousands of acres of parkland, providing the nickname "Emerald City." Seattle is also home to a thriving technology industry, with Microsoft and Amazon headquartered in its metro area. If you're interested in starting a career in Seattle, you can expect to see many great opportunities, especially in the ever-growing tech and manufacturing industry. If you're trying to find a way to break into Seattle's top industries and companies, consider obtaining an aerial lift or scissor lift certification.
CertifyMeOnine.net has four different training courses available for any worker that needs OSHA aerial lift and scissor lift training in Seattle.
– Train the Trainer Certification
– Class 7 (three different aerial lift-type courses for Seattle OSHA training)
– Aerial Lift and Scissor Lift Training (our most popular course for aerial lift certification in Seattle)
– Fall protection
All of our aerial lift training courses for Seattle are available in Spanish, except our Train the Trainer class. OSHA requires that all employers provide aerial lift and scissor lift training for their employees. Whether you need to certify your co-workers, or improve your own job outlook (employers in the Emerald City prefer workers with scissor lift and aerial lift certification in Seattle), CMO has the training you need – and our prices won't break the bank!
Why Get Aerial Lift Certification
Here are some of the reasons to obtain your Seattle aerial lift certification, including some of the benefits you can expect to enjoy:
1. Increases Productivity and Efficiency
Seattle Aerial lift certification creates highly competent and responsible operators, which in turn improves the productivity and efficiency in the workplace. That is one of the main reasons why employers look for those with aerial lift training so that they can take advantage of the increased uptime and reduced costs.
2. Reduce Injuries in the Workplace with Proper Aerial Lift Training

OSHA places high standards on those who operate aerial lifts and to the workplaces who hire them. Aerial lifts are large, heavy pieces of equipment and accidents involving them are the main cause of death on worksites. OSHA has created regulations and industry standards to try and monitor workers to reduce the number of injuries and fatalities that occur every year.
3. Be OSHA Compliant and Avoid Penalty
OSHA cracks down on both workers and employers for neglecting to obtain and require proper aerial lift training in Seattle. You can save yourself from getting fired and being hit with thousands of dollars in fines by complying with their standards and receiving an aerial lift certification.
4. Qualify for More Jobs and Higher Pay
Employers who hire uncertified workers are likely to be hit with incredibly expensive fines which can cause them to go bankrupt. As a result, they are not willing to take that chance. If you are certified to operate aerial lifts and are looking in Seattle, you will be in high demand and can qualify for higher paying positions due to your specialized education. And if you wish to get out of construction work in the future, aerial lift certification can potentially lead to higher ranking positions like project and floor managers.
Sign Up for Seattle Aerial Lift Certification with CMO!
There are so many reasons to complete your aerial lift certification in Seattle. It can not only open the door to more opportunities and higher pay, but it can also protect your life. If you don't wish to waste another moment not having this essential training, look no further than CertifyMeOnline.net. We have created an online program that takes only about 60 minutes to complete, is 100% OSHA compliant, costs only $75 for both aerial and scissor lift education, and will provide you with everything you need to qualify for multiple Seattle positions.
Sign up today and enjoy instant access to your certification card upon completion of the online Seattle aerial lift training course! If you have any questions about aerial lift certification in Seattle, call our OSHA experts at (602) 277-0615. Thanks for considering CMO for all of your scissor lift and aerial lift training in Seattle!