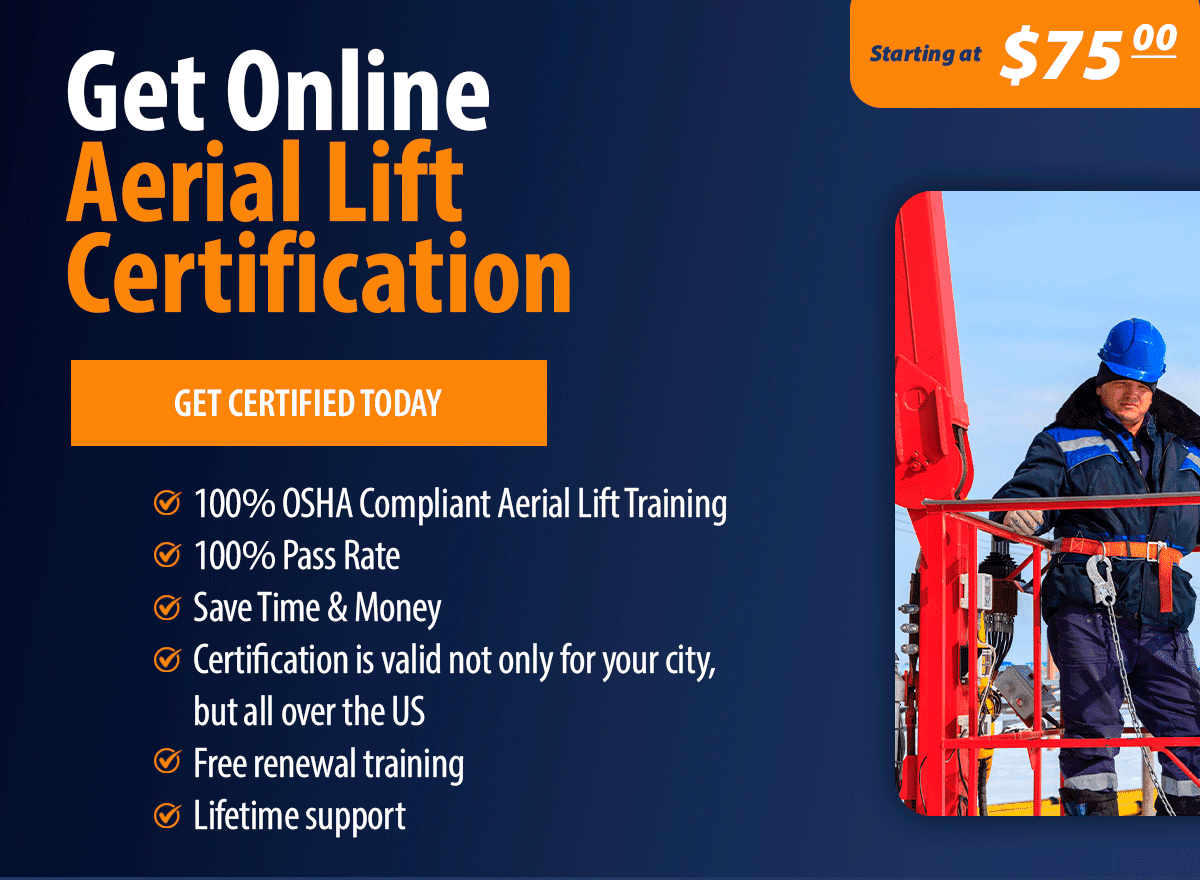 Statistics show that the construction industry in the Seattle region is thriving. In fact, the Seattle area is reported to have the 3rd highest number of construction jobs across the country. If you're planning on joining that statistic and starting a new construction project, then congratulations!
If you require the use of a aerial lift on your job site, though, then it's important not to overlook the importance of learning how to get aerial lift certified n Seattle. OSHA requires that all aerial lift operators get properly trained before operating a aerial lift on a jobsite.
The good news is that you can now obtain your Seattle aerial lift certification online using certifymeonline.net's training package. If you're an employer, then you'll want to learn more about our trainer certification bundle that can help you certify your whole team.

How Online Aerial Lift Certification in Seattle Works
First, you'll want to know more about how our online program works. Here's an overview of the steps you'll take:
Sign Up – Employers can sign their workers up with CertifyMeOnline by creating an account.
Choose aerial lift Course – We offer a variety of classes depending on the type of aerial lift your operator will be driving, for example rough terrain aerial lifts or pallet jacks (see our offered courses in the image below). Choose the courses needed and check out.
Complete Online Training – Operators can complete the training in their own time and at their own pace from any device. Upon completion, workers will need to take and pass an online test to demonstrate their skills. There's zero pressure, they can take the test as many times as needed to pass.
On-Site Evaluation – An on-site employee of yours must provide a hands-on evaluation. Don't have an operator trained to give these hands-on evaluations? Check out our train-the-trainer course that teaches operators how to train others and give this evaluation, complete with a checklist.
Print Your Operator Card – Once this final step is complete, your operator will be certified to drive a aerial lift in and throughout the United States! Employees can print their operator card and certificate directly from our program for proof of certification.
After going through this process, you or your team will be fully certified to operate aerial lifts on your job site. You will be considered legally compliant and fully trained by OSHA standards. To verify this, it might be a good idea to retain a copy of your certification on the job site.
Why You Should Choose CertifymeOnline.net for Aerial Lift Certification
Obtaining your Seattle aerial lift certification is not only wise but a legal requirement per OSHA's standards. If you fail to adhere to this important regulation, then your company could face significant fines. Even worse, your lack of diligence could lead to a aerial lift accident. The good news is that it's never been easier to obtain your certification. Here are some reasons why you should opt for our program:
✓ 24/7 access to the curriculum – allows employees to learn at any time or place that's convenient. The courses can also be accessed from any device with an internet connection.
✓ Fast and Easy – The course only takes about an hour to complete, and the test at the end can be taken as many times as an employee needs until they pass.
✓ Certification Cards – Upon completion of the training, employees can print their certification cards that serve as proof of training and OSHA compliance.
✓ Free Renewals – We're the only company who gives free lifetime access to the training course. OSHA requires an evaluation of aerial lift drivers' performance every three years. If a refresher course is needed, with CertifyMeOnline there is no need to pay again. Use our course again every three years or whenever you need a refresher.
✓ Affordable – Not only do our courses start at $59.95, you'll save time and money by not having to send your operators to an off-site location for training.
These reasons all highlight why you should choose certifymeonline.net for your team. Even better, we offer a 100% money back guarantee for anyone who chooses our program and isn't completely satisfied.

Aerial Lift Certification in Seattle: FAQs
Below, we'll go over some of the most frequently asked questions when it comes to aerial lift certification in Seattle.
Why Should You Adhere to the Rules and Regulations?
Rules were made to be broken, right? Well, not exactly, especially when it comes to safety rules and regulations. There is literally zero benefit to bucking the rules and regulations when it comes to aerial lift certification. On the flip side, adhering to these rules can save you a ton of money, potentially prevent worksite injuries, and even save lives.
Can People Lose their Life in Aerial Lift Accidents?
The answer to this question is a definite 'yes'. Tragically, aerial lift accidents can be fatal for not only operators but other involved parties, too. For instance, an employee who is standing nearby could get struck or hit by a aerial lift. Other individuals could also wind up in an accident, as was the case recently for a 27-year-old woman who was killed after being struck by a aerial lift that was attempting to cross an intersection. The good news is that proper training can help save lives by preventing fatalities.

Get your Seattle Aerial Lift Certification Today!
There are so many reasons to complete your aerial lift certification in Seattle. If your company needs OSHA compliant training today, look no further than CertifyMeOnline.net. Our aerial lift training in Seattle takes only about 60 minutes to complete, is 100% OSHA compliant, and will provide you with everything you need to qualify for multiple jobs around the city.
Sign up today and enjoy instant access to your certification card upon completion of the online Seattle aerial lift certification course! If you have any questions about aerial lift certification and training in Seattle, call our OSHA experts at (602) 277-0615, or contact us online.