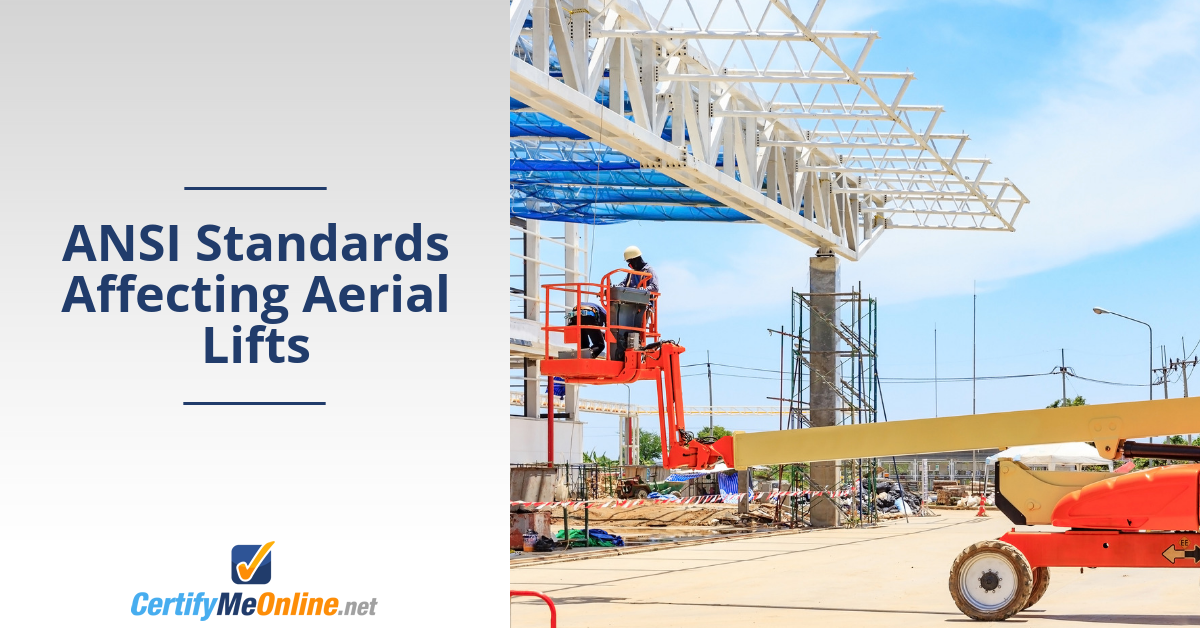 The American National Standards Institute (ANSI) helps protect workers by creating safety and usage standards for most industries. Recently, ANSI released updated standards for aerial lift safety and training. These can be found in the ANSI A92.22 Safe Use and A92.24 Training Standards.
ANSI A92 is intended to bring the worldwide aerial lift industry closer to a global standard. It addresses the design of new aerial lift equipment and the training operators, supervisors and maintenance workers must have. The new standards will apply to all aerial lift owners, operators, users, dealers and manufacturers.
New Classifications
One of the first changes resulting from ANSI A92 is the name of the equipment. Aerial lifts will now be referred to as Mobile Elevating Work Platforms, or MEWPs. All MEWPs will be separated into two categories:
1.MEWPs where the center of the work platform stays within the perimeter of the chassis at all times. Scissor lifts and vertical lifts are examples of this type.
2.MEWPS where the center of the work platform can extend beyond the chassis. These mostly refer to boom lifts.
ANSI has further broken down each group into different types:
-MEWPs that can travel only in the stowed position. These must be moved manually.
-MEWPs that are controlled from the chassis and can be driven while the platform is elevated.
-MEWPs that have controls on the work platform and can be driven while the platform is elevated.
Equipment Changes
To improve safety, ANSI A92 will require new aerial lifts to be equipped with two types of sensors. One sounds an alarm and prevents the machine from operating when the load exceeds safety limits. The other is a tilt sensor. It triggers an alarm and prevents movement of the chassis or work platform when the slope level gets too steep.
Other equipment changes include:
-MEWPs can no longer use chains to close off entrances to the work platform. Instead, they must use gates that include toe guards.
-MEWPs used for outdoor work must have wind speed sensors. This will allow operators to reduce workloads in windy conditions.
-MEWP platform railings must be at least 43.5 inches in height. The old standard was 39 inches.
-MEWPs used on rough terrain must be outfitted with solid or foam-filled tires. This will help improve the stability of the MEWP.
Safety Plans
Any business that uses MEWPs will be required to develop a written safe use plan. This plan must include:
-A detailed site risk assessment
-Rescue plans that everyone understands
-Having a trained supervisor monitor operator performance for compliance with the new standards
-Steps for preventing unauthorized MEWP use
-Steps for protecting the safety of workers not operating the MEWP
Supervisor Training
Perhaps most important, ANSI A92 sets several new training standards. All personnel who directly supervise MEWP operators must be trained in the following areas:
-Selecting the right MEWP for the work to be performed
-The rules, regulations and standards for safe MEWP operation of the work being performed
-Potential hazards related to the use of MEWPs
-How to protect against those hazards
-Ensuring the operating manual is stored in a weather-resistant compartment on the MEWP
Operators will also be responsible for providing basic training to others working on the platform with them. Maintenance workers must be trained to repair and maintain MEWPs to manufacturer and ANSI standards.
Other new training requirements include:
-Having a site- and equipment-specific rescue plan. This written plan should detail how to get an operator down if the lift stops functioning while elevated.
-Operators must familiarize themselves before operating a type of MEWP they haven't used before. This includes reading the operator manual.
-Operators must explain to other workers on the lift how to get down if something happens to the operator.
-Every site must have at least one person who can operate the equipment from the ground if the crew can't lower themselves.
-Maintenance workers must be trained on all new features, such as the tilt and load sensors.
Don't Put Off Updating Your Training and Certification
ANSI standards are voluntary. However, not following them could be considered a violation of OSHA's "General Duty" clause. This clause requires employers to keep the workplace free from recognized hazards. As of 2018, fines for these types of violations can range from $12,934 to $129,336.
Of course, worker safety is always the highest priority. That's where MEWP training and certification is so important. These days, you can get fast, affordable training online. You can also get training and certification on specific types of MEWPs, such as cherry pickers or scissor lifts. The new ANSI standards will be enacted soon. Why wait to get the training required to meet the new standards?