Comparing Aerial Lift Heights and Famous Landmarks | Infographic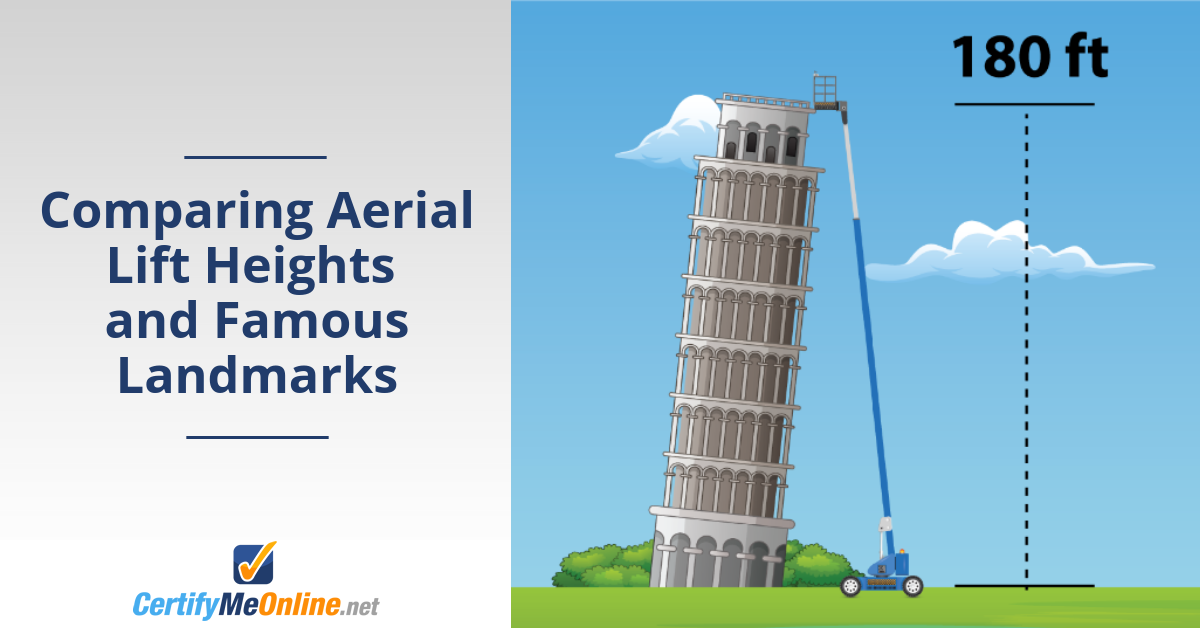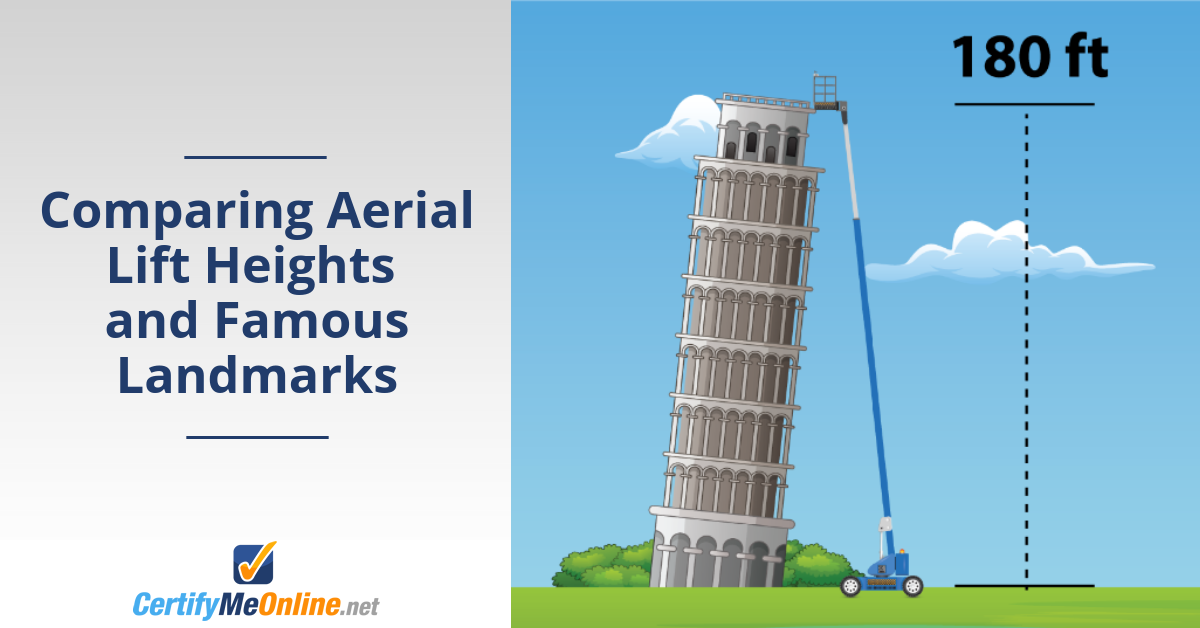 Aerial lifts and scissor lifts are used so often for so many different types of jobs that it's easy to forget how high they reach. When you're caught up in work, you can lose sight of the reach capacity of many lifts – but hopefully not high enough where you lose sight of the ground. (Don't worry: no aerial lift reaches that high!)
For comparison purposes, we took a handful of popular scissor lift and aerial lift sizes and stacked them up, figuratively speaking, next to some of the most iconic landmarks across the globe.



Share this Image On Your Site
Please include attribution to www.certifymeonline.net/ with this graphic.

20-foot Scissor Lift
Scissor lifts are required to reach ceilings, the underside of bridges, and much more. With a working height of nearly 20 feet, this sized scissor lift is capable of reaching higher than you might think. It could scale Philly's famed LOVE statue, located in JFK Plaza.
50-foot Articulating Boom Lift
Flexible, functional, and a fierce piece of machinery – a 45-foot articulating boom lift features outstanding stability and a roomy work platform. And at nearly 50 feet high, it's capable of reaching the peak of the world's entertainment industry: the Hollywood sign!
80-foot Aerial Lift
Need to go a little higher than conventional aerial work platforms? Try an 80-foot "medium" sized aerial lift. With an impressive reach, it could put you atop one of Europe's most recognizable structures, Germany's famous Brandenburg Gate.
150-foot Telescopic Boom Lift
A 150-foot boom lift goes where few lifts can reach. This lift provides the freedom to an incredible amount of work, which is fitting, since it can reach the Statue of Liberty's shoulder, 151 feet above the statue's foundation pedestal.
180-foot Boom Lift
Not many boom lifts can stack up to this height. At 180-feet, it's the next best thing to having an airplane to do sky-high work. Consider this: this lift reaches the whole way to the top of the Leaning Tower of Pisa.
And there you have it – a different perspective of how high some of your favorite lifts can reach! And who knows…if you're ever called upon to repair or maintain some of these famous landmarks, you'll know exactly which type of lift to use for the job!
Regardless of your preferred scissor lift or aerial lift, we have the OSHA complaint training courses to help you become a better and safer worker. For employers, CertifyMeOnline.net can help any of your employees become compliant before you know it, and for an affordable price, too! If you have any questions about OSHA aerial lift or scissor lift training, give us a call today at (602) 277-0615. We look forward to hearing from you soon!