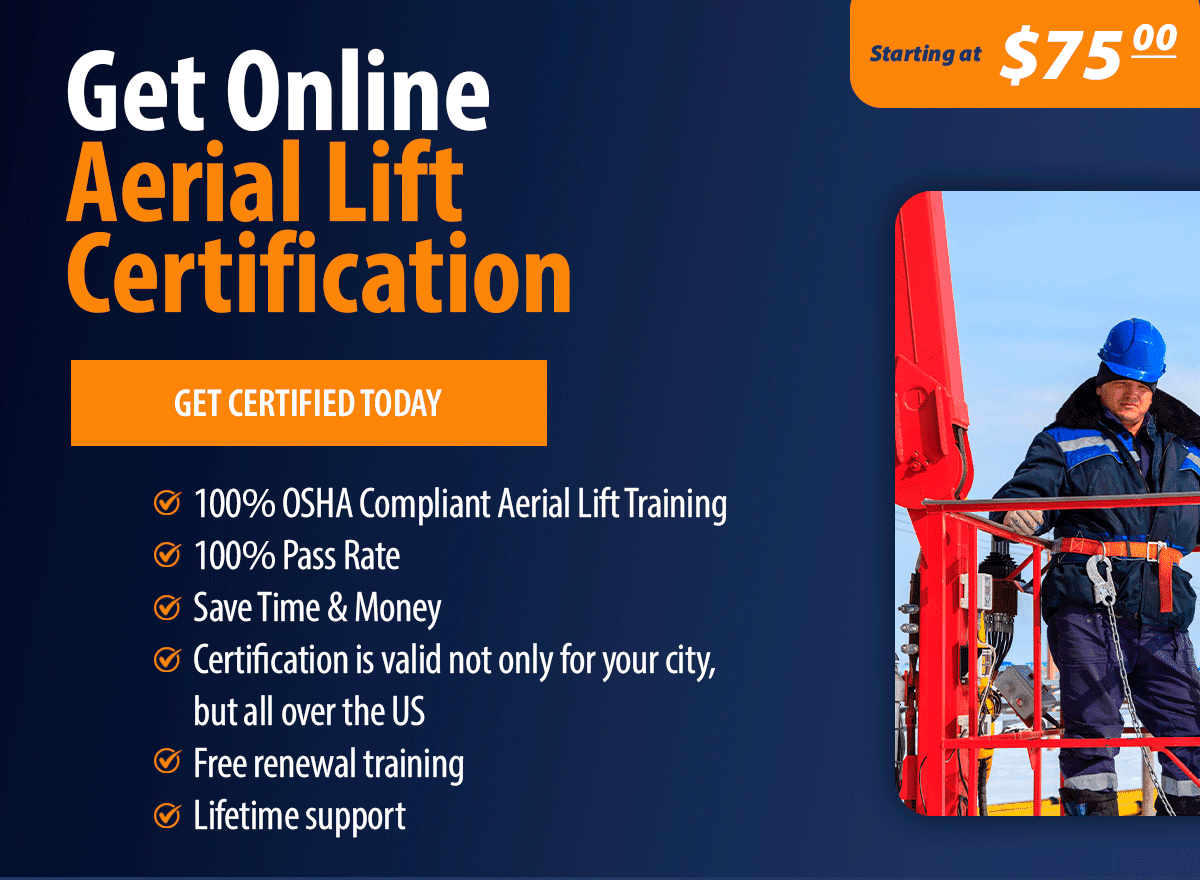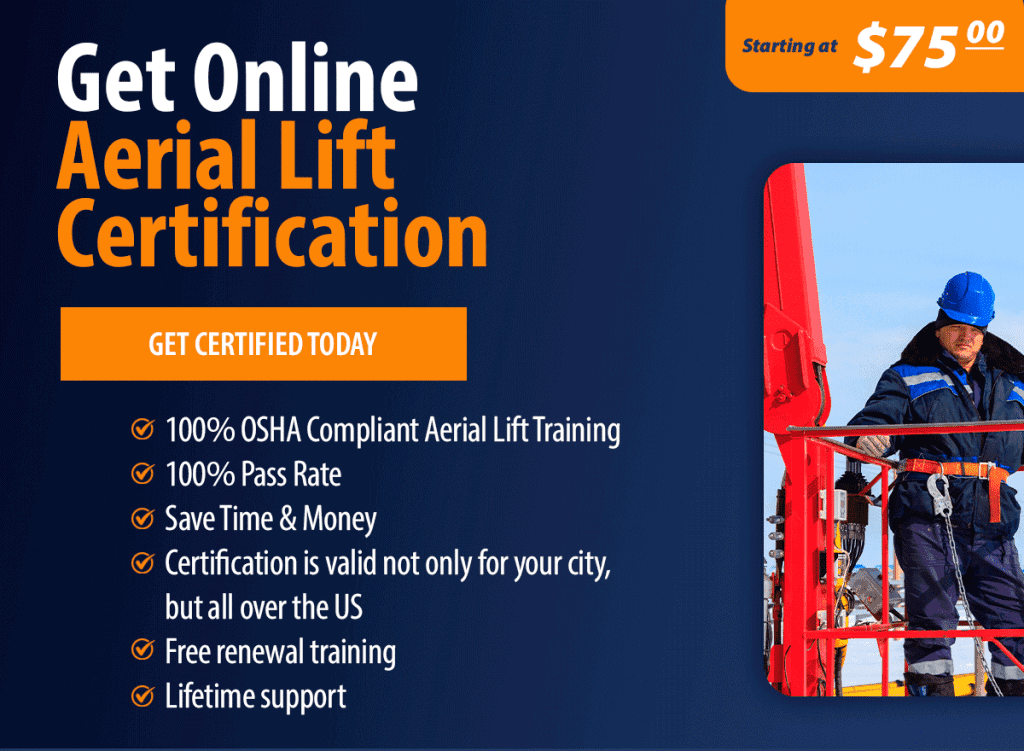 An aerial lift can be invaluable on your job site. It can also be a liability and hazard if your team doesn't understand how to navigate the many aerial lift hazards they'll face using this equipment. You can help reduce the threat of these hazards by ensuring that all aerial lift operators on your job site get a Boston aerial lift certification before getting started.
Even better, getting your whole team aerial lift certified is easier today than ever. Employees can obtain a Boston aerial lift certification online and on-site using educational training programs like the ones offered at CertifyMeOnline.Net. Our program comes at a one-time cost of $75.00. Learn more about how to get aerial lift certified in Boston using our program below.
How Online Aerial Lift Certification in Boston Works
Using our online program, you won't have to send your employees off-site to get trained and certified. Instead, you can do everything in-house and online. Here is how it works:
Employers Sign Up With Our Platform
Select the Right Course: Next, you'll want to browse our course selection, pick the right classes, and pay for the training material.
Employees Submit to Training: Employees can go over the training material on any device that connects to the internet on their own time.
Employees Take an Online Test: Employees will need to show they understand the subject material by passing a few online tests. Employees can retake this test as many times as they need to.
Employees Must Pass an On-Site Evaluation: Your employees must demonstrate that they can safely operate an aerial lift by completing an on-site evaluation with a certified trainer. If you don't have a certified trainer on your team, consider purchasing our train the trainer course, which will help you certify one of your employees as an official trainer.
Print Instant Proof: Finally, employees can print proof of their certification and their official aerial lift operator card.
After this process, employees will be considered sufficiently trained per OSHA standards. They'll be certified to operate aerial lifts not only in Boston but across the country.

Why Choose CertifyMeOnline.Net for Boston Aerial Lift Certification
OSHA certification is an important step to remain legally compliant and safe. You can avoid getting fined by OSHA or even experiencing a worksite accident with the right certifications. Accidents can be fatal, and even when they're not, they can cause life-long consequences for the victim. Avoid these negative consequences by getting your team the right education before starting an aerial lift job. Here's why you should choose to work with CertifyMeOnline.Net:
✓

Renew for Free: When your certification expires, renew it for free

✓

Easy to Complete: Many past clients complete our training within one our

✓

Print Instant Proof of Certification

✓

Affordable

✓

Convenient: Employees can access the training materials 24/7 anywhere with internet
If you order with us and later find you don't like our training materials, we'll offer you your money back.

Boston Aerial Lift Certification FAQs
Do you have more questions regarding OSHA requirements or obtaining an aerial lift certification in Boston? Get answers to some of the most frequently asked questions below.
What Other OSHA Requirements Do I Need to Know About Before Starting My Job in Boston?
Construction site safety procedures save lives, and employers must recognize that they have a legal obligation to provide their employees a safe and secure workplace. Employers must take reasonable steps to ensure the safety of employees by getting them properly certified, providing the right safety equipment, inspecting equipment regularly, and maintaining an overall safe working environment.
Aerial Lift Operators Need a Certification, But What About Aerial Lift Riders?
OSHA laws make it a legal requirement for all aerial lift operators to get a certification before using the equipment. What about employees who ride on aerial lifts, though? Do they need to obtain a certification?
Falls are the leading cause of death in the construction industry, which is still a risk to aerial lift riders even when not operating the lift.
In general, these employees won't need an aerial lift operator certification. Due to their exposure to a fall hazard, however, they should take a fall protection certification course to ensure they safely navigate the height risks.

Get the Best Aerial Lift Certification in Boston, MA
CMO's Boston aerial lift certification and training only takes about an hour for each employee. Classes are online and taken at your company's convenience. Once the online test is completed and passes, a hands-on evaluation is given to ensure they know how to safely run your AWPs and MEWPs. It's a formula that's worked for aerial lift certification in Boston, Massachusetts, and it'll work for your company as well! Don't delay with your Boston aerial lift certification and training – you can't afford the cost of non-compliance!
Get started today with your Boston aerial lift certification. Register your company or call us directly at (602) 277-0615. For the best aerial lift certification in Boston, MA, talk to our training experts or OSHA compliance consultants to get your questions answered. Thanks for considering us for your aerial lift certification in Boston, Massachusetts!