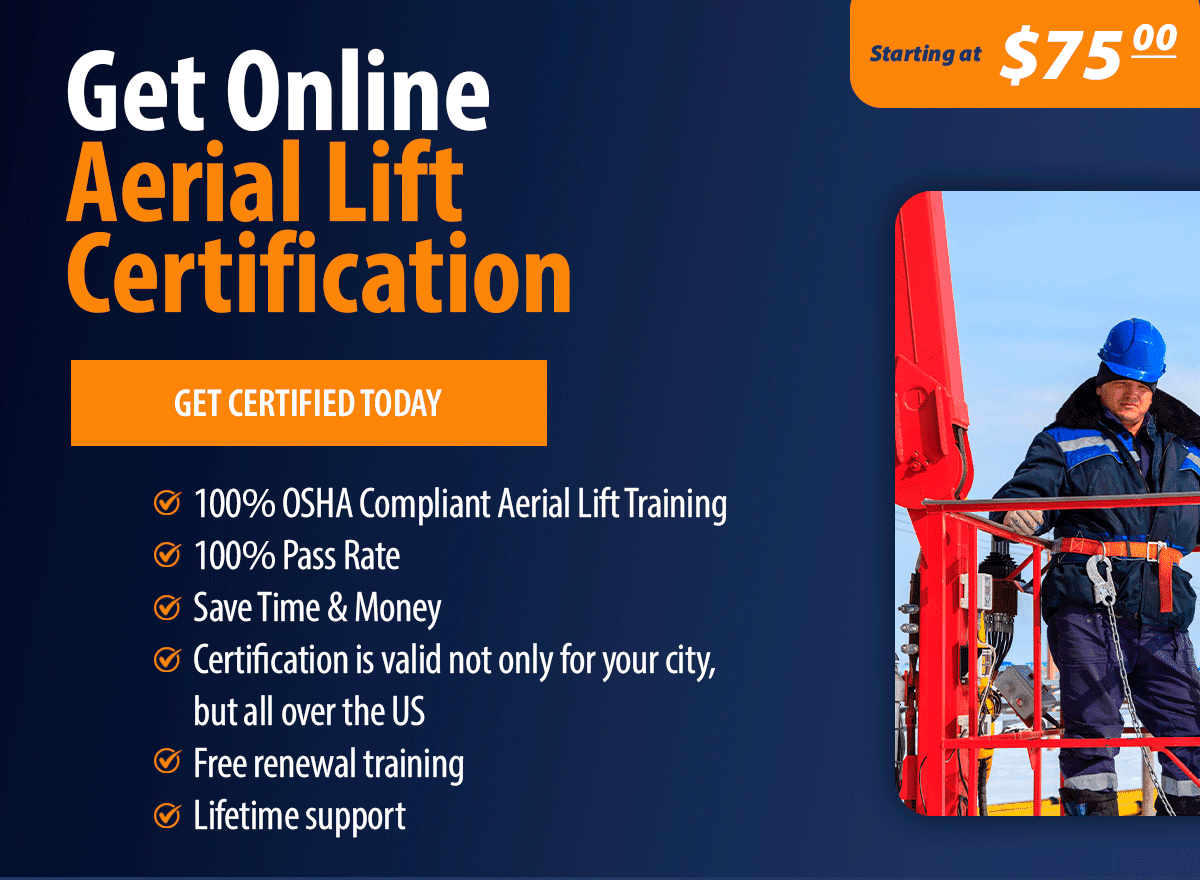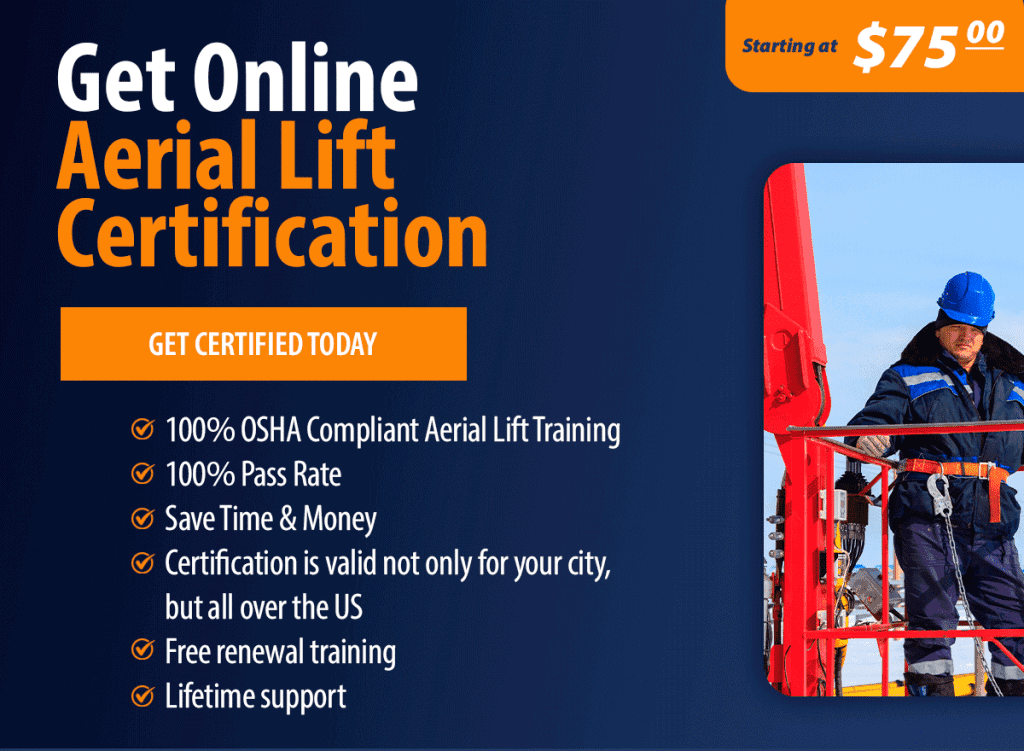 Industrial equipment like aerial lifts, mobile elevating work platforms (MEWPs), scissor lifts, aerial work platforms (AWPs), and more are essential for construction, maintenance, landscaping, and many other jobs. But they can't run without fully trained and certified workers behind the wheel.
Since it's an OSHA requirement that employers provide aerial lift certification in Charlotte for their workers, this critical task falls on you. But how can you know what's needed for things like safety instruction and skills evaluation? You don't have to know – just let CertifyMeOnline.net help with your training!
We have great prices and 100% OSHA-compliant training content, so you'll have the peace of mind that comes with a fully trained AWP fleet. Many companies aren't sure how to get aerial lift certified in Charlotte, and CMO leads the way!
The CMO Operator Training package is only $75 and is perfect for all skill levels. And if you'd like your own training coordinator for Charlotte aerial lift certification online, nothing beats our Train the Trainer certification, priced at just $149.
Register with CMO today. It's the right thing to do for your employees, and training is required by law!
How to Get Aerial Lift Certified in Charlotte
All it takes for complete aerial lift certification in Charlotte is a few short steps:
Online registration. Choose your login info for your firm and employees.
Complete Charlotte aerial lift certification online. With everything from how to point out potential hazards to importantOSHA safety guidelines, your students will learn a ton of great info.
Testing & evaluation. Can your workers take their classroom instruction and use it to safely operate your equipment? This is where you'll find out!
Print licenses. Once your workers have passed the skills evaluation, you can print their aerial lift certification in Charlotte immediately! 
And when your workers need renewal training, CMO offers FREE3-year recertification. 

Benefits of CMO's Aerial Lift Certification in Charlotte
Our customers enjoy the CMO advantage with:
✓

Total & complete compliance. Aerial lifts, scissor lifts, cherry pickers, you name it – our training covers all types of AWP & MEWP models.

✓

Updated coursework: As OSHA regulations are modified, our Charlotte aerial lift certification content is updated right along with it! With CMO, you don't have to worry about missing out on important safety regulations.

✓

Best prices around. Visit the CMO pricing page and see just how affordable aerial lift certification in Charlotte is!

✓

Avoid expensive fines. Some OSHA penalties can easily exceed six figures. But with proof of training, your company will be safe from non-compliance issues. 

Charlotte Aerial Lift Certification FAQs
Here are a handful of common questions we get on Charlotte aerial lift certification online:
What about things like HAZWOPER and fall protection training?
CMO isn't a one-trick pony; we have HAZCOM, HAZWOPER, fall protection, and other training courses for your Charlotte operations. Go to our course catalog for more info.
What do I get with my CMO purchase besides full compliance?
We're your training partner for life. So, if you ever have questions on Charlotte aerial lift certification, contact us, and we'll help!
Does your training cover ALL my employees, regardless of skill level?
You bet! From rookies to 20-year veterans, CMO's aerial lift certification in Charlotte is for everyone. And thanks to the online convenience of our training, your workers can complete their training anytime, anywhere.
Thanks for considering CMO for your Charlotte aerial lift certification. Register with us today and elevate your safety program!

CMO: The Best Choice for Charlotte Aerial Lift Training
We've designed our Charlotte aerial lift certification and training with you the employer in mind. Our aerial lift certification in Charlotte, NC is convenient, affordable, and easy as possible. 
If you have questions about CertifyMeOnline.net's Charlotte aerial lift certification training program, call us at 602-277-0615 to speak with one of our knowledgeable OSHA experts, or you can contact us online. At CMO, we're always available to give you the help your company and aerial lift operators need to become OSHA compliant with the best aerial lift certification in Charlotte, North Carolina!