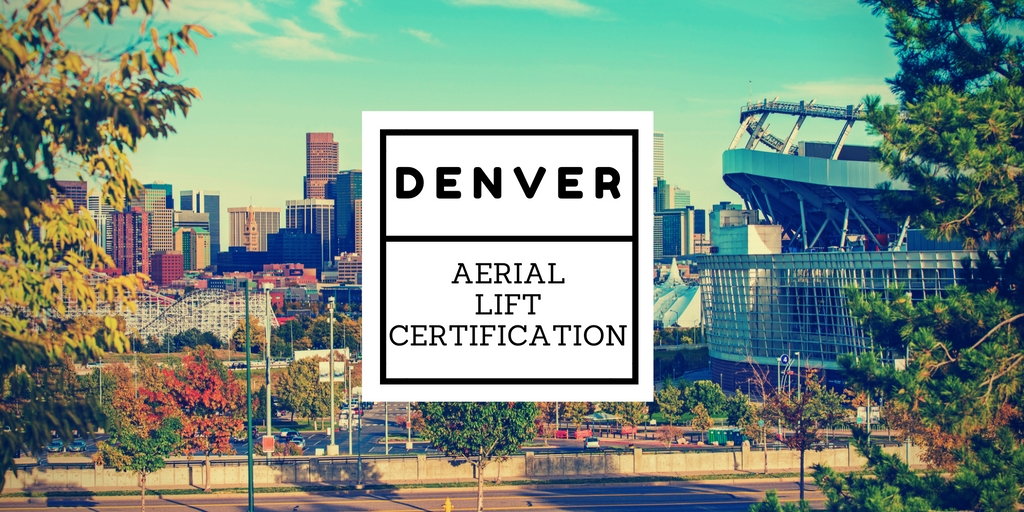 Known as the Mile High City, Denver is a great place to live and work. People are flocking to the area by the thousands from all corners of the country. This unprecedented growth has resulted in a critical shortage of aerial lift operators and other skilled workers needed to keep up with the city's extraordinary expansion, which makes it tempting for businesses to hire inexperienced equipment operators.
If you're a Denver employer, be aware that OSHA requires all aerial lift operators to be properly trained and certified, and that's where CertifyMeOnline.net's Denver aerial lift training and certification program can help. If you're wondering "where is there Denver aerial lift training near me", our classes are online, so you're already there!

Reasons to Enroll Your Workers in CertifyMeOnline.net's Denver Aerial Lift Training
CertifyMeOnline.net's aerial lift and scissor lift certification and training programs are created by professional aerial lift operators with years of on-the-job experience. The programs are specifically intended for companies with new or uncertified workers who need aerial lift operator training to comply with OSHA regulations.
Your operators' OSHA-approved certification means there's less risk of workplace incidents that could result in injuries, hefty fines or legal liability. Without OSHA-approved training, your company has a greater chance of accidents, injuries and expensive fines. Thanks to CertifyMeOnline.net's Denver aerial lift operator training, the certification process is easy and affordable. Here are some reasons why CertifyMeOnline.net can't be beat for aerial lift certification training in Denver:
Course materials are available online 24/7 using a smartphone, tablet or similar digital device anywhere there's an internet connection. Since there aren't time restrictions, students work at their own pace. Many students complete Denver aerial lift certification training in as little as one hour.
We have a 100%. pass rate
Although most students pass the test the first time, the course can be repeated if necessary. Since the exam is open book, students can refer to the training materials if they're unsure of an answer.
We're 100% OSHA compliant
With CMO's training, you'll have a safer workplace and you're less likely to be fined by OSHA if you're audited.
CMO online training is affordable
When CertifyMeOnline.net trains your workers, you don't need to spend a lot to have them certified. Denver aerial lift and scissor lift training classes start at just $75 per operator, including all training materials.
Our training is convenient
When your employees receive their Denver aerial lift and scissor lift training from CertifyMeOnline.net, they won't need time off work to travel to and from an offsite training facility. Since it's online, your employees can take the program whenever and wherever it's convenient.
Denver aerial lift operator certifications are available immediately
After passing the exam and hands on evaluation, temporary certificates and operator cards can be instantly downloaded and printed – there's no waiting for certifications' to arrive by mail.
Free renewal training is included
Lift operators are required by OSHA to be recertified at least every three years. With CertifyMeOnline.net, your drivers' renewal training is free for life.
An average of twenty U.S. workers are killed in aerial lift accidents every year, most of which are caused by operator error. Many of these accidents could be prevented by having aerial lift operators receive OSHA-approved certification training. If you have untrained aerial lift or scissor lift operators, have them certified as soon as possible. It's not only the law – you'll have a safer, more productive workplace in as little as an hour. Protect your workers and your business – enroll them in CMO's Denver aerial lift and scissor lift certification training today!
Certifying your aerial lift drivers through CMO means there's less chance of being fined by OSHA, since we're 100% compliant. Our affiliate, CertifyMe.net, surveyed more than 100 business owners and safety personnel about their experiences with OSHA; more than half of the respondents reported being audited by OSHA at least once. Eighteen percent of the companies OSHA audited received fines, most of which were over $100,000! Click here to see the full study.
CertifyMeOnline.net is always up to date on ANSI (American National Standards Institute) standards and OSHA regulations. ANSI recently revised their standards A92.22-2018 & A92.24-2018, which apply to all aerial lift owners and operators. Previous ANSI standards are now outdated, so your aerial lift operators' training should be updated. Our Denver aerial lift and scissor lift certification training always includes the latest OSHA regulations and ANSI standards – register your company today to stay OSHA compliant!
Now's the Time to Enroll Your Workers in CMO's Denver Aerial Lift Training!
The process is simple  – just follow these five easy steps:
1. Create a company account. Register your company on our website – it's free and takes just a couple of minutes.
2. Register and assign usernames to your operators. Usernames are required for them to log on to the training classes
3. Have students log into the company account. Students log on to training classes with their assigned usernames using a smartphone or other digital device any time that's convenient and anywhere there's an internet connection.
4. Take the test. Students watch the video training modules and take the quizzes working at their own pace. Some students finish the training in about an hour, although there are no time limits. Our pass rate is 100%.
5. Print Operator Cards. After your operators complete our Denver aerial lift training, operator cards and certificates are immediately available – just download and print them!
That's it! Once your workers demonstrate to your company's safety coordinator (see our Train The Trainer program) or other qualified individual that they can safely operate aerial lifts or scissor lifts, they're legally allowed to use them! Why wait – it takes only a few minutes for you to enroll your workers and about an hour for them to complete CMO's Denver aerial lift certification training!

Sign Up Today!
Enroll your lift operators in CMO's Denver Aerial Lift Certification Training now and they can be certified in about an hour!
For answers to any questions you may have or for more information on CMO's aerial lift and scissor lift certification or our other OSHA-approved training programs, contact us online or call us at (602) 277-0615 to speak with one of our OSHA training experts. Sign up now – with CertifyMeOnline.net's Denver aerial lift operator training you're on your way to a safer, more productive and OSHA-compliant workplace!