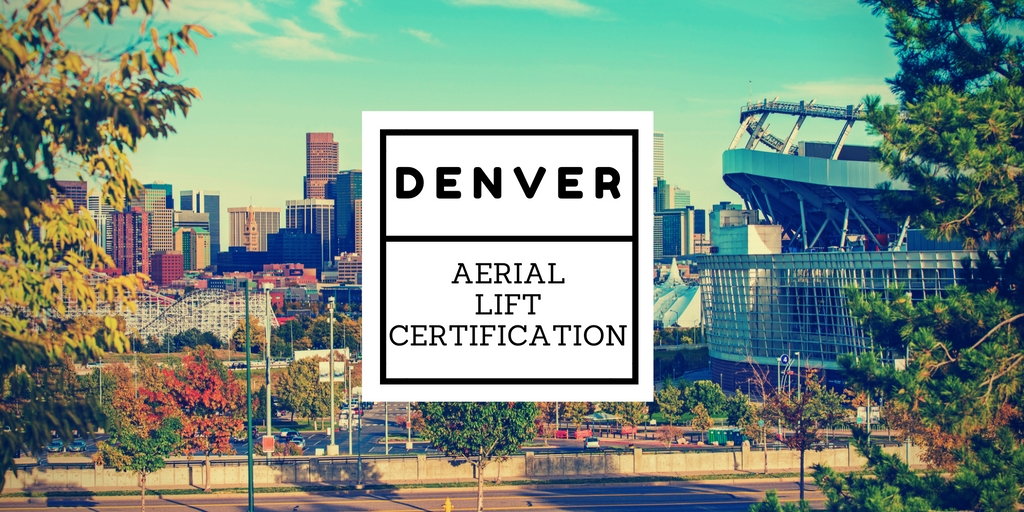 Known as the Mile High City, Denver is experiencing an amazing increase in population that has people flocking to the area by the thousands from all corners of the country. This unprecedented growth has resulted in a critical shortage in the number of skilled workers needed to keep up with the city's extraordinary expansion. Want to get in on this economic boom? Whether you're already a resident or are planning to move to the area, enroll in CertifyMeOnline.net's Denver aerial lift operator training and certification program. Because they play a key role in keeping Denver clean, safe and growing, properly trained and certified equipment operators are always in demand.
Situated between the sprawling prairies of the Great Plains to the east and the majestic Rocky Mountains to the west, Denver is a great place to live. The city's location makes it a perfect blend of outdoor adventure and urban living. Denver offers its residents everything from a casual lifestyle to sophisticated cultural events. The sun shines an average of 300 days annually, which makes it easy to take part in an abundance of outdoor activities throughout the year. From hiking, fly fishing and camping during the summer months to hunting, skiing, snowboarding and snowshoeing during the winter – these are just some of the many pastimes for residents and visitors alike to enjoy that are within a short drive from the city. For sports fans, Denver is home to several professional sports franchises, including the NFL's Denver Broncos football team, National League Colorado Rockies baseball club, Colorado Avalanche hockey team, and Colorado Rapids soccer club.

Reasons to Pursue Aerial Lift and Scissor Lift Training and Certification in Denver
There's always a need for skilled equipment workers, and aerial lift operators are toward the top of the list. The first step for people who are interested in becoming aerial lift operators and qualifying for good paying jobs is to complete OSHA-approved aerial lift operator training and certification in Denver. As is also true in other parts of the country, aerial lift training and certification in Denver is a very important step in advancing your career. Virtually every prospective employer will want to see your certificate as evidence that you have been properly trained and are capable of safely operating lift equipment and complying with OSHA safety regulations. Denver aerial lift training and certification is also for your personal safety and the safety of those with whom you will be working. Being properly trained to operate aerial lifts and scissor lifts will help you avoid hazards that can result in serious injuries or even death. Aerial lift operator training also benefits employers. Your OSHA-approved certification means the risk of workplace incidents that could result in injuries, hefty fines or legal liability is greatly reduced.
Aerial Lift Operator Job Opportunities in Denver
Both the private sector and local, state and federal government agencies in Denver have numerous opportunities for aerial lift and scissor lift operators who are properly trained and certified. A good example is the Denver International Airport, which is one of the largest airports in the country. DIA is always looking for qualified workers to operate the lifts and other heavy equipment used to maintain, clean and repair aircraft, as well as perform routine facility maintenance such as window washing, lighting installation and HVAC maintenance and repair. Being situated near heavily forested land, aerial lift and scissor lift operators are always in demand to help arborists manage and maintain large stands of trees and clear the way for new housing and industrial developments.
What's the Best Way to Complete Aerial Lift Training in Denver?
There are lots of training programs in Denver for aerial work platform (AWP) operators, all of which can qualify you to apply for a variety of aerial lift and scissor lift operator jobs. You should, however, be very careful when you select a lift operator training program from among the available choices in Denver. In order to be fully qualified and capable of safely operating aerial lifts and scissor lifts, avoiding accidents and protecting employers from potential liability, you need to choose one that is 100% OSHA compliant. It's also important to select a program with trainers who will walk you through each step of the operational, safety and maintenance portions of your training. When you choose CMO for your Aerial and Scissor Lift Training and Certification, that's exactly what you'll receive. With CertifyMeOnline.net, lift operator training doesn't need to be a hassle – our certification programs are fast, convenient and affordable.
Quick, Convenient, and Affordable Denver Aerial Lift Certification
CertifyMeOnline.net's aerial lift and scissor lift certification and training programs have been designed by actual aerial lift operators with years of on-the-job experience. The programs are specifically intended for workers who want to start new and rewarding careers as aerial lift operators. CMO's Aerial Lift Certification in Denver takes into account the busy schedules of people who want to qualify for operating lift equipment in building and construction, warehousing, maintenance and similar activities in the Denver area.
Our programs were designed to provide the needed training in the fastest, most convenient, and most affordable means possible. The Denver aerial lift and scissor lift training and certification programs can be completed in as little as one hour using a smartphone, tablet or similar digital device. All training and reference materials are available online 24/7, which means students can complete the program any time that's convenient and anywhere there's an Internet connection. Once the aerial lift operator training is completed, your operator card and the certification required by OSHA can be immediately downloaded, printed and ready to show to prospective employers.

CMO's Aerial and scissor lift certification programs aren't just for training lift operators. Business owners who want to increase their bottom lines should also consider arranging Denver aerial lift training for their employees – it's the most effective way to prevent workplace accidents, avoid costly OSHA fines and improve productivity. Having your employees complete CertifyMeOnline.net's aerial lift operator training in Denver will result in a safer workplace and make both employers and their employees OSHA compliant.
In addition to being quick and convenient, our programs are affordable. The cost of the training is just $75 per operator. To get started in a new and exciting career in Denver, take these five easy steps. You can also contact us online today or call us at 602- 277-0615 for more information on receiving your Denver aerial lift operator certification. There's no faster or easier way to comply with OSHA regulations for certifying aerial lift operators in Denver than through CMO's online interactive training.