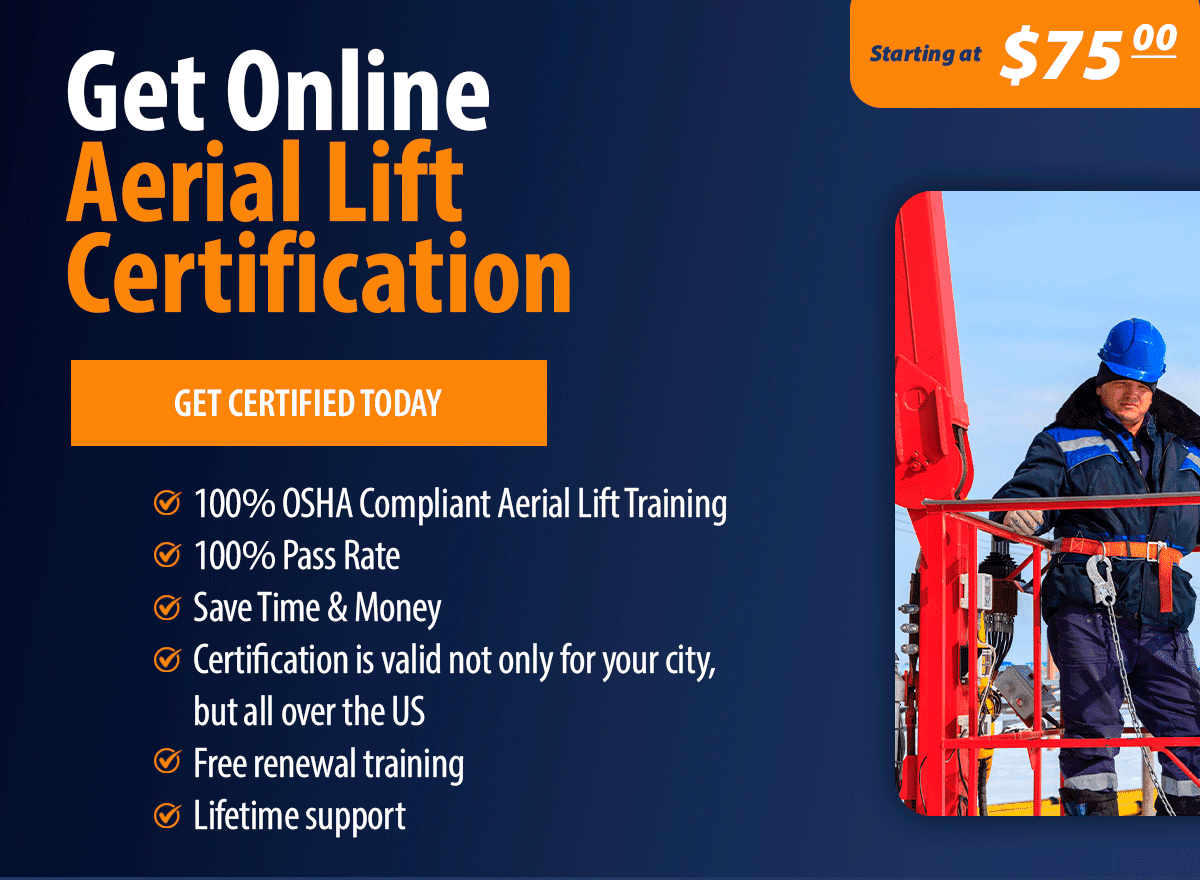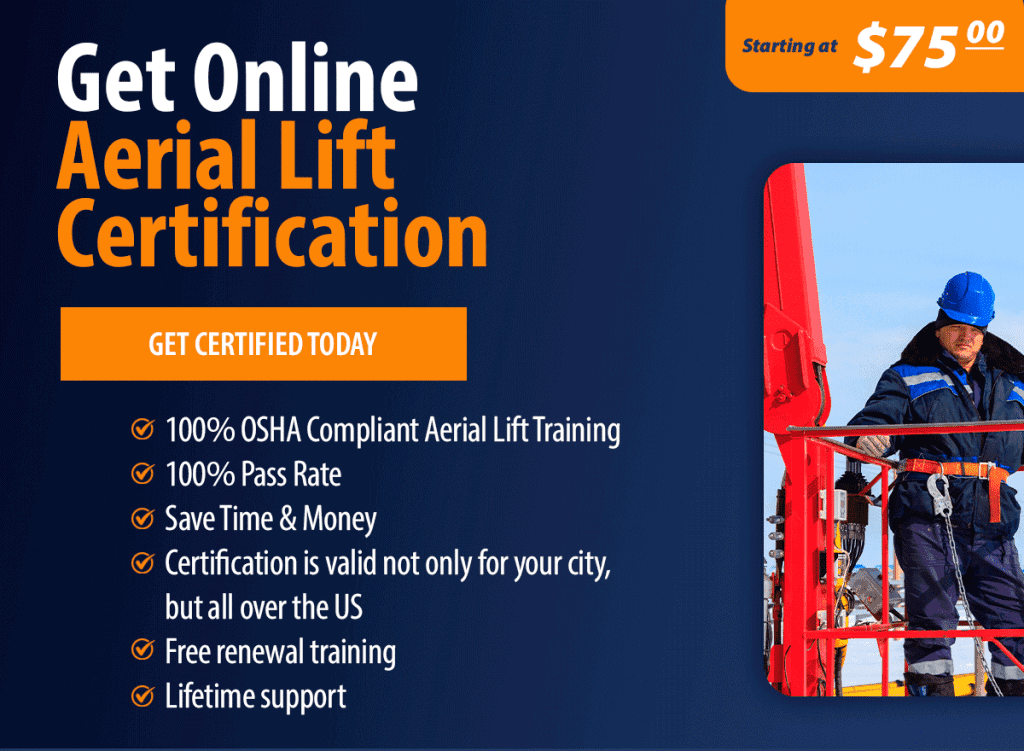 Are you planning a job requiring your workers to operate at a height? If so, consider using an aerial lift. This type of equipment will help you get the job done, but you must ensure you follow OSHA's rules and regulations. If you want to operate these machines, then the employees on the equipment need to have a valid aerial lift certification in Ontario first.
This OSHA rule ensures that all employees know the most common types of aerial lift hazards and how to avoid them.
If you're interested in training your team, you can opt to work with us here at CertifyMeOnline.Net for your certification needs. We offer an operator certification course for only $75.00 and atrain-the-trainer kit for only $149.00.
How Online Aerial Lift Certification in Ontario Works
In the past, aerial lift certification meant sending your team offsite to get a formal education, submit to training, take tests, and get officially certified. This process could take several days or even weeks.
Using CertifyMeOnline.Net, your team can obtain an Ontario aerial lift certification online and on-site within hours. Here is how our process works:
Select Our Platform: First, employers should set up an account with us here at CertifyMeOnline.Net. You will need a valid email address to go through the process.
Pick Your Training Kit: As you create your account, you must select a course. You can purchase more than one type of training kit. We offer aerial lift certification, trainer certifications, and forklift classes.
Employees Get Educated: This is where the bulk of the training happens! Employees can go over our digital educational material online 24/7 at their convenience.
Online Tests: Employees need to pass an online written test. This crucial test will show whether the employee understands the educational material presented to them.
On-Site Evaluation: Employees must pass an on-site evaluation on top of the online test. A certified trainer needs to conduct this evaluation to ensure the employee can safely operate aerial lifts and apply the knowledge they've learned.
Print Proof: Print off your employee's operator card
Once you certify your employee's training, they'll be considered officially certified. You can print off their operator card, and they will be considered eligible to operate aerial lifts for up to three years.

Why Choose CertifyMeOnline.Net for Ontario Aerial Lift Certification
Knowing how to get aerial lift certified in Ontario is important for several reasons. Getting certified protects your business and job site by ensuring all your employees are knowledgeable and informed. The proper education can help your team avoid accidents. Fewer job-related accidents are not only better for your team's overall health but also for your business, too. Just one serious accident resulting from a failure to uphold safety laws could ruin everything you've built. What's more, you could get hit with fines from OSHA. If you're ready to have your team certified, then here are a few reasons to work with us:
✓

Cost-Effective: Only pay for our program once but certify an unlimited number of employees

✓

Easy & Fast: Most customers can complete our program within an hour

✓

Print Proof of Certification

✓

Accessible: Access training materials 24/7 anywhere with internet access

✓

Money Back Guarantee
Did you know that your aerial lift certifications expire? The good news is that we offer free three-year renewals when you purchase our kit. We offer free updates to our digital program.

FAQs
Do you have additional concerns about getting an Ontario aerial lift certification, OSHA's rules, or our process? Learn the answers to a few commonly asked questions below.
Does the Training Address Height Hazards?
Yes. Workers utilize aerial lifts to help transport them to various heights. As a result, aerial lifts are inherently hazardous due to the fall risk workers face. Many construction workers have a fear of heights, and this type of fear is completely justified considering the risk. Not only can workers fall, but they can also face other risks when on the lift platform. For instance, a recent incident left several men trapped on boom lifts after roof trusses fell onto their machines, leaving them inoperable. The men had to be rescued via helicopter.
The good news is that our training program will help your employees get informed about these risks and learn how to manage them. Proper training will help reduce work-related accidents.
Do Extreme Weather Trends Impact Aerial Lift Operations?
Yes. If you're a resident of California, then you know all too well how interesting the weather patterns have been over the past few years. Experts say Californians should expect more extreme weather in the coming years, including severe storms.
If you operate a job site, then you must be weather aware. OSHA offers some weather guidance that you should follow. For instance, always pause aerial lift jobs when severe winds or storms are expected.

Choose CMO for Aerial Lift Certification in Ontario
Our online aerial lift training program helps make sure all of your employees are trained in all OSHA standards. Inside our on-average hour-long program, they'll learn how to operate any AWP or MEWP, including an aerial or scissor lift, inspect the equipment and work zone, remain compliant with all regulations, and recognize and avoid hazards that can cause accidents. 
Nothing prepares your workers quite like our aerial lift certification in Ontario. Best of all, our courses are affordable for both companies and individuals. Invest in your employees – and your company's future – with the best aerial lift certification in Ontario!
For only $75 for the aerial lift and scissor lift combination course, you'll be all with Ontario aerial lift training, with a printed certificate for each employee immediately following completion.
What are you waiting for? Sign up today and improve your safety program today! If you have any questions about aerial lift certification in Ontario or would like to speak directly with our OSHA compliance consultants and training experts, please call CMO at (602) 277-0615. Thanks for considering CMO for your aerial lift certification in Ontario!