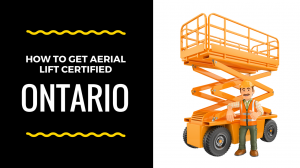 Ontario is located in southeast San Bernardino County, in California. Only about 35 miles east of downtown Los Angeles, Ontario offers a small town feel not far from entertainment, nightlife, culture, and a wide variety of eating establishments in LA. If you've been wanting to move to a city that provides a slower pace of life but isn't too far from everything the big city has to offer, then Ontario may be a great choice for you.
Ontario has a strong economy, and the city limits include many facilities that employ aerial lift operators, scissor lift workers, and other AWP personnel. From distribution centers, warehouses, and other industrial workplaces, Ontario is an ideal location for any AWP operator in search of a great job. For a new and exciting career in Ontario, consider getting an Ontario aerial lift certification.
CMO has the training you need to become OSHA compliant. With our aerial lift certification in Ontario, you'll have the best chance to land a well-paying AWP job.
Why Complete an Ontario Aerial Lift Certification?
Aerial lifts are used in countless worksites across Ontario, and are needed to keep the city's infrastructure safe and amenities functioning for residents. However, being such large and capable machines, aerial lifts come with their fair share of hazards. If a worker was to apply for an aerial lift job without training, an employer would be very hesitant to hire them, due to the increased risk of potential accidents and being fined from OSHA. Untrained workers are also less productive and efficient at work, giving them a disadvantage compared to trained employees.
With your aerial lift certification in Ontario, you'll have all the crucial knowledge and skills to effectively operate any AWP machinery – aerial lifts, boom lifts, scissor lifts, and more. CMO's affordable selection of aerial lift certifications in Ontario is a great way to become the best possible aerial lift or scissor lift operator you can be. And Ontario employers will take note – they're always looking for well-qualified candidates!

What is the Best Ontario Aerial Lift Certification to Get?
If you want to be the best possible operator, impress potential employers, and be prepared to protect your safety, then you shouldn't get just any Ontario aerial lift certification. You need to look for a program that is 100% compliant with all OSHA standards and regulations, regarding training, and safety and operational practices. An employer who sees this type of training on your resume will want you on their team!
Aerial Lift Jobs in Ontario
Some of the jobs you can qualify for when you complete your Ontario Aerial Lift training are aerial lift operator, aerial lift mechanic, lightworker, sign installer, window washer and repairman, arborist, and special event employee. You can live in the nature and quiet of Ontario, but work on exciting entertainment projects in Los Angeles and Hollywood! There are many great jobs available in and near Ontario as well, with top companies like Fullmer Construction, Miken Construction, Rossetti Construction, Electrical Management Systems, MaxGen Energy Services, and California State University.
Choose CertifyMeOnline.net For Your Ontario Aerial Lift Certification
Our online aerial lift training program can prepare you for all of these great positions and more, and will ensure you are trained in all OSHA standards. Inside our on-average hour-long program, you'll learn how to operate an aerial lift, inspect the equipment and work zone, remain compliant with all regulations, and recognize and avoid hazards that can cause accidents. Nothing prepares you quite like our aerial lift certification in Ontario. Best of all, our courses are affordable for both companies and individuals. Invest in yourself – and your future – with aerial lift certification in Ontario from CMO!
For only $75 for the aerial lift and scissor lift combination course, you'll be all set for your new career in Ontario, with a printed certificate in hand immediately following completion.
What are you waiting for? Sign up today and start work tomorrow! If you have any questions about aerial lift certification in Ontario, or would like to speak directly with our OSHA compliance consultants and training experts, please call CMO at (602) 277-0615. Thanks for considering CMO for your aerial lift certification in Ontario!