Same Day OSHA Compliant Sacramento Aerial Lift Certification from CertifyMeOnline.net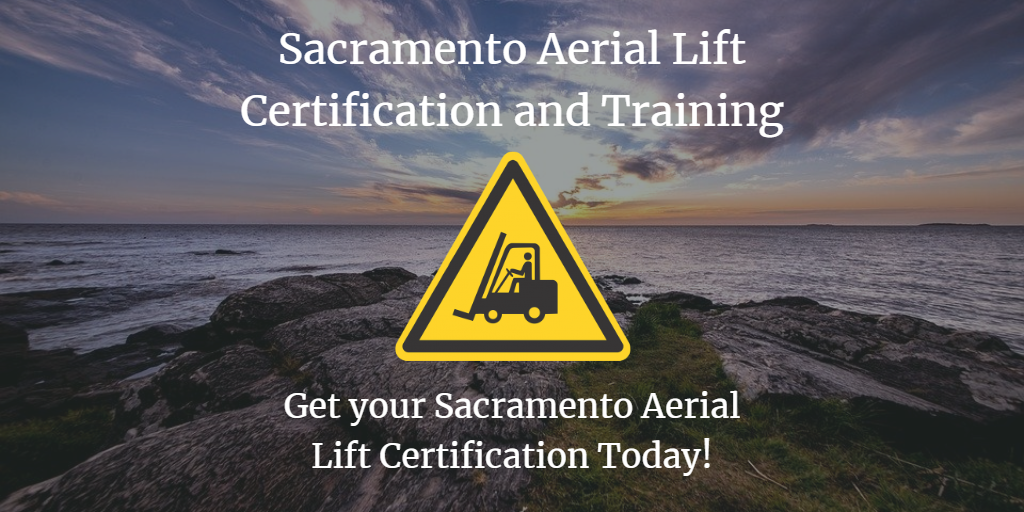 Sacramento, which is both California's capitol and one of the state's most historic cities, has an impressive array of attractions for both residents and visitors alike. The city, which has a population of more than a half million people also has as a diverse commercial and industrial base, which means it has lots of opportunities for businesses that use heavy equipment, including aerial lifts and scissor lifts.
Sacramento area employers need to be aware that the U.S. Occupational Safety & Health Administration (OSHA) requires every company that employs aerial lift or scissor lift operators to provide them with OSHA compliant aerial lift training and certification. That's where CertifyMeOnline.net can help through our OSHA compliant training courses. Keep reading to see how your employees can complete their training, receive their certifications and become OSHA compliant as soon as today!

Why Sacramento Aerial Lift Certification is Important
Using aerial lifts, scissor lifts or other aerial work platforms (AWPs) in a safe and efficient manner requires training, and in the hands of an untrained or improperly trained operator can be extremely dangerous pieces of equipment.  OSHA is always on the lookout for contractors and businesses that allow unsafe working conditions, such as employing aerial lift and scissor lift operators who haven't received OSHA compliant training and certification.
To protect both your employees and your business, you'll need to have your lift operators complete OSHA-approved Sacramento aerial lift certification training such as that offered by CertifymeOnline.net. We've designed our online aerial lift and scissor lift certification program to be as comprehensive, convenient and affordable as possible.
Reasons to Choose CertifyMeOnline.Net for Sacramento Aerial Lift Training
Having properly trained operators is essential for maintaining a safe working environment, and Sacramento workplace safety begins with CertifyMe.net's aerial lift certification. Here are a few of the many reasons why our lift certification programs just can't be beat:
✓ CMO aerial lift training is fast:
There are no time restrictions, so students can work at their own pace. Some students, however, complete our Sacramento aerial lift training in about an hour.
✓ Our pass rate is 100%:
Most students pass the exam the first time, although the open book test can be repeated without penalty if necessary. Students are free to refer to the training materials while taking the exam.
✓ We're 100% OSHA compliant:
After your operators complete our Sacramento lift certification training, you'll have a safer and more productive workplace, and your business is less likely to be fined by OSHA following an audit.
✓ Our training is affordable:
CMO.net's Sacramento lift operator training classes cost just $75 each. All training materials are included, so there's nothing else to buy. With CertifyMeOnline.net, it doesn't cost a lot of money to certify your workers
✓ CMO training is convenient:
There's no need for your employees to take time off work traveling to and from an expensive offsite training facility when they're trained through CertifyMeOnline.net. Our online classes can be taken take anywhere there's an internet connection and any time that's convenient – during lunch, at a coffee shop or even at home!
✓ Documentation is immediately:
There's no waiting for certificates and lift operator cards to arrive by mail – as soon as the class is completed, the cards and certificates can be downloaded and printed.
✓ Renewal training is free:
OSHA requires forklift operators to be recertified every three years, or under some circumstances sooner. When your workers train with CertifyMeOnline.net, their refresher training is free for life.
✓ Avoid costly OSHA penalties:
Our training is 100% OSHA compliant, so there's less chance of being fined by OSHA when your employees are certified by CMO. We surveyed more than100 business owners and safety personnel about their experiences with OSHA, and found that more than half of the respondents reported having been audited by OSHA. Eighteen percent of these companies received fines, most of which were over $100,000! To see the full study click here.
✓ We're up to date on OSHA regulations and ANSI (American National Standards Institute):
ANSI recently revised their standards A92.22-2018 & A92.24-2018, which affect all aerial lift operators and owners. The previous standards are now outdated, which means employers need to update their operators' aerial lift certifications to familiarize them with the new requirements. CertifyMeOnline.net's aerial lift courses always incorporate the latest OSHA regulations and ANSI standards, so enroll your operators today to remain compliant!
If there are untrained aerial lift operators on your payroll, have them certified as soon as possible. In about an hour, you can have a safer and more productive workplace. Protect your workers from accidents and your business from OSHA penalties and fines – sign them up for our Sacramento aerial lift certification training now!
Enroll Your Employees in CMO's Sacramento Aerial Lift Certification Program Today
Talk about easy! Our 100% OSHA approved Sacramento aerial lift certification training can be completed in about an hour. To enroll your workers, just follow these five simple steps:
1. Set up an account
Register your company on the CMO website, which takes just a couple of minutes and.is free.
2. Register your workers and create their usernames and passwords
Payment can be made online by credit card and cost just $75 per operator.
3. Have students log into the account
Using their passwords, students log in on a smartphone or other digital device anywhere there's an internet connection and any time that's convenient. All materials are available online 24/7.
4. Take the test
Working at their own pace, students watch the online instructions and take the Although there are no time limitations, some students complete the course and open book exam in about an hour. Our pass rate is 100%.
5. Download Operator Cards and Evaluation Checklists
Once CMO's aerial lift training has been completed, temporary operator cards and certificates can be immediately downloaded and print
That's all there is to it! It takes just a few minutes to enroll your employees and about an hour for them to complete the training and receive their OSHA compliant aerial lift certifications. Since the training and testing are online, your operators can take the online training program anywhere and any time that's convenient.
Sign Up Your Operators Now for CMO's Sacramento Aerial Lift Certification Training
Businesses can't afford the consequences of having untrained and uncertified workers operating lift equipment in the workplace. If you have untrained operators or need to update your company's safety program to bring it into OSHA compliance, now is the time to get started, so sign up for our Sacramento aerial lift certification training today! It's never been easier, more convenient or more affordable to have your workers receive same day Sacramento aerial and scissor lift training!
Ready to enroll your operators in Sacramento aerial lift and scissor lift certification training? Contact us online or give our aerial lift certification experts a call at (602) 277-0615 to get started. CertifyMeOnline.net is the only resource you need for OSHA-approved Sacramento aerial lift training.