Need OSHA Compliant Sacramento Aerial Lift Certification Today? Contact CertifyMeOnline.net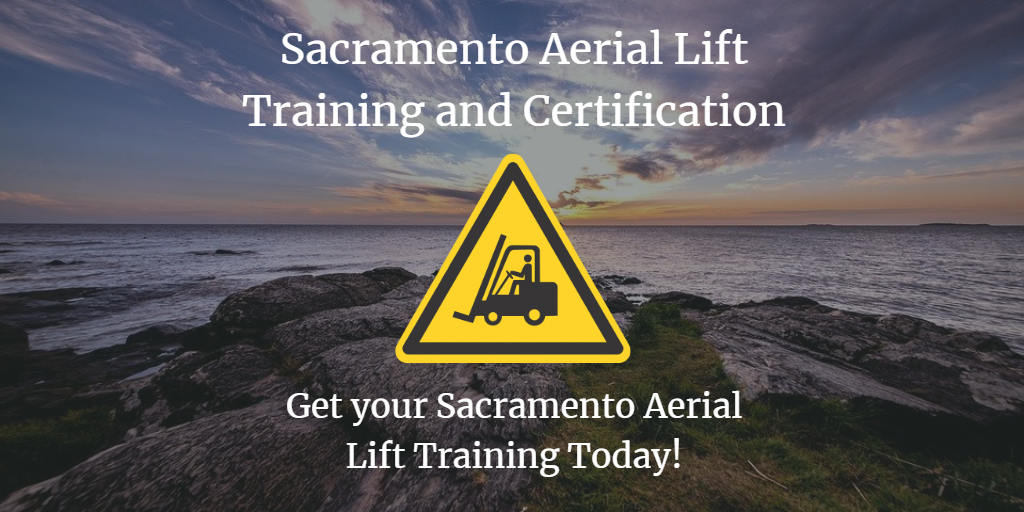 Sacramento has tons of opportunities, careers, and jobs available to individuals in the area, particularly for scissor lift and aerial lift operators.
Sacramento aerial lift certification is imperative for Sacramento employers. The U.S. Occupational Safety & Health Administration (OSHA) requires every company to provide aerial lift certification in Sacramento, along with scissor lift training.
CertifyMeOnline.net offers OSHA compliant training courses at great prices, and your employees can finish their training in no time. See how we can improve your safety program –sign up today!

Why Get a Sacramento Aerial Lift Certification?
If you are a specialist in the construction industry or another related field, there's a good chance that there will come a time when you need to hire aerial or scissor lift operators. Using this kind of heavy-duty equipment can be dangerous to your company without proper training. OSHA is always on the lookout for contractors and businesses that practice unsafe working conditions, like operating aerial and scissor lifts without prior OSHA-compliant certifications.
In order to protect your employees, you need to complete an aerial lift certification for Sacramento. Earning your certificate is the only way you'll be able to start a new career as an aerial lift operator.
Choose an Aerial Lift Certification in Sacramento for Contractors and Small Businesses
When looking for a Sacramento aerial lift training program, look for one that is OSHA-compliant and services both independent contractors and small businesses for a sliver of the price of other expensive training programs and certification services, CertifyMeOnline.net has designed an online aerial and scissor lift program that's as convenient and comprehensive as possible.
Get started today with our aerial lift certification in Sacramento! We're the #1 option for companies that need an aerial lift and scissor lift training.
Learn More About CertifyMeOnline.net Aerial and Scissor Lift Training Classes!
Our aerial lift certification in Sacramento is easy, fast, and affordable as possible. We want your company to become – and remain – compliant, all while ensuring the safety of others.
The actual training and certification can take as little as an hour, and your documents will be shipped in about 7 to 10 days. Immediately after completing the online program, you'll be able to print a temporary certificate. No waiting for the mail to arrive – just complete your employees' aerial lift certification in Sacramento, verify their skills & knowledge with an on-hands evaluation, and print their license. It's that easy!
For scissor lift certification in Sacramento as well as aerial lift training in Sacramento, look no further that our number one combination class:
✓ Aerial Lift and Scissor Lift Training– $75 and Online
*Spanish Option Available
✓ Class 7 Forklift Training–$75 and Online
*Spanish Option Available
✓ Fall Protection for your Business–$75 and Online
*Spanish Option Available
Get Sacramento Aerial Lift Certification in 5 Easy Steps
In only five easy steps, obtain your employees' scissor lift or aerial lift certification in Sacramento and scissor lift training today with no delays or downtime!
Here are five easy steps to get your aerial lift certification in Sacramento:
1. Have your employer register your company online
2. Register as an operator
you or your employer can do this, however, your employer should be paying for you. The cost of our aerial lift training programs is $75 per operator.
3. Log in
As a student of the online aerial lift and scissor lift class; you will log into your account to access all of the training modules. Our aerial lift certification in Sacramento is available every day 24/7 and is taken at your own pace.
4. Complete the modules and pass the test
The online curriculum takes only about one hour to complete, and once you've done that, you will take the final test.
5. Print the certificate card
Once you've completed and passed the online aerial lift course, you can immediately print your operator certification card. You will be able to begin work right away!

Thanks for visiting CertifyMeOnline.net. We look forward to assisting with all your OSHA compliance requirements, including Sacramento aerial lift certification.