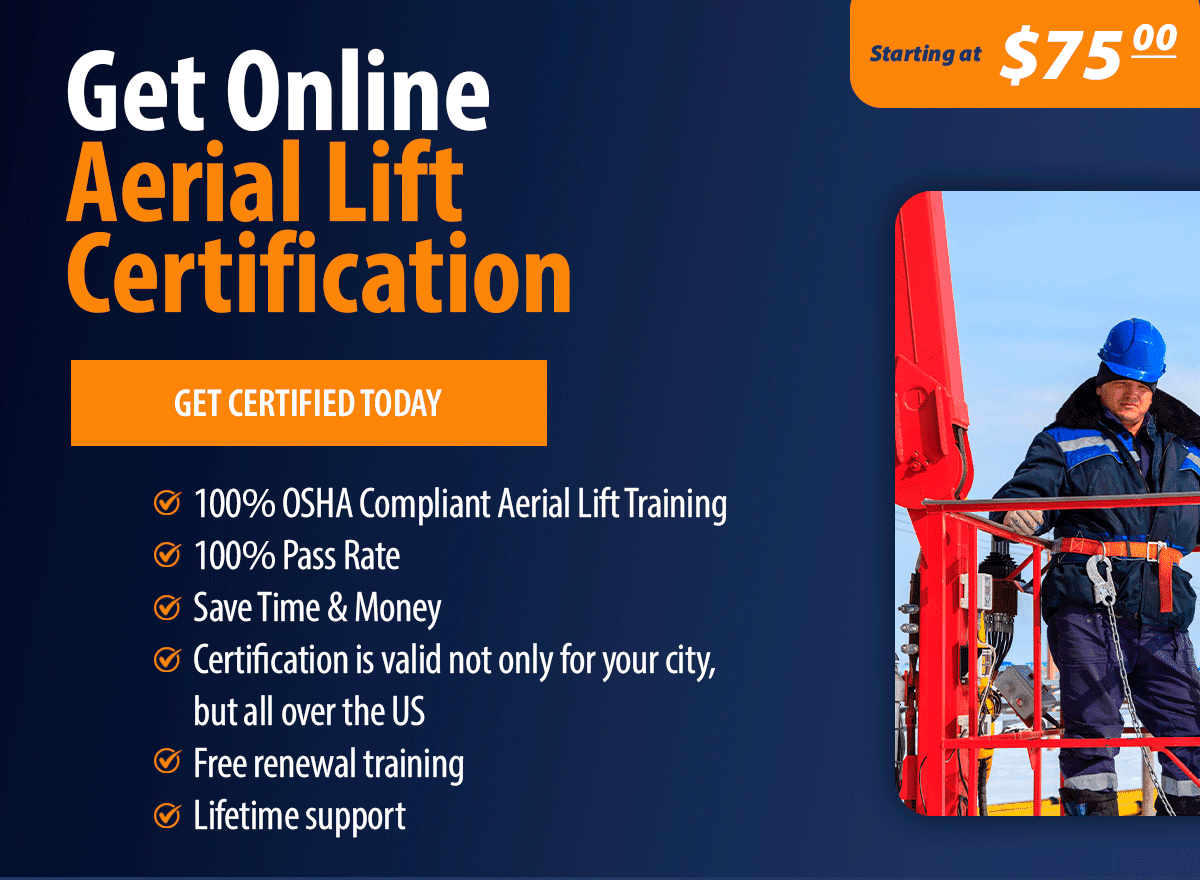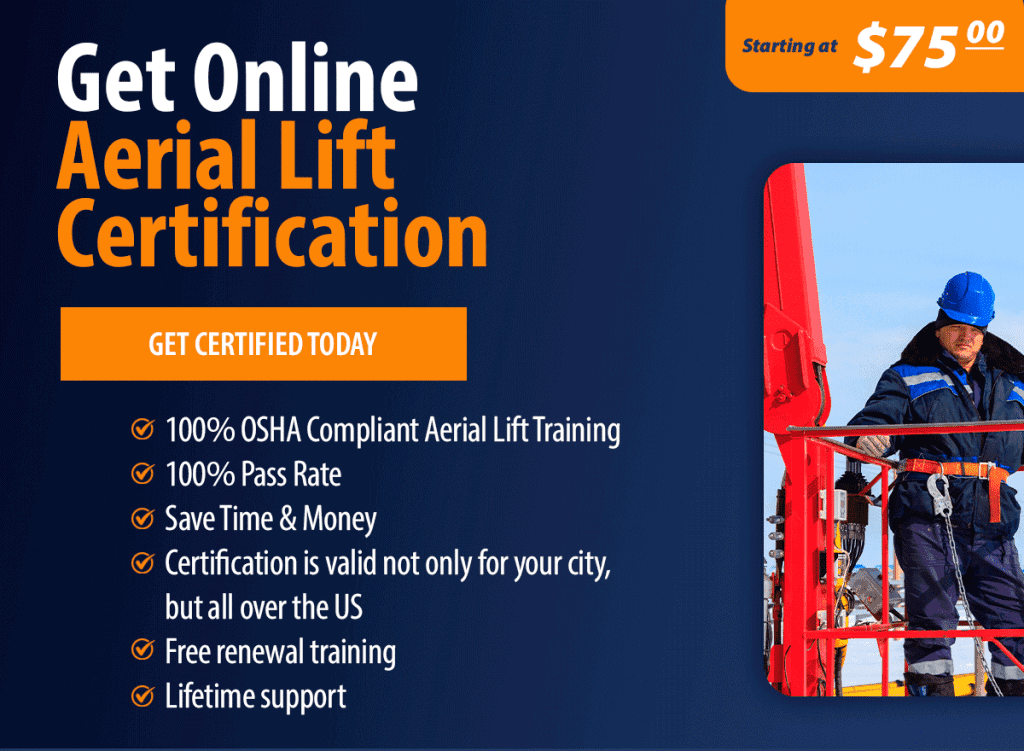 Do you hire aerial lift workers? Any company that runs aerial work platforms (AWPs), cherry pickers, telescopic lifts, mobile elevating work platforms (MEWPs), and more must have a Sacramento aerial lift certification. Without it, OSHA can fine your company thousands of dollars.
The problem is most people don't know all about OSHA safety guidelines. But CertifyMeOnline.net does, and we're here to help you get aerial lift certification in Sacramento.
Start with our Operator Training package, affordably priced at just $75. It's ideal for all your AWP and MEWP operators. We also have a Train the Trainer certification course, which gives you an in-house trainer on hand at all times. It's only $149. Plus, we have plenty of other training (like fall protection, HAZCOM, and more)!
We also take care of your 3-year recertification training. Register your company today, and we'll show you all about aerial lift certification in Sacramento.
How to Get Aerial Lift Certified in Sacramento
Did you know it's easy to get Sacramento aerial lift certification online? Follow these steps and see for yourself:
Online registration. Set up your login info.
Complete the online portion of the training. OSHA safety guidelines are at the heart of our aerial lift certification in Sacramento. Your employees must know them to stay safe on the job. That's what our online training does!
Test driving skills. Knowing about OSHA safety is one thing. But to get Sacramento aerial lift certification, your workers must show they can safely run your equipment. You'll use CMO checklists and other materials to ensure they're compliant.
Print aerial lift licenses. Waiting around in the mail for aerial lift credentials? Not with CMO! Just print your employees' papers, and they're ready to work.
Every 3 years, your AWP & MEWP workers need to get trained again. We'll help you with your renewal training!

Why Choose CMO for Your Sacramento Aerial Lift Certification?
CMO gives you these benefits and much more!
✓

Our training is in sync with OSHA: OSHA rules change a lot. But you don't have to worry about getting different CMO Sacramento aerial lift training since our content automatically updates.

✓

100% OSHA compliance. From scissor lifts to all aerial lifts, your workers are covered with our courses. Our all-in-one approach means you don't have to buy different training for different aerial lift models.

✓

Low prices and high-quality training. Safety should be on the table for everyone. Even small companies like our aerial lift certification in Sacramento since it's so affordable. Browse our pricing page to see which online Sacramento aerial lift training and certification works for you.

✓

OSHA inspection? No worries. If your company has an accident with injuries, OSHA will investigate. And fines can be quite expensive. But CMO makes sure you're not held liable for untrained workers.

Sacramento Aerial Lift Certification FAQs
We put together some of the most common questions about Sacramento aerial lift certification at CMO:
What if I need more training for things like hazardous materials?
We have HAZWOPER training, HAZCOM, fall protection certification, and more. Go to CMO's course catalog and select what you need for compliance.
Do I need different training for new employees and experienced workers?
Not at all. Our Sacramento aerial lift certification is ideal for ALL your AWP and MEWP operators!
What else do I get with CMO?
How about the best customer service around, along with that special OSHA "insider's" knowledge that comes with our experienced staff? With CMO, we're in your corner for complete compliance!
If you have more questions about training or how to get aerial lift certified in Sacramento, call CMO directly at (602) 277-0615. You can also drop us a line anytime you want. Don't put off your aerial lift certification in Sacramento any longer!

Sign Up Your Operators Now for CMO's Sacramento Aerial Lift Certification Training

Businesses can't afford the consequences of having untrained and uncertified workers operating lift equipment in the workplace. If you have untrained operators who are unsure how to get aerial lift certification in Sacramento, CA, now is the time to get started. It's never been easier, more convenient or more affordable to have your workers receive same day training!
Ready to enroll your operators in Sacramento aerial lift and scissor lift certification training? Contact us online or give our aerial lift certification experts a call at (602) 277-0615 to get started. CertifyMeOnline.net is the only resource you need for OSHA-approved Sacramento aerial lift training.