Want to Earn Your Sacramento Aerial Lift Certification in About an Hour? Sign Up with CertifyMeOnline.net Today!
Welcome to California's capital city! Sacramento, which is both California's capitol and one of the state's most historic cities, has an impressive array of attractions for both residents and visitors alike. The city has a population of more than a half million people also has as a diverse commercial and industrial base, which means it has lots of opportunities for businesses that use heavy equipment, including aerial lifts and scissor lifts. Sacramento aerial lift certification can help job-seekers become more marketable in this competitive region.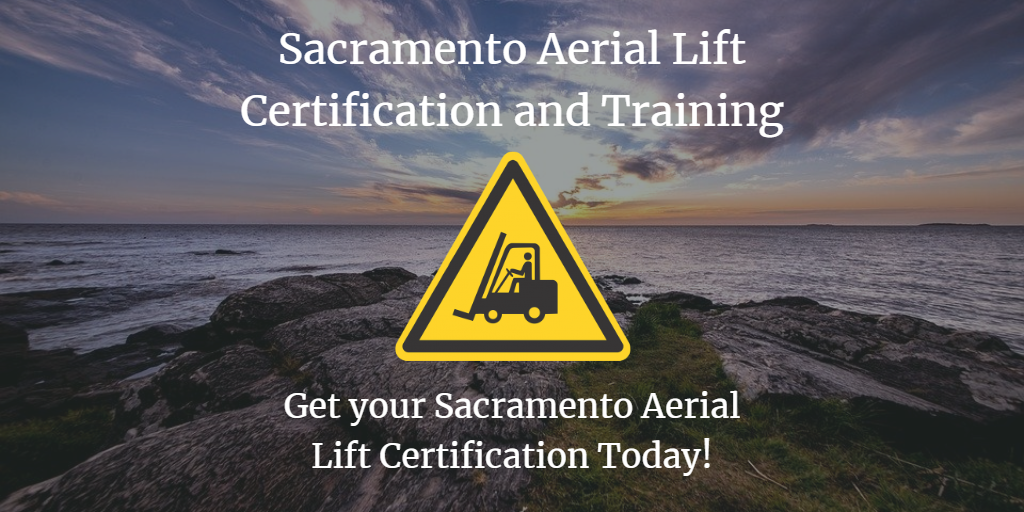 CertifyMeOnline.net offers convenient online courses for those seeking aerial lift certification and training in Sacramento. Our courses offer:
– Affordable prices
– Lifetime support
– Free renewal training
– All required documentation and paperwork for OSHA
– And much more
100 percent OSHA compliance is easily achievable thanks to CertifyMeOnline.net. Every Sacramento employer is required to provide aerial lift certification opportunities to their employees. Get your training program up to date while simultaneously fostering a safer work enrionment for everyone. Aerial lift certification and training in Sacramento benefits everyone in your organization.
Aerial Lift Certification in Sacramento – Courses, Pricing & More
Searching for the best Sacramento aerial lift certification courses? CMO is the answer. Our OSHA compliant classes are ideal for any organization hoping to improve their safety program, promote a safer work environment, and get in compliance with OSHA regulations. CMO offers the following aerial lift certification in Sacramento:
?

Train the Trainer Certification – Aerial Lift/Scissor Lift – Sacramento Aerial Lift Certification Course – $149.00

Allow CMO to train your own in-house trainers, so you can perform evaluations, improve existing safety plans, and more!
?

Aerial Lift and Scissor Lift – Aerial Lift Certification in Sacramento

Great for Beginners, Veteran Operators and Everyone in Between! – $75.00
?

Aerial Lift and Scissor Lift – Spanish – $75.00

Sensible Training Solution for CA Bi-Lingual Needs

The most comprehensive Sacramento aerial lift certification is available in Spanish and English! Our training covers everything from standard operating procedures to more advanced techniques and best practices.
?

Class 7 Aerial Lift Certification in Sacramento – $75

– Includes Rough Terrain Forklift Trucks, Straight mast forklifts, Extended reach forklifts
? Fall Protection – Aerial Lift Certification in Boston – $75.00
? Fall Protection – Spanish – $75.00
Just like our aerial and scissor lift certification opportunities, this fall protection class is available in both English and Spanish.
Sign up for aerial lift certification in Sacramento with these outstanding courses!

Why Sacramento Aerial Lift Certification is Important
Using aerial lifts, scissor lifts or other aerial work platforms (AWPs) & mobile elevating work platforms (MEWPs) in a safe and efficient manner requires training, and in the hands of an untrained or improperly trained operator can be extremely dangerous pieces of equipment. OSHA is always on the lookout for contractors and businesses that allow unsafe working conditions, such as employing aerial lift and scissor lift operators who haven't received OSHA compliant training and certification.
To protect both your employees and your business, you'll need to have your lift operators complete OSHA-approved Sacramento aerial lift certification training, and CertifymeOnline.net has everything you need for complete OSHA compliance. We've designed our online aerial lift and scissor lift certification program to be as comprehensive, convenient and affordable as possible.
The Impact Sacramento Aerial Lift Training Has on Your Business
Avoiding workplace injuries and accidents is one of the most important reasons for seeking aerial lift certification and training in Sacramento. The region is known for its agricultural industry, and without thorough training, workers could quickly find themselves in over their heads. Responsible employers rely upon lift operators who have been trained and certified because it's the right choice for their business. It's also required by law.
Each year, OSHA levies millions of dollars in fines against companies that fail to certify their workers. CMO recently conducted a survey of 100 companies that use boom and scissor lifts. 51 percent of respondents say OSHA audited their safety plan. 82 percent say they were required to pay OSHA fines – many of which exceeded $100,000.
Certification benefits workers, too. Aerial lift certification in Sacramento can:
? Empower workers to apply and qualify for better paying jobs
? Help them advance their careers
? Keep workers safe on the job
Reasons to Choose CertifyMeOnline.Net for Sacramento Aerial Lift Training
Having properly trained operators is essential for maintaining a safe working environment, and Sacramento workplace safety begins with CertifyMe.net's aerial lift certification. Here are a few of the many reasons why our lift certification programs just can't be beat:
?

CMO Aerial Lift Training is Fast
There are no time restrictions, so students can work at their own pace. Some students, however, complete our Sacramento aerial lift training in about an hour.
?
Our Pass Rate is 100%
Most students pass the exam the first time, although the open book test can be repeated without penalty if necessary. Students are free to refer to the training materials while taking the exam.
?
We're 100% OSHA Compliant
After your operators complete our Sacramento aerial lift certification training, you'll have a safer and more productive workplace, and your business is less likely to be fined by OSHA following an audit.
?
Our Training is Affordable
CMO.net's Sacramento lift operator training classes cost just $75 each. All training materials are included, so there's nothing else to buy. With CertifyMeOnline.net, it doesn't cost a lot of money to certify your workers.
?
CMO Training is Convenient
There's no need for your employees to take time off work traveling to and from an expensive offsite training facility when they're trained through CertifyMeOnline.net. Our online classes can be taken take anywhere there's an internet connection and any time that's convenient – during lunch, at a coffee shop or even at home!
?
No Waiting for Documentation and Proof of Training
There's no waiting for certificates and lift operator cards to arrive by mail – as soon as the class is completed, the cards and certificates can be downloaded and printed.
?
Avoid Costly OSHA Penalties
Our aerial lift certification and training in Sacramento is 100% OSHA compliant, so there's less chance of being fined by OSHA when your employees are certified by CMO.
?
We're Up to Date on OSHA Regulations and ANSI (American National Standards Institute)
ANSI recently revised their standards A92.22-2018 & A92.24-2018, which affect all aerial lift operators and owners. The previous standards are now outdated, which means employers need to update their operators' aerial lift certifications to familiarize them with the new requirements. CertifyMeOnline.net's aerial lift courses always incorporate the latest OSHA regulations and ANSI standards, so enroll your operators today to remain compliant!
If there are untrained aerial lift operators on your payroll, have them certified as soon as possible. In about an hour, you can have a safer and more productive workplace. Protect your workers from accidents and your business from OSHA penalties and fines – sign them up for our Sacramento aerial lift certification training now!

Sign Up Your Operators Now for CMO's Sacramento Aerial Lift Certification Training
Businesses can't afford the consequences of having untrained and uncertified workers operating lift equipment in the workplace. If you have untrained operators who are unsure how to get aerial lift certification in Sacramento, CA, now is the time to get started. It's never been easier, more convenient or more affordable to have your workers receive same day training!
Ready to enroll your operators in Sacramento aerial lift and scissor lift certification training? Contact us online or give our aerial lift certification experts a call at (602) 277-0615 to get started. CertifyMeOnline.net is the only resource you need for OSHA-approved Sacramento aerial lift training.