Complete Our Online OSHA-Compliant Forklift Certification in About an Hour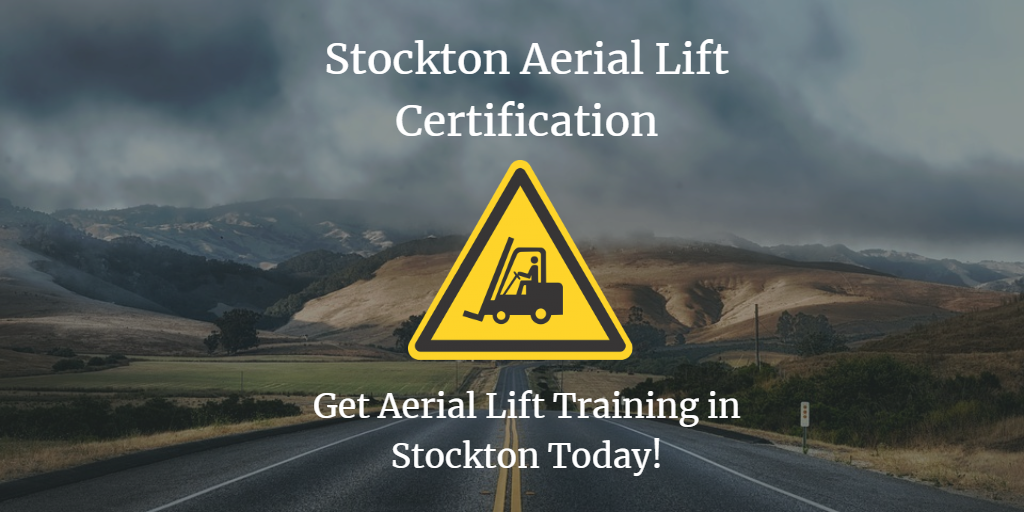 Situated along the banks of the San Joaquin River in north-central California's San Joaquin Valley, Stockton, along with Sacramento is one of California's only two inland seaports. Stockton has a population of more than three hundred thousand people and has steadily been gaining population over the past several years. The city is a hotspot for new development and construction, and like any community that shows signs of growth is a prime place for building contractors and construction companies to find business opportunities.
It's easy to get started. With our easy 5-step process, your operators can be certified in as little as an hour!

1. Create an account and register your company (it only takes a couple of minutes)
2. Register your aerial lift and scissor lift, operators
3. Have your students log in to the account
4. Have students take the test, which takes about an hour
5. Once the exam is completed, a qualified trainer will have students undergo in-person, hands-on equipment operating evaluation
That's it! After students pass the test, their 100 % OSHA-compliant Stockton aerial lift certification training is complete. Download and print their aerial and scissor lift operator cards, put the certifications in their HR files and they're ready to go to work!
If you're a Stockton area employer who hires aerial lift operators, you need to be aware that OSHA regulations require all aerial lift and scissor lift operators to be properly trained and certified before they're legally allowed to operate the equipment on job sites. If you have uncertified operators working for you, it's crucial that you arrange for them to receive Stockton area lift certifications as soon as possible. With the help of CertifyMeOnline.net, we can have your aerial lift workers trained and certificated in as little as an hour, which will protect you against OSHA fines and penalties.
Why Aerial Lift Certification Stockton is Important
Aerial lifts and scissor lifts in the hands of inexperienced or improperly trained operators can be extremely dangerous. That's why in Stockton and throughout California, it's against the law to allow workers to operate lift equipment without OSHA-approved aerial lift and scissor lift training.
Our courses benefit employers and employees alike. Without CertifyMeOnline.net's aerial lift and scissor lift training, your operators risk being ejected or falling from lift platforms or sustaining injuries from a lift tip-over, entanglement or other life-threatening incidents. As an employer, you run the risk incurring severe penalties and fines from OSHA.
CMO has plenty of advantages over alternative programs for certifying scissor lift, aerial lift, and aerial work platform (AWP) operators, including being fast, easy and affordable. Enroll your workers in CMO's Stockton aerial lift certification training today – you'll be glad you did!
Reasons to Enroll Your Operators in CMO's Stockton Aerial Lift Certification Training
The purpose of Stockton aerial lift and scissor lift certification training is to improve workplace safety and save lives. Since it's required by OSHA, it's also the law, and failure to comply can result in severe penalties and fines.
CertifymeOnline.net recently surveyed more than 100 managers, supervisors, and safety personnel. Over half of the respondents reported having been audited by OSHA, and of these,18% had received fines, the majority of which exceeded $100,000. To review the entire study, click here.
Stockton aerial lift operator certifications are an important part of ensuring that your business is sound and based on core fundamentals. Our extensive knowledge of aerial lift training in Stockton and our expertise in complying with OSHA guidelines will help your company stand out as professionals in the Stockton business community.
With Stockton aerial lift training, you'll have the peace of mind that comes with knowing your lift operators can handle the equipment safely. The certification will demonstrate to your customers and OSHA that you are 100% prepared to handle the job. OSHA takes safety issues seriously, and if there's a gap in your training or paperwork, you could receive a hefty fine. Avoid legal trouble and costly penalties by enrolling your operators in aerial lift training in Stockton.
Benefits of Stockton Aerial Lift Certification
When you have your employees complete CMO's aerial lift certification Stockton, there are several benefits for both employees and employers. Here are some of the highlights:
✓ Protect Your Workers' Lives and Safety
On average, there are about 26 fatal accidents involving forklifts each year. Most of them result from operator errors due to a lack of proper training. When your employees complete CMO's aerial lift and operator lift training, they'll know how to avoid various workplace hazards that could cause them serious injury or cost them their lives.
✓ Your Workplace Will Be More Efficient and Productive
Our aerial lift training programs cover everything drivers need to know about operating aerial lift and scissor lift equipment safely and efficiently. This translates directly to more efficient operations and increased productivity.
✓ Become OSHA Compliant
Anyone who operates or allows others to operate aerial lifts in the workplace without having received OSHA-approved training and certification is breaking the law. When employees complete CertifyMeOnline.net's training, they'll know how to correctly operate an aerial lift, as well as how to maintain the equipment, inspect it before each use and assess the surrounding environment for potential hazards. Their training will enable operators to avoid dangerous situations that could result in serious injuries or death and costly damages to company property and equipment.
✓ Keep Up to Date with Changing Safety Rules
ANSI, the American National Standards Institute (ANSI), recently updated ANSI regulations A92.22 Safe Use and A92.24, which are guidelines that affect the use of scissor lifts and aerial lifts. CMO routinely checks for changing safety rules and automatically updates our training materials to reflect changes, which relieves you of the hassle and headaches of having to find out how new legislation will impact your business. That's just one more reason why companies throughout the Stockton area rely on CMO for their aerial lift certification needs!
✓ Free 3 Year Renewal Training for Life
Every 36 months, OSHA requires your workers to renew their aerial lift operator credentials. With our aerial lift certification training in Stockton, CMO makes the renewal training process both easy and convenient. Even better, when your employees receive their initial Stockton aerial lift certification training through CMO, OSHA recertification training is always free
These are just some of the many benefits that come with with CertifyMeOnline.net's aerial lift training in Stockton. Enroll your operators today to get started now!
Why CMO is Your Best Choice for Aerial Lift Certification Stockton
✓ Our online aerial lift training is fast and easy
All training materials are available online 24/7, and the classes can be completed in as little as an hour. Since there are no time limits, students can work at their own pace using a digital device anywhere there's an internet connection. Most students pass the exam the first time it's taken, students can repeat the training as many times as needed.
✓ We're 100 % OSHA compliant
Having your workers complete CMO's Stockton aerial lift certification training means you'll not only have a safer workplace, but you'll also avoid hefty OSHA fines and penalties for noncompliance.
✓ CMO training is affordable
Our aerial lift and scissor lift training program costs just $75 per employee. There's no need to break the bank to train your operators and bring your business into OSHA compliance.
✓ Our training is flexible and convenient
The courses can be taken at any time and anywhere that's convenient – during a lunch break, at a coffee shop or at home. With CMO, there's no need to take time off work to travel to and from an expensive offsite training facility.
✓ Certifications and operator cards are available immediately
After students complete the training, their OSHA certifications and aerial lift operator cards can immediately be downloaded and printed, making it legal for them to resume operating lift equipment. There's no need to wait for the paperwork to arrive at the mail.

Get Stockton Aerial Lift Certification For Your Employees Today!.
Still have questions about CMO's aerial lift certification Stockton training program? to You can speak with one of our knowledgeable aerial lift training experts by calling us at (602) 277-0615. To register your business and enroll your employees in our Stockton aerial lift operator training program online click here.  CMO is here to help you with all your Stockton aerial lift certification needs!
Ready to enroll your operators in Stockton aerial lift certification training?  We'll give you all the help and information you need to get started today!