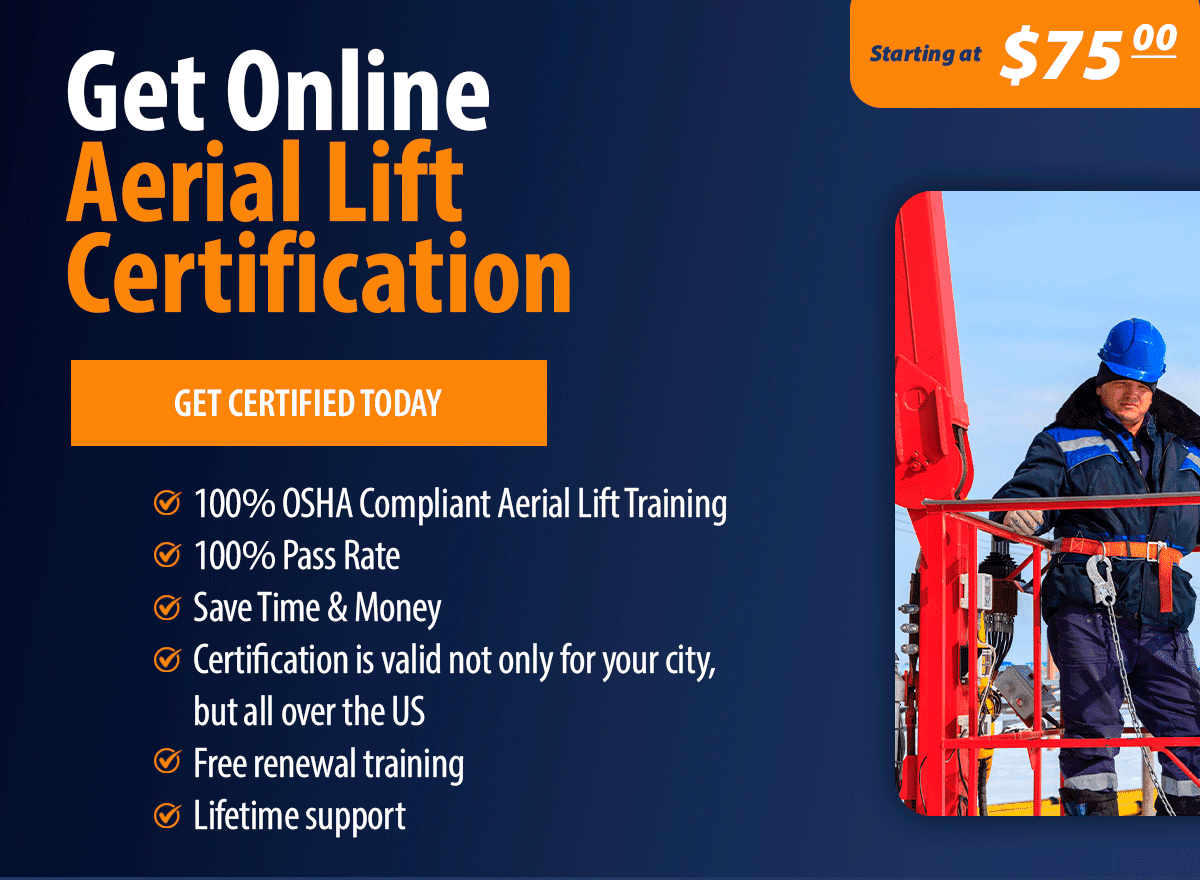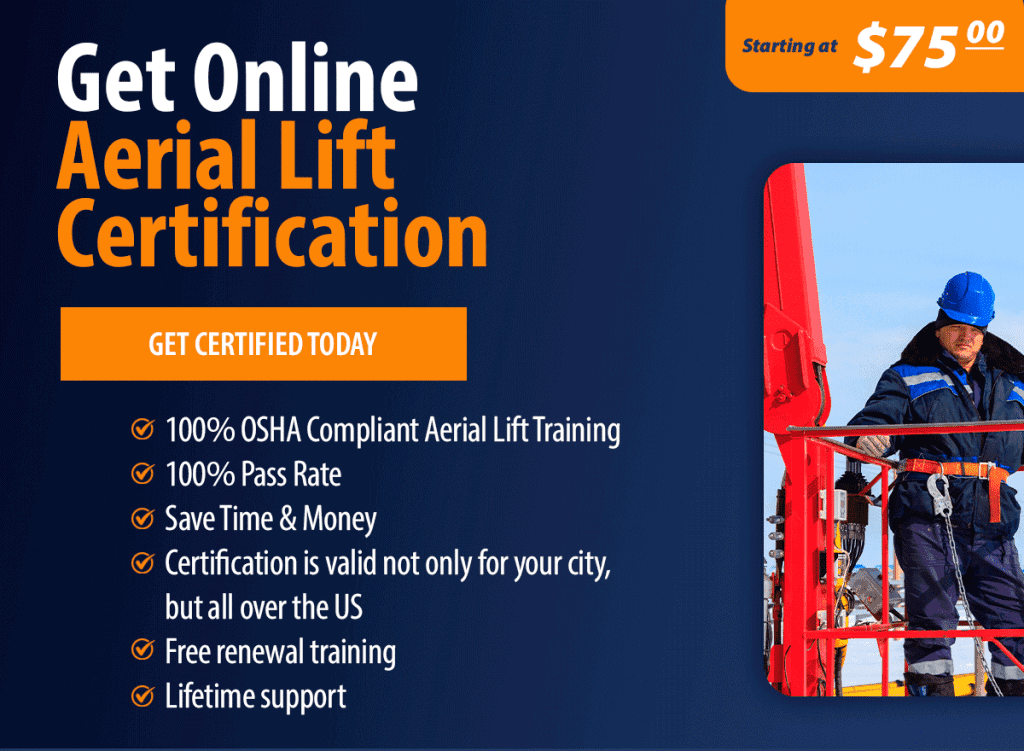 Aerial lifts can help your employees reach new heights, but only if your employees know how to operate this type of machinery safely. The last thing you need as an employer is to have incompetent workers attempt to use such a dangerous machine and cause an accident.
Aerial lifts are hazardous, and they can cause fatalities. As such, you need to take them seriously.
The best way to keep your team safe is to ensure all operators obtain an aerial lift certification in Stockton. Working with CeritfyMeOnline.Net is a great option because our aerial lift certification kit can help you get your whole team certified online for only $75.00. Suppose you want to certify your team on-site fully. You can also obtain our train-the-trainer kit to teach an employee to become a certified trainer for only $149.00.
Learn more about how to get aerial lift certified in Stockton using our educational materials below.
How Online Aerial Lift Certification in Stockton Works
Obtaining a Stockton aerial lift certification online has never been easier than using our program here at CertifyMeOnline.Net. Using our kit, your team won't have to travel offsite for formal education, saving you time and money. Here is how our process works step-by-step:
Create an Account: First, you'll want to create an account with us.
Pick Your Class: Once registered, select a course (https://www.certifymeonline.net/checkout/v2/index) that fits your team's needs.
Employees Take the Online Class: Once the material is purchased, employees can create their login information and access the course material at any time, anywhere with internet access. Employees can take the course at their convenience.
Employees Should Pass a Written Test: Employees must pass an online written test, but they can retake the exam as many times as necessary until they pass.
In-Person Evaluation: A certified trainer should perform an in-person evaluation with the employee to ensure they understand how to use the lift correctly.
Officially Certify Your Team: You can officially certify your employees and print off proof of their education directly from our kit.
After going through these steps, your employee should know how to safely operate a lift. They'll be considered thoroughly and sufficiently trained to use aerial lifts throughout the country.

Why Choose CertifyMeOnline.Net for Stockton Aerial Lift Certification
When you certify your team, you make them more aware of the most common aerial lift hazards. You also empower them to be able to navigate those risks in the safest way possible. Certifying your team isn't only a safety issue, though. It's also a legal requirement. Here are a few reasons you should choose to work with us to meet your needs:
✓

Easy to Access: Access training material 24/7 online

✓

Renewals are Free: Did you know your team's aerial certification will expire? Under OSHA's standards, aerial lift operators should renew their certifications every three years. You can get your team's renewals for free when you work with us.

✓

Affordable: You pay once but can certify as many employees as you'd like

✓

Print Proof Immediately: No wait time to get your official operator card

✓

Easy Training Material: Complete our training kit within an hour!
If you purchase our kit and aren't satisfied, then we'll offer you your money back.

FAQs
Do you have more questions about OSHA's standards, obtaining a Stockton aerial lift certification, or the most common aerial lift hazards? Get answers to some of the most commonly asked questions below.
Are California's Ski Lifts Considered Aerial Lifts?
According to OSHA, an aerial lift is any heavy equipment used to lift employees. Aerial lifts include aerial ladders, extensible boom platforms, scissor lifts, telehandlers, and vertical towers. Aerial lifts can also be described as any combination of these types of platforms. In a nutshell, any vehicle-mounted device used to take workers up to a height is considered an aerial lift.
So, what about commercial or recreational ski lifts? These platforms have been known to cause many California ski lift accidents, but they are not used to transport workers. Instead, they're used to transport customers.
Why is Electrocution Such a Big Concern for Aerial Lift Operators?
One of the biggest hazards aerial lift operators need to be aware of is the risk of electrocution. Electrocution is a common risk because aerial lifts might make contact with power lines as they rise to heights. What's more, electrocution can also happen if the aerial lift rider is working on electrical wires or fixing electrical equipment. Unfortunately, shocks often cause the workers to fall off the lifts they're working on.
Just recently, a 37-year-old California resident lost his life after getting struck by an electric wire while working on an aerial lift. Unfortunately, responders had little choice but to wait for the electrical line to be de-energized before assisting the worker

Get Stockton Aerial Lift Certification For Your Employees Today!
Still have questions about CMO's aerial lift certification in Stockton? You can speak with one of our knowledgeable aerial lift training experts by calling us at (602) 277-0615. Register your business and enroll your employees in our Stockton aerial lift certification & training program online.  CMO is here to help you with all your Stockton aerial lift certification needs!