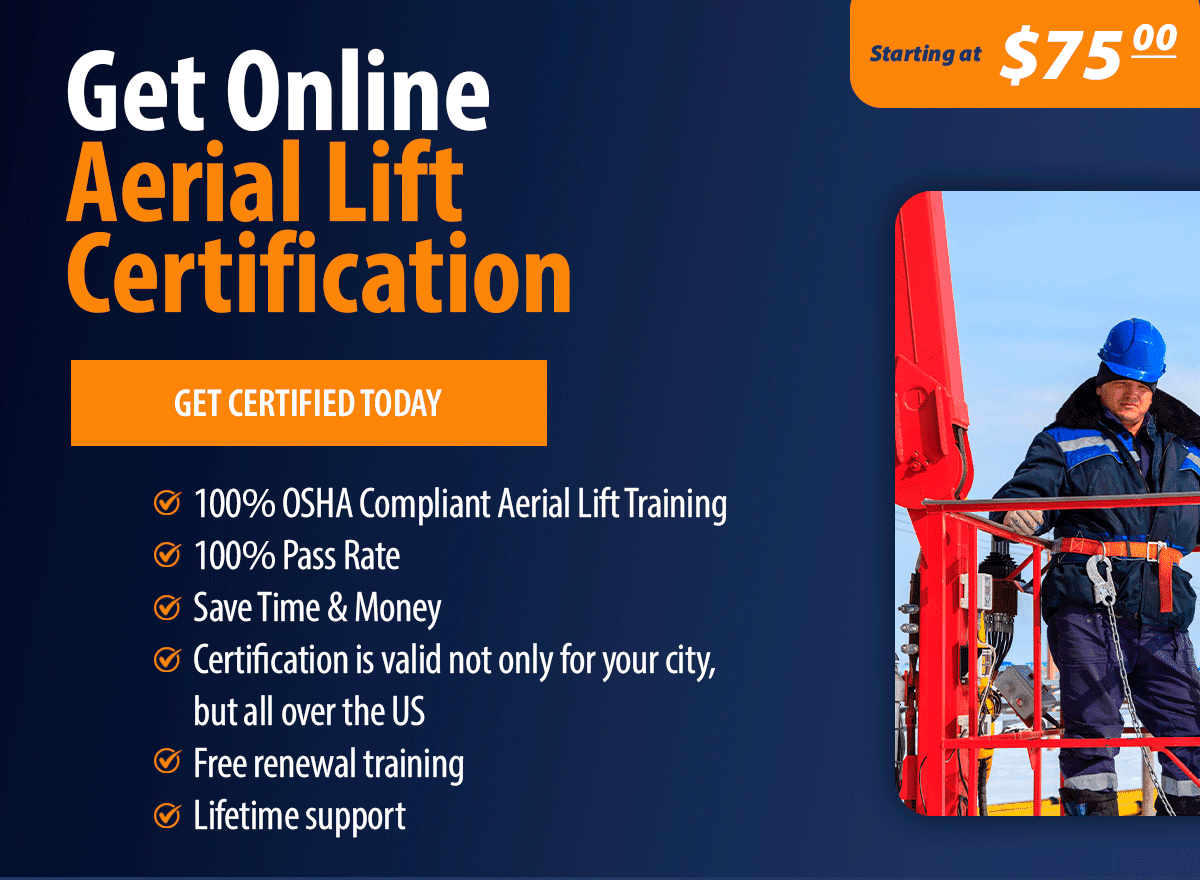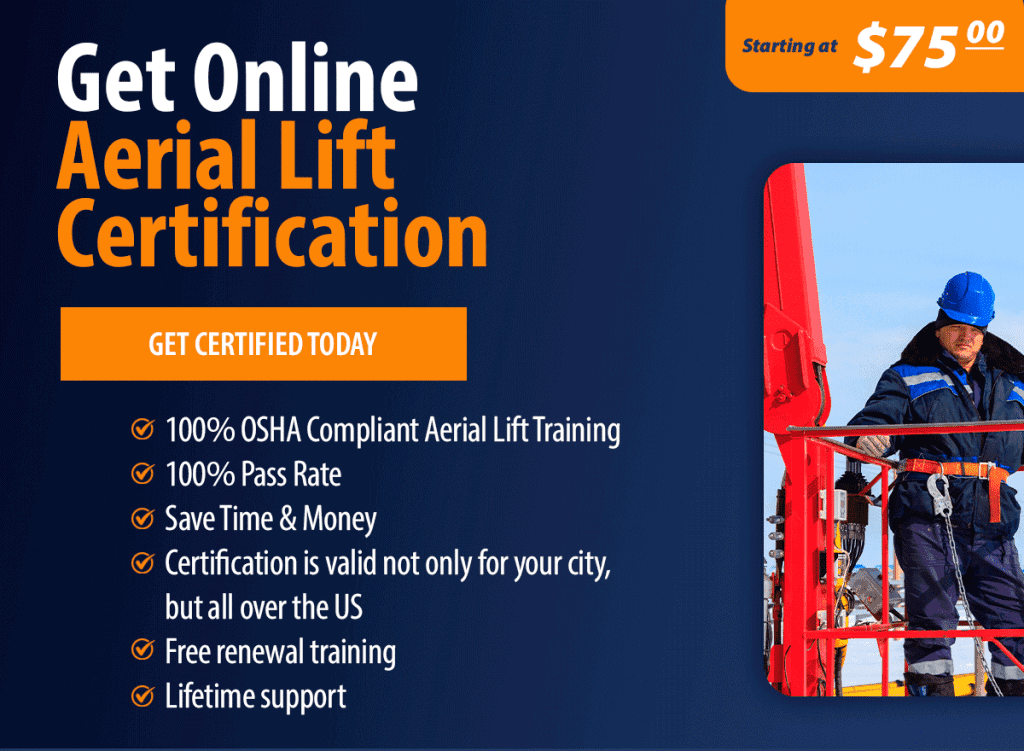 Aerial lifts can extend to significant heights, which can harm your employees if they aren't aware of how to manage the risk safely. Even more important, there are other aerial lift hazards that your employees will have to navigate to use the equipment successfully.
Considering all the dangers, it makes sense why OSHA requires every aerial lift operator in Windsor to first obtain an official Windsor aerial lift certification before starting a job requiring the equipment. In the past, these certifications had to be obtained in person. Still, with the training materials available here at CertifyMeOnline.Net, you can get a Windsor aerial lift certification online.
Our aerial lift certification course can help your team members get certified for a one-time price of $75.00. Learn more about how our certification program works, the benefits of working with us, and more below.
How Online Aerial Lift Certification in Windsor Works
The cost of certification using our program is very reasonable, especially when you can certify an unlimited number of employees with our kit. To understand the value of what you're getting, you'll likely want to know more about how to get aerial lift certified in Windsor with CertifyMeOnline.Net. Here is how our program works:
Employers Sign Up On Our Platform
Employers Choose the Appropriate Course(s): Next, you'll select which courses will meet your needs best. We offer aerial lift training, train the trainer courses, and fall protection courses. You can check out all ourcourse options here.
Employees Get Educated: Employees can access our educational training material 24/7, anywhere with internet access.
Employees Must Pass an Online Quiz: Employees will be asked to take a few online quizzes to ensure they understand the training material.
Employees Must Pass an On-Site Evaluation: Employees must demonstrate their abilities by passing an on-site evaluation from a certified trainer. If you don't have a certified trainer on your team, consider purchasing ourtrain the trainer course to help certify one of your employees.
Print Proof of Training: Finally, your employees can print off proof of their certification directly from our course material.
Once your employees complete this process and you certify the training, they will receive their official aerial lift certification in Windsor. OSHA will consider them sufficiently trained and legally able to operate aerial lifts throughout the nation. You can print off instant proof from our training materials.

Why Choose CertifyMeOnline.Net for Windsor Aerial Lift Certification
Employees need to seek certification because it's a legal requirement from OSHA. What's more, certification helps keep your team safe. Not only will employees be safer from harm, but you'll also avoid legal liability issues that could stem from an unsafe worksite.
✓

Print off Instant Proof of Training: Immediately get proof of your training and certification

✓

Fast and Easy: Many past clients say that they were able to complete our program within one hour

✓

24/7 Access: Training materials can be accessed anytime and anywhere with internet access

✓

Renew Your Certification With Ease: Our certification program provides free three-year renewals

✓

Cost-Effective: Certify an unlimited number of employees
If you buy our kit and later find that you're not satisfied, then we'll offer you your money back.

Windsor Aerial Lift Certification FAQs
Do you have more questions about forklift certification in Windsor, OSHA's standards, or aerial lift safety in general? Get answers to some of the most frequently asked questions below.
What Causes Most Fatal Aerial Lift Accidents in Windsor?
Unfortunately, several things can cause a fatal aerial lift accident. One of California's most infamous recent fatal aerial lift accidents happened when a Cirque du Soleil technician was fatally injured after being struck in the head by an aerial lift. Other common causes of fatalities include:
✓

Falls

✓

Improper use of safety gear

✓

Electrocutions

✓

Tip overs

✓

Crashes
Do Employers Have a Legal Duty to Inspect Aerial Lifts in Windsor?
Certifying your team is an important step to ensuring your workplace is safe. Still, you may also need to ensure that your aerial lifts are up to par regularly. OSHA requires employers to do pre-use inspections and maintain these aerial lifts to ensure they're in good condition.

Choose CertifyMeOnline.net for Your Windsor Aerial Lift Certification
Trust our online aerial lift training program to get your employees trained according to OSHA standards. Our program is one hour long on average where you will learn how to operate an aerial lift and recognize hazards that can contribute to accidents at the worksite. They also learn how to inspect equipment as well as the work area itself to remain compliant with OSHA regulations. Even better, our courses are priced right for businesses and individuals. Invest in the future of your company with aerial lift certification in Windsor from CMO.
Don't delay! Sign up today to be in compliance for your employees. If you want to know more about aerial lift training in Windsor, CA, or if you want to speak with a training expert or OSHA compliance consultant, call CMO at (602) 277-0615. Thank you for making CMO your resource for aerial lift certification in Windsor.