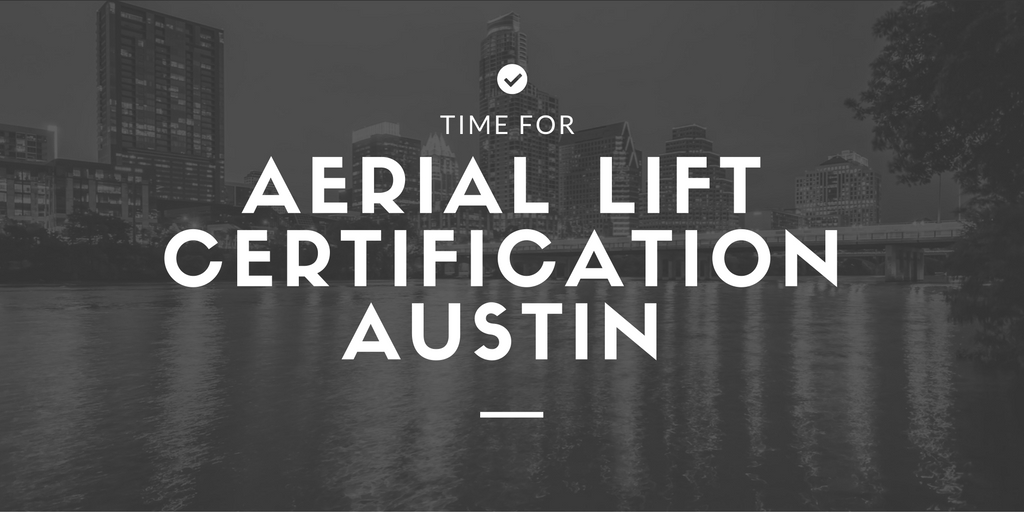 As the "live music capital of the world," there is plenty to love about Austin. But Austin doesn't just have to be a fun place to visit. Make Austin your home and gain a new, in-demand career with Austin aerial lift certification! Equipment workers will always be needed in big cities like Austin to help it expand, improve, and continue to become one of the most popular places to live in the U.S.
While there are plenty of aerial lift and scissor lift opportunities in Austin, it isn't possible to simply apply for an operator job and be qualified for employment. Aerial lifts and scissor lifts are large, heavy pieces of equipment that require special skills and thorough training. For this reason, employers simply won't hire untrained workers because they don't want to risk preventable accidents from happening, or being hit with fines from OSHA.
What Type of Austin Aerial Lift Training Do You Need?
When you're looking into aerial lift training in Austin, it is important to look for one that is from a reliable provider who will teach you everything you need to know to operate equipment and prevent accidents. Once you receive quality training, employers will want to hire you because you will help them avoid fines from OSHA and create a productive work place.
Aerial Lift and Scissor Lift Jobs in Austin
There are numerous construction companies, tree removal services, and airports including the Austin-Bergstrom International Airport in Austin. Aerial lifts and scissor lifts are used to service and maintain air crafts, build and repair buildings, service trees, repair electrical systems, and more. All around the city you can see the various needs for aerial lifts and their operators.
How Can I Complete My Austin Aerial Lift Certification?
To receive the aerial lift certification in Austin that you need to qualify for jobs, you need to find an OSHA-compliant training program that covers how to operate the equipment, perform inspections, and avoid hazards. There are many programs that are high quality and offer comprehensive information, but not all of them make it easy to obtain a certification. Many require students to travel to an off-site training facility, dedicate hours of their time, and pay hundreds of dollars. But there is one program that makes it easy and convenient for all workers to complete the training they need.
Choose CertifyMeOnline.net for the Quality Aerial Lift Certification in Austin You Need
When you choose CertifyMeOnline.net for Austin aerial lift training, you are making it easy for yourself to obtain the information and nationally-recognized certification you need for employment. And when you need to renew your certification, you can do that with us as well, no hassle. The program is all online, takes only about one hour to complete, and can be accessed on any device with the internet. Costing only $75, you won't find another program more convenient or affordable than CertifyMeOnline.net.