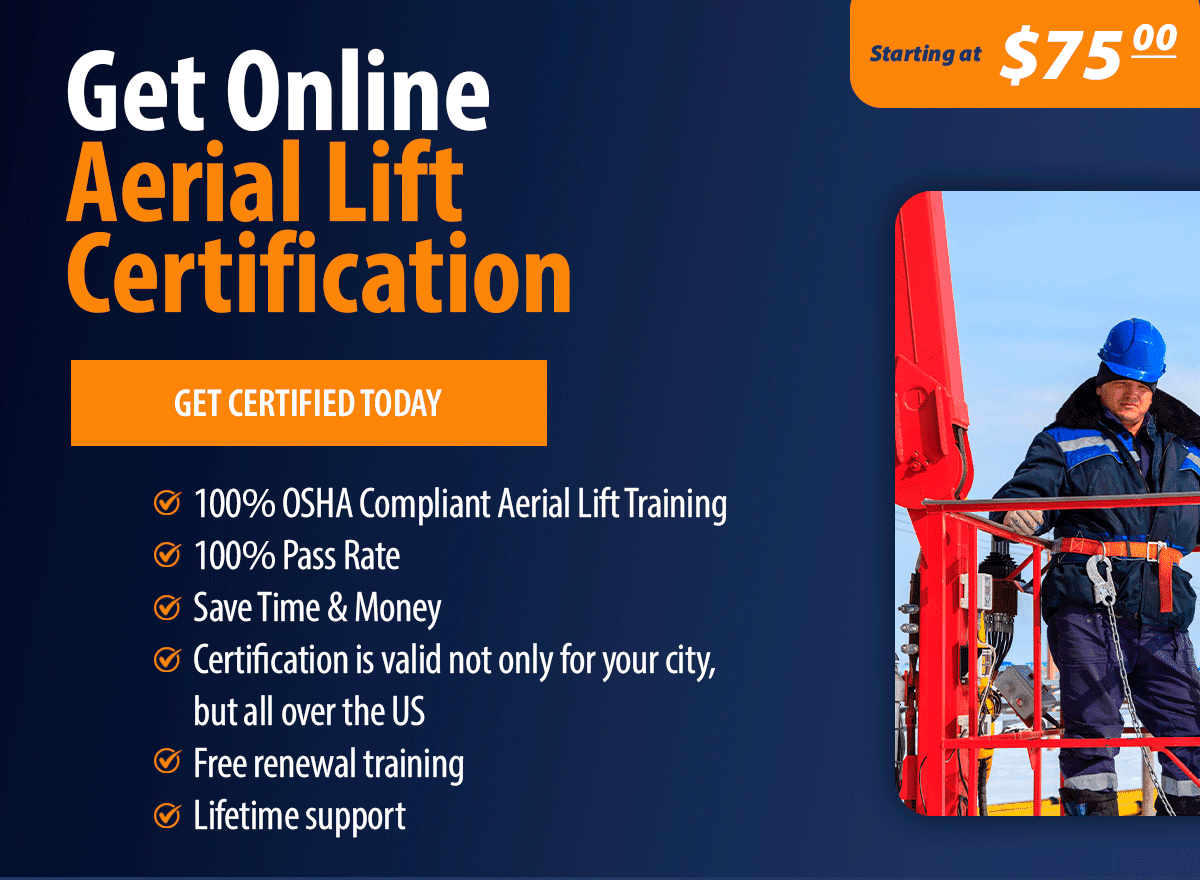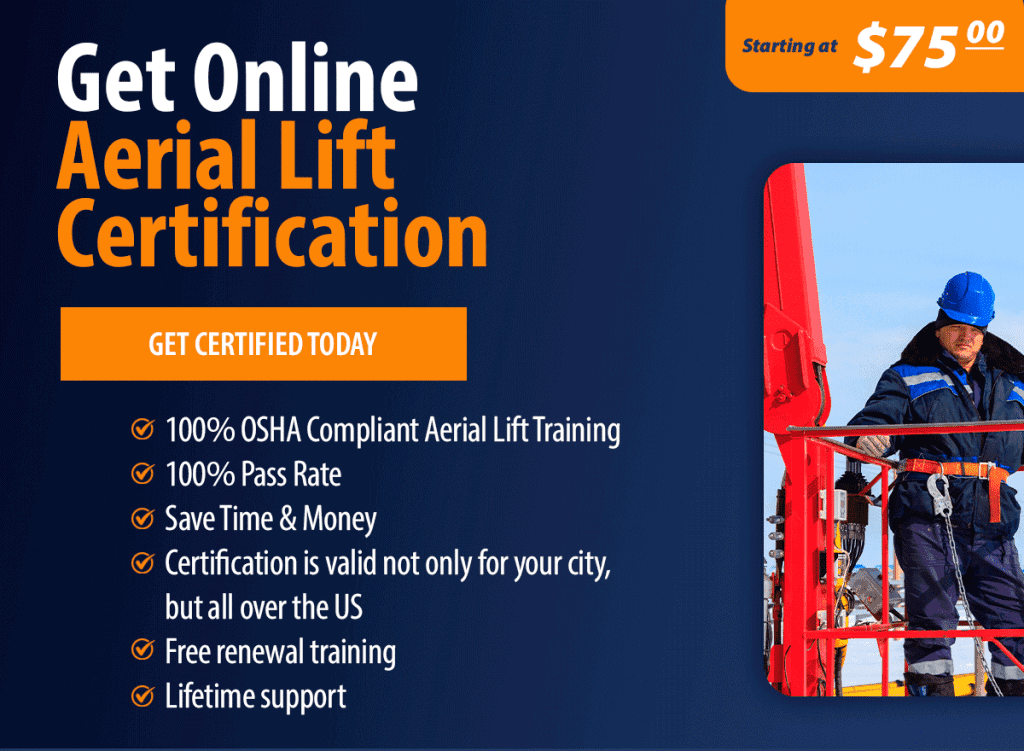 Central Texas continues to grow and thrive. Machinery like aerial lifts, mobile elevating work platforms (MEWPs), aerial work platforms (AWPs), and scissor lifts are key to Austin's strong economy.
Does your company need aerial lift certification in Austin? All employers are responsible for training, per OSHA regulations. But the problem is, what exactly do you need for this important job? And what happens when OSHA rules change?
That's why many Austin employers use CertifyMeOnline.net for help with training. We'll show you how to get aerial lift certified in Austin, and keep you compliant! From affordable prices to awesome customer support, CMO is the ONE training partner you need for total OSHA compliance.
Need to train everyone from rookies to experienced AWP operators? Our Operator Training package is a great option, only $75. Would you like an internal trainer to handle skills evaluation and the like? We have just what you need, and it's just $149, our popular Train the Trainer certification.
It's against the law to have anyone operate your cherry pickers, boom lifts, and other AWPs without Austin aerial lift certification online, so get registered today.
How to Get Aerial Lift Certified in Austin
Do you think it's challenging to get aerial lift certification in Austin? Think again – follow these steps, and you're on your way.
Register your company online. The first step is to create your company login info and any employees who need Austin aerial lift certification.
Go through the online training courses. Before your workers show off their skills and knowledge behind the wheel of your aerial lift, they must learn a little more about OSHA safety guidelines, how to prevent accidents, and much more. Our courses are packed with informative, user-friendly content, so they'll be ready for the next step.
On-site skills evaluation. Classroom training is one thing – proving it is another thing. Here, your employees perform safety-minded operations in the cockpit. And remember, with our Train the Trainer certification, you can have one of your employees perform the evaluation. 
Hand out OSHA-compliant credentials. Previously, companies had to wait for official AWP & MEWP licenses to be mailed out. CMO keeps your site running smoothly with no delay since you can print all the aerial lift licenses you need for workers who have successfully passed the training and skills test!
Aerial lift certification in Austin expires after three years. No need to worry! CMO provides free FREE 3-year recertification training. From initial training to ongoing compliance, we'll ensure your aerial lift operators are always current and available to work! 

Benefits of CMO's Aerial Lift Certification in Austin
Beyond the total OSHA compliance for your company, our customers enjoy plenty of advantages with CMO's Austin aerial lift certification, including:
✓

Audit & inspection coverage. If your company has an accident or injury involving one of your aerial lifts, OSHA will conduct an audit. Fines can get expensive, with some in excess of $100,000. One of the first things OSHA will check is your employee training records. With CMO's proof of Austin aerial lift certification online, you'll avoid any fines associated with non-compliant workers.

✓

Full OSHA compliance from day one. All your equipment handled, from cherry pickers to scissor lifts to boom lifts. 

✓

Updated courses: OSHA safety guidelines can change. Sometimes, a company may miss a safety bulletin or other announcement about these updates. But with our company, CMO, in your corner, your training and certification automatically update to reflect any changes. Staying current is another thing you don't have to worry about with aerial lift certification in Austin.

✓

Budget-friendly prices. No company should be priced out of Austin aerial lift certification. That's why CMO offers full training and certification for affordable prices. Go to the CMO pricing page for more information about course content & pricing. 

Austin Aerial Lift Certification FAQs
You might have other questions about how to get aerial lift certified in Austin, compliance, training, and more. Here are some FAQs:
Is CMO just for small companies?
Aerial lift certification in Austin through CMO is for any sized company! While we're a popular training partner for smaller companies with smaller budgets, our client list includes well-known firms like Coca-Cola, Two Men and a Truck, Time, and many others!
I need more specific training in chemical handling. Does CMO have this training?
If your company needs HAZCOM or HAZWOPER training, you can select what you want in our course catalog. And for a great course related to aerial lift use, we also have fall protection training.
I have new employees and experienced AWP operators. Does CMO train everyone?
One of the great things about our Austin aerial lift certification is that it's for everyone who operates your lifts. Have a 30-year veteran who needs renewal training? Or a brand-new employee that needs initial training? CMO has all your compliance concerns taken care of.
Make your Austin workplace safer today and register with CMO! Thanks for choosing us as your preferred Austin aerial lift certification training partner.

Get Aerial Lift Certification in Austin Today!
The demand for trained and certified aerial lift operators in Austin is growing. As the city continues to expand, skilled workers will be needed to help complete construction projects and keep the city's warehouses stocked. While employers might be tempted to work with inexperienced equipment operators, the choice can lead to accidents, injuries, and expensive OSHA fines. 
If you're hoping to get your operators in compliance with OSHA regulations, register for courses with CMO today. Understanding who provides aerial and scissor lift certification near Austin, Texas is half the battle. Now that you've found a convenient, affordable way to get certified, why not take the leap and begin training right away? 
If you have questions or for more information on CMO's aerial lift and scissor lift certification or our other OSHA-approved training programs, contact us online or call us at (602) 277-0615 to speak with one of our OSHA training experts.