10 Aerial Lift Safety Tips for Aerial Work Platform Operators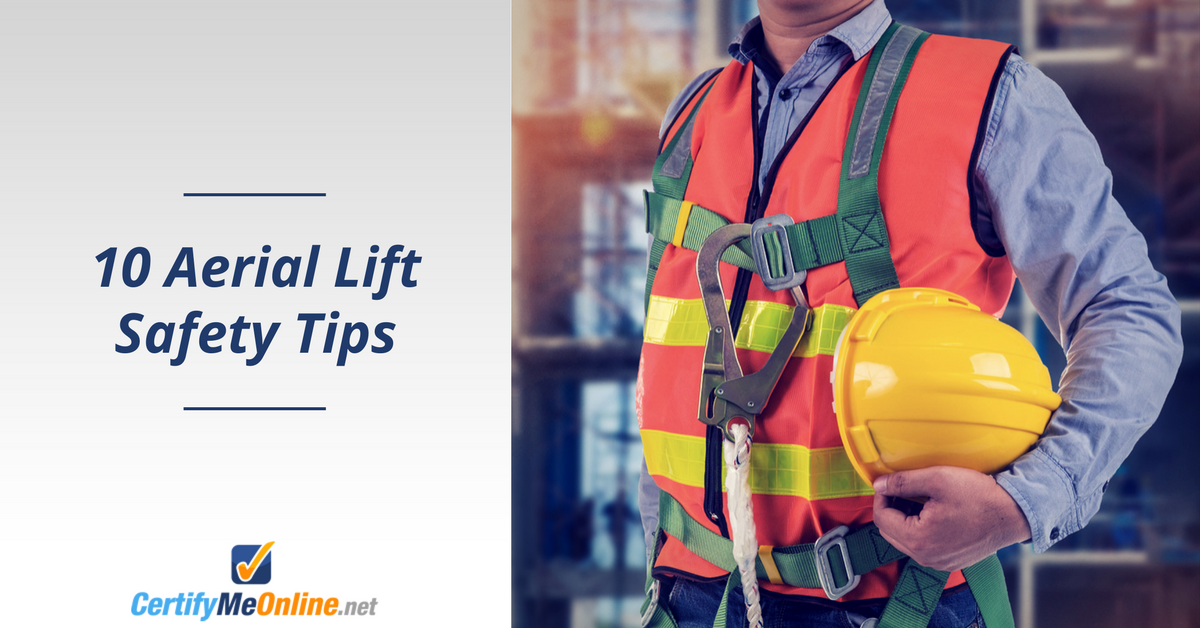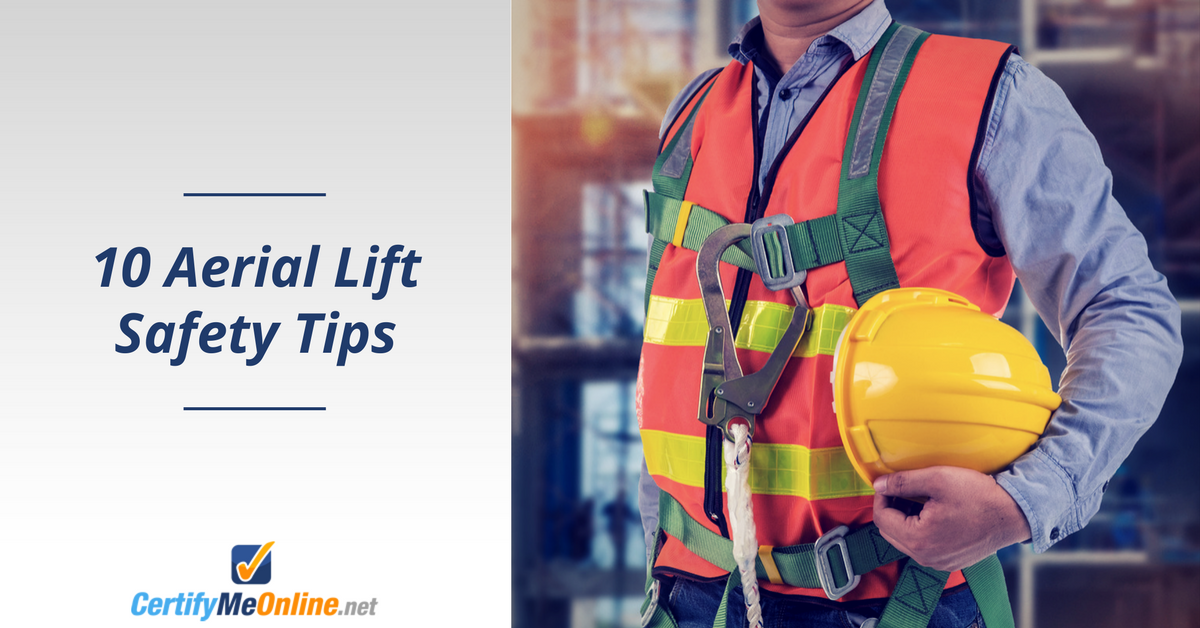 Aerial lifts make it possible for workers to repair, maintain, and improve everything from urban landscapes to actual landscaping projects. They help with repairing utility lines, trimming trees, and maintaining buildings. However, aerial lifts, like cherry pickers and bucket trucks, also contribute to the number of work-related injuries and fatalities in our communities. Around two dozen workers die each year from aerial lifts, and that's just in the construction industry. If you work with aerial lifts, you need to know how to prevent accidents with the most important aerial lift safety tips from the experts.
With that in mind, the aerial lift safety experts at CertifyMeOnline.net put together this list of boom lift safety tips, recommended work practices, lifting safety tips, OSHA approved policies, and much more.
If your company needs more than just crane lifting safety tips, or you're not sure about current OSHA compliance, register today and put your safety concerns to rest. Along with boom lift safety tips and tricks, our training provides 100% OSHA-compliant training. In the event of an accident, OSHA will review training records. Ensure your company meets all OSHA requirements with CertifyMeOnline.net!

Aerial Platform Safety: Hazards with Aerial Lifts and Most Common Causes of Accidents
There are many hazards associated with aerial lifts that can lead to injuries, damages, and even deaths when operators aren't sure how to spot them. Knowing about hazards is one of the most important lifting safety tips. OSHA has identified different dangers to keep aware of when operating scissor lifts, boom lifts, and other aerial work platforms (AWPs).
These hazards are:
– Falls from heights
– Falling objects (tools, job material, etc.)
– Tip-overs
– Ejections from the lift
– Structural failures
– Electrocutions
– Entanglement hazards
– Contact with objects
– Contact with overhead structures
Electrocutions, tip-overs, and falls from an aerial lift are the top most common accidents involving aerial lifts. When operators don't understand aerial lift safety tips and haven't gone through proper training, they aren't prepared to prevent accidents. When a lift comes into contact with overhead power lines, electrocution accidents are much more likely to happen.
Falls from the lift are more likely to occur when an aerial lift isn't positioned properly and is hit by a vehicle, crane, or other large object. Aerial lift tip overs often happen when the bucket or boom arm breaks, when the bucket falls, or when the lift is positioned on unstable ground.
If you want to learn how to avoid these serious accidents, you need to know essential aerial lift safety tips.
Check out this page to learn more about the top scissor lift safety hazards and scissor lift safety tips.


Tip #1: Make Sure All Aerial Lift Operators Are Trained
Proper operator training is the number one most important aerial lift safety tip. The majority of aerial lift accidents are essentially caused by operator error, which means that training can prevent most accidents involving aerial lifts. Make sure that operators are trained in the stabilization and positioning of aerial lifts, along with fall protection.
Tip #2: Perform Equipment Inspections Before Each Shift
The number one thing OSHA recommends operators do before operating an aerial lift is complete a pre-start inspection. The pre-shift inspection's purpose is to identify any potential hazards or defects that could affect the safety of the lift. The pre-start inspection should cover both vehicle components and lift components. Read more about the aerial lift safety tips for performing the pre-start inspection here.
Tip #3: Operate the Aerial Lift According to the Manufacturer's Instructions
The manufacturer's instructions are specific to the make and model of the lift. They detail the weight and height capacities and limitations that should never be exceeded in order to avoid accidents.
Tip #4: Never Override Hydraulic, Mechanical, or Electrical Safety Devices
The aerial lift safety devices are meant to protect workers from pushing the lift past its limits and causing an accident, like a mechanical failure or a tip over. Making sure these are never overridden keeps workers safe.
Tip #5: Do Not Move the Lift with the Platform in the Elevated Position
This is one of the most critical crane lifting safety tips. When workers are on the platform while the lift is moving, they are put at risk of falling. This is due to too much weight being on the platform while moving, the bucket or boom breaking, or from something hitting the lift.
Tip #6: Do Not Position the Lift Between Overhead Objects and the Bucket
Many aerial lift accidents happen because the lift was positioned between an overhead structure that came into contact with the lift. Overhead beams, ceiling, signs, and other structures can come into contact with workers in the bucket and crush them when the lift is positioned too close.
Tip #7: Always Maintain a Distance of 10-Ft. Between Power Lines and Assume They are Live
Choosing to be safe than sorry is one of the most important aerial lift safety tips. When operating near power lines, always keep a distance of at least 10 ft. between the lines and the lift and always assume that power lines are energized, even if they are down or insulated. Additionally, workers should always be prepared with protective equipment like rubber gloves, hard hats, and rubber-soled shoes.
Tip #8: Always Use Protective Gear
When it comes to boom lift safety tips, this one is sometimes overlooked – but it shouldn't be! Fall protection is one of the most important aerial lift safety tips and protocols to follow. OSHA requires aerial lift operators who work at elevated heights wear full body harnesses attached to lanyards that are connected to the boom or basket. These protective tools keep workers from being ejected from the bucket and falling to the ground. Workers must never sit, stand or climb on the guardrails and use them for stability. Fall protection equipment is meant for keeping workers safe and secure. Check with your jobsite's requirements for personal protective equipment (PPE) before starting work.
Tip #9: Position Aerial Lifts on Stable, Even Ground and Use Safety Devices When Needed
Aerial lifts can become unstable and tip over when placed on unstable or uneven ground. When positioning a lift on an incline, it's important to set the brakes and use the wheel chocks to prevent the lift from rolling. Workers should also use outriggers when provided.
Tip #10: Never Exceed the Lift's Load Capacity
Aerial lifts are incredibly capable machines, but they have limits. Be sure to read the manufacturer's instructions for the weight and height limitations when handling a load. Remember, the weight limitations of an aerial lift also include the tools and other attachments in the bucket in addition to the workers. Calculating the weight of the lift and tools can take some extra time, but doing so will help to prevent the bucket from breaking, workers from being ejected from the bucket, and the lift from tipping over.
Aerial Lift Safety: How to Perform a Work Zone Inspection
Along with using the aforementioned aerial lift safety tips, employers are responsible for conducting work zone inspections. Then, employers can learn about any work zone hazards and address them before they lead to aerial lift accidents and injuries.
During a work zone inspection, it is important to look for:
– Slopes, ditches, bump, and other road hazards
– Strong winds or other inclement weather conditions
– Unstable work surfaces, such as holes or drop-offs
– Debris and other floor obstructions
– Low ceilings
– Electric power lines and other overhead obstructions
It is an employer's responsibility to mitigate any issues identified during a work zone inspection. By addressing these issues, an employer can ensure aerial lift operators can safely perform work tasks and avoid accidents and injuries that lead to OSHA compliance penalties.
Who Is Responsible for Aerial Lift Safety: An Employer or an Aerial Lift Operator?
An employer must provide aerial lift operators with a safe work environment — without exception. Yet, lift operators also play a key role in maintaining a safe workspace.
To minimize the risk of aerial lift accidents and injuries, an employer and lift operators must work together. An employer must provide lift operators with training, so they know how to identify and resolve on-the-job dangers. Meanwhile, lift operators should keep an employer up to date about worksite risks. This ensures that an employer and lift operators can collaboratively reduce and eliminate work safety hazards.
Does Aerial Lift Certification Expire?
Workplace safety is an ongoing initiative, and aerial lift certification will expire. But, if an employer is proactive about on-the-job safety, it can ensure that its aerial lift operators know exactly when to renew their certification and can plan accordingly.
Once an aerial lift operator earns their safety certification, they must renew the certification every three years. In doing so, an operator can stay informed about the latest OSHA aerial lift safety requirements.
Get Boom Lift Safety Tips, OSHA-Compliant Training, and More with CertifyMeOnline.net!
Operating AWPs safety is more about crane lifting safety tips or boom lift safety tips. It's about preparation, knowledge, and knowing how to avoid common (and uncommon) hazards on the job. In short, it's about training.
Following aerial lift safety tips when operating a cherry picker, bucket truck, telescopic boom lift, or articulating boom lift will help workers avoid common yet preventable accidents that occur every day on worksites. And so will our OSHA compliant training.
For top-quality online aerial lift training that is 100% OSHA-compliant, check out the programs from CertifyMeOnline.net. Training can take as little as one afternoon and be accessed from any device with an internet connection. If you have any more questions about lifting safety tips, OSHA policies, or anything else related to AWP training, contact us online or give our safety consultants a call today at (602) 277-0615. Or, register your company and get started right away. Complete your training today!