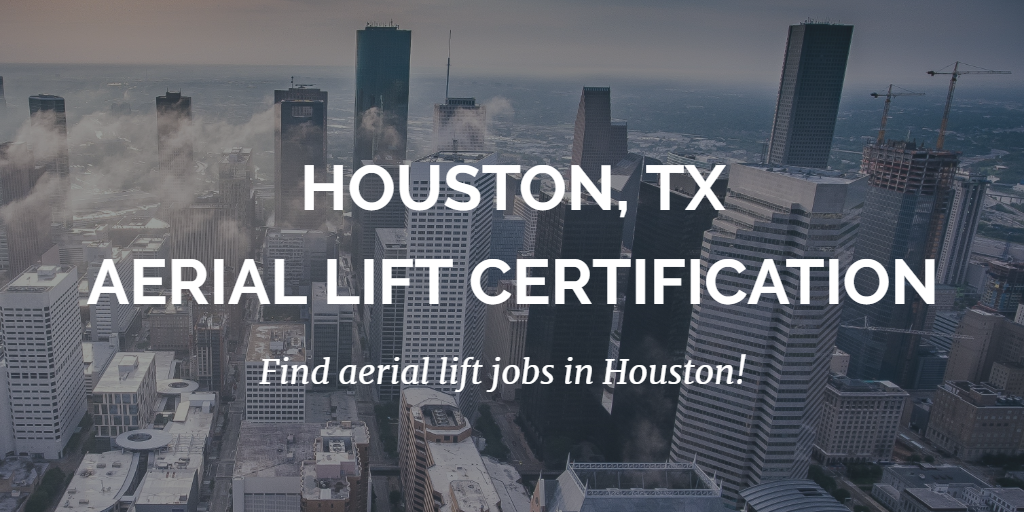 With a population of over two million people, Houston is the largest city in Texas and the fourth largest city in the U.S. It's also a great place to live.
Houston also has a stable economic base that includes aeronautics, energy, manufacturing, and transportation. Known as "Space City," it's the home of the NASA Johnson Space Center. It's also home to the Port of Houston, which makes it an ideal location for manufacturing, warehousing, and shipping.
Houston offers a variety of aerial lift and scissor lift opportunities. As is true in most areas, better-paying opportunities go to those with specialized skills. All employers require a Houston aerial lift certification before hiring lift operators. That's where CertifyMeOnline.net comes into the picture.
In addition to construction, many other industries need certified aerial and scissor lift operators. CertifyMeOnline.net is the leader in aerial lift training in Houston. We offer several lift training courses, some of which are available in Spanish, all of which are affordable. If you hire aerial lift or scissor lift workers in Houston, enrolling in CMO's Houston Aerial Lift Training and Certification Program will keep you compliant!
Business owners who want to boost their bottom lines should also look into Houston aerial lift training for their employees – it's the most effective way to prevent accidents, avoid OSHA fines and improve workplace productivity.

Reasons to Enroll in Houston Aerial Lift Certification
The Occupational Safety and Health Administration (OSHA) is always looking for contractors and businesses that tolerate unsafe working conditions, including operating aerial lifts without proper certifications. It's against the law to use aerial lift or scissor lift workers without aerial lift certification in Houston. CertifyMeOnline.net aerial lift operator training in Houston makes employers and employees OSHA compliant and the workplace safer.
Houston Job Opportunities for Aerial Lift Operators
Houston's economy is stronger than ever, and the city plays an essential role in the Texas and U.S. economies. The diverse range of business sectors includes mining, agriculture, manufacturing and more all offer a well-qualified aerial lift or scissor lift operator a variety of jobs, including:
• Maintenance
• Construction
• Mining
• Manufacturing and Assembly
• Telecommunications
• Warehousing
• Tree Trimmer
• Sign Installer
• HVAC Installation and Maintenance
These and other opportunities begin with aerial lift training and certification in Houston. Enroll today in CMO's OSHA-approved online aerial lift certification and training program, and you'll be on your way to complete compliance in Houston – sign up for aerial lift certification in Houston today!
Advantages of Houston Aerial Lift Certification
CMO's Houston aerial lift certification and scissor lift certification courses are ideal for both employers and employees. Here are some of the benefits you'll receive:
• Accessible "Anytime" Training
Once enrolled in our Houston online aerial lift certification course, your employees will have access to all CMO training materials anywhere there's an Internet connection and any convenient time. That means you won't have to endure lost productivity time through employees traveling to and from and attending classes at an off-site facility.
• OSHA "Insider" Knowledge
CMO's scissor lift certification training in Houston is centered around a comprehensive, easy-to-learn format. We're always up to date on the latest OSHA Houston aerial lift and scissor lift certification and training requirements.
• Safety
OSHA reports that an average of 26 deaths occurs annually from accidents involving aerial lifts. Many of these are preventable, especially with CertifyMeOnline.net aerial lift certification in Houston.
• Higher Productivity
Whether your Houston-area business includes warehouses, shipyards, docks or other settings where aerial and scissor lifts are used, CMO's aerial lift certification and scissor lift training ensures all workers have the tools and resources needed to get the job done correctly, and more importantly, safely!
• Save Time and Money
Inadequate maintenance can lead to aerial lift equipment malfunctions and breakdowns resulting in costly repairs. CMO's training teaches workers to inspect and repair aerial lifts, which saves money and cuts losses in productivity due to out-of-service equipment.
• More Job Opportunities
Employers recognize the value of hiring trained and certified aerial lift operators as opposed to unskilled workers.
For Contractors and Small Businesses
CertifyMeOnline.net offers OSHA-compliant Houston aerial lift training and certifications for both contractors and small businesses at a fraction of the cost of other training programs. We know that time and productivity are essential to owners of businesses of all types and sizes, as well as workers who make their livings being paid by the hour. That's why our aerial lift certification program was designed to be completed online in as little as one hour.
Houston aerial lift certification and scissor lift training have never been more accessible – sign up today!
Our 5-Step Process Makes It Quick and Easy
Our simple, 5-step process makes it easy for workers to be trained and certified as OSHA-compliant aerial lift operators. The training process takes as little as one hour, depending on the individual. Once the training is completed, workers' aerial lift operator cards can be instantly downloaded and printed, allowing them to begin operating aerial lifts immediately. The actual certification documents will be mailed to you and should arrive in approximately seven to ten days. We keep it simple, so there's no reason for you to take the risk of equipment being operated by uncertified workers.
If you'd like to have your employees officially certified to operate aerial lifts, contact CertifyMeOnline.net today! We can get you or your employees certified in a day or less for just $75.00 per individual. If you don't want to spend hundreds, or more, on OSHA-compliant Houston aerial lift certifications, we will help you save money and get certified by the end of the day. Contact us today with your questions and get started immediately — you can be certified before the day is over!
More Information on Each of Our Houston Aerial Lift Training Courses
Whether it's aerial lift certification, scissor lift training, fall protection education, or train-the-trainer certification, CMO can fulfill aerial lift operator certification needs online for Houston area employees and employers. Read more about our Houston aerial lift certification here:
• $75 for both pieces of training
• The online program takes only 1 hour to complete
• 100% OSHA compliant
• Comprehensive for new operators
• Spanish version available (this is very important for aerial lift certification in Houston!)
• Costs only $75
• Online modules
• OSHA compliant
• Training helps prevent costly fines from OSHA
• Spanish version available
• Become a Trainer to train workers to operate aerial and scissor lifts
• Costs $110
• Online training
• OSHA compliant

Training with CertifyMeOnline.net offers several advantages. Courses are online, affordable and convenient. They're also totally OSHA compliant and deliver all the tools workers need to operate lift equipment. Our Spanish language training courses are a big plus for aerial lift certification in Houston and throughout Texas.
To get your employees started with ALC's Houston aerial lift certification, contact us online or call us at 888-278 – 8896 to speak with one of our knowledgeable consultants. Do it today and get started with your Houston aerial lift certification and scissor lift training!