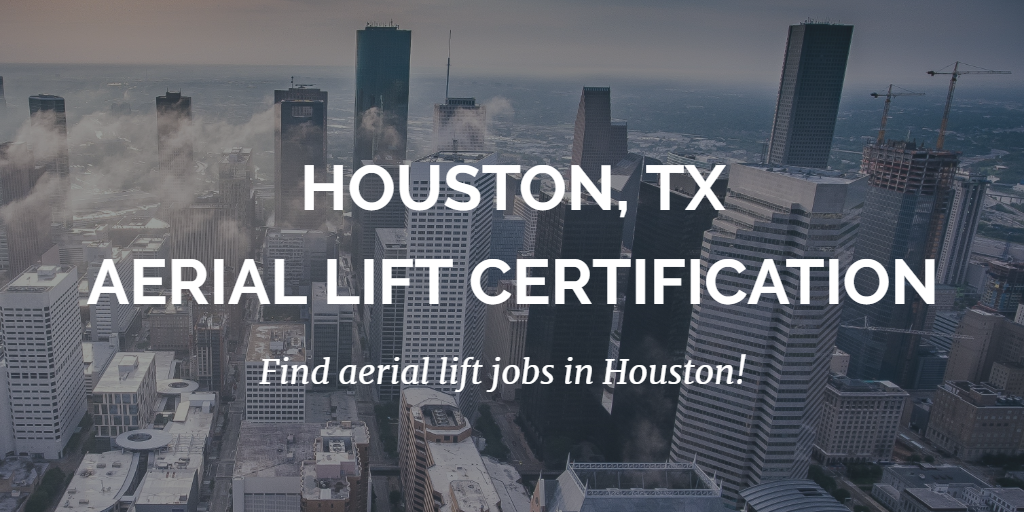 For a city that boasts a population of over two million people, Houston offers a large variety of jobs that are available to most people. However, some of the better paying opportunities go to those that spend the time and effort landing a job or entering a career with a specialized skill. One such skill is the operation of aerial and scissor lifts. Houston aerial lift certifications are a great process to go through when looking to get involved in the construction industry.
Aside from the city's construction boom, Houston remains a busy place for many other companies. If you're interested in working in Houston as a scissor lift or aerial lift worker, you'll need the best possible OSHA training. CertifyMeOnline.net, the leader in aerial lift certification for Houston, offers a handful of training courses (some available in Spanish), all at great prices!
Why Get a Houston Aerial Lift Certification?
If you are looking to get involved in the construction industry or other similar field, chances are there will come a time when you need to utilize specialized and complicated equipment like the aerial lift (or scissor lift). Using such equipment can be dangerous to you and others around you if you do not have the proper training. OSHA (Occupational Safety and Health Administration) is always looking for contractors and businesses that are practicing unsafe working conditions, such as the operation of aerial lifts without proper certifications. Stop by CertifyMeOnline to get an OSHA compliant online certification for aerial lifts.
Aerial Lift Certification in Houston – Job Opportunities
Houston's economy is stronger than ever, and the city plays an important role in the entire Texas economy, including the greater U.S. south. With companies representing a diverse range of business sectors – mining, agriculture, natural resources, manufacturing and more – a well-qualified aerial lift or scissor lift operator can work in a variety of roles, including:
– Maintenance
– Construction
– Mining
– Assembly
– Telecommunications
– And many more
It all starts with aerial lift certification in Houston. Sign up today with CMO and become OSHA certified in no time!
Advantages of Houston Aerial Lift Certification
CMO's Houston aerial lift certification and scissor lift certification courses are ideal for employers and employees in Texas' largest city. Here are some benefits you'll enjoy:
– Accessible training. Once you purchase a Houston aerial lift certification course from CMO, all of your employees will have anywhere, anytime access. And that means you won't have to suffer lost productivity time. Shift supervisors and regular operators can learn at their own pace, whenever it's most convenient for them. Same goes for our Houston scissor lift certification.
– OSHA "insider" knowledge. Houston scissor lift certification requires a comprehensive yet easy-to-learn format, and that's one of our specialties here at CMO. We're up to speed on the latest OSHA updates and training regulations for aerial lift and Houston scissor lift certification.
– Better workplace safety and productivity. Whether your Houston-area enterprise involves warehouses, shipyards, docks or other settings, CMO's aerial lift certification and scissor lift training ensures than everyone has the tools and resources to get the job done correctly – and more importantly, safely!
For Contractors and Small Businesses
CertifyMeOnline offers OSHA compliant Houston aerial lift certifications to both contractors and small businesses for a fraction of the price of other expensive training programs and certification services. We know that time is an important factor for all types of business owners and those that make a living off of their services and time. That's why we've designed our aerial lift certification program to be able to be completed in as little as one hour.
Our 5-Step Process Makes It Quick and Easy
Our simple, 5-step process makes it easy to get your company (either as a contractor or as a small business) to get trained and certified and to have your original certification documents shipped to you. The training process takes an hour or less, depending on the individual, and your certification documents will reach you in as little as 7-10 days. We want it to be a simple task to getting certified so that you don't need to worry about the risks of operating without the proper certifications.
If you're looking to get yourself or your employees officially certified, contact us today at CertifyMeOnline! We can get you or your employees certified in a day or less for just $75.00 per individual. If you don't want to spend hundreds, or more, on OSHA-compliant Houston aerial lift certifications, we will help you save money and get certified by the end of the day. Contact us today with your questions and get started immediately!
More Information on Each of Our Houston Aerial Lift Training Courses
We offer multiple ways to fulfill your certification needs in Houston, whether it's aerial lift certification, scissor lift training, fall protection education, or train-the-trainer certification. Read more about our products here:
Houston Aerial and Scissor Lift Certification
– $75 for both trainings
– Online program takes only 1 hour to complete
– 100% OSHA compliant
– Comprehensive for new operators
– Spanish version available
Houston Aerial Lift Training Fall Protection
– Costs only $75
– Online modules
– OSHA compliant
– Training helps prevent costly fines from OSHA
– Spanish version available
Houston Aerial Lift Train-the-Trainer
– Become a Trainer to train workers to operate aerial and scissor lifts
– Costs $110
– Online training
– OSHA compliant
The training programs with CertifyMeOnline.net offer numerous advantages. They are online and affordable and meant to be as convenient as possible. They are also completely OSHA compliant and comprehensive, delivering all the tools workers and trainers will need to successfully and safely perform their duties. Plus, we offer Spanish language training courses – a big plus for aerial lift certification in Houston and throughout Texas.
We're eager to help you implement your Houston scissor lift certification and aerial lift training today. Call CMO at (602) 277-0615 to get started today!