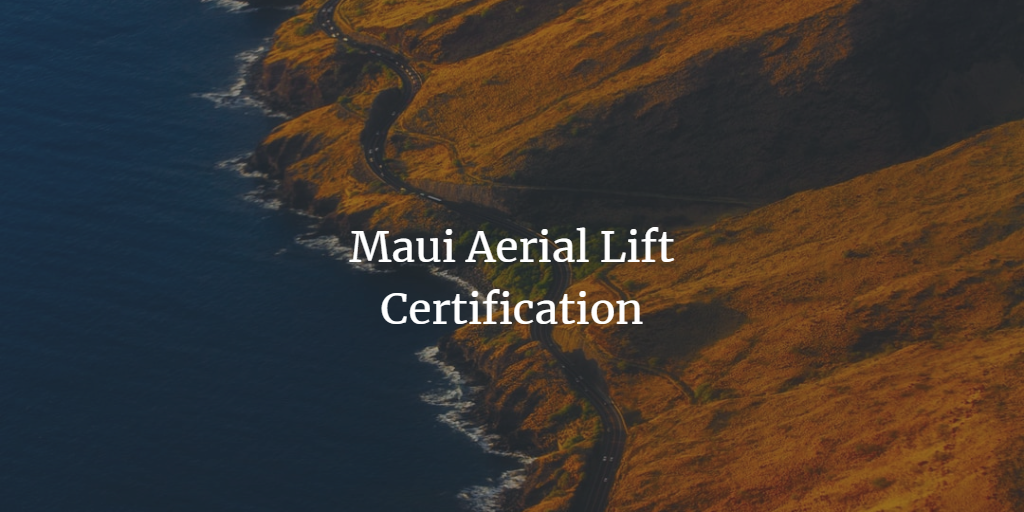 Maui is the second-largest of the Hawaiian Islands and is also the third most populous of the island group. With over 30 miles of sandy beaches, Maui has the most accessibility of any of Hawaii's eight main islands. For an area that's less than 1,000 square miles in size, Maui is a very busy place for aerial lift and scissor lift operators, and especially so for those who have completed aerial lift operator training. Operators are required for construction projects, landscaping work, maintaining overhead communications and cable lines, painting buildings, harvesting fruit, window washing and a myriad of other tasks that require working above the ground or other places that are difficult to reach.
Why do companies choose CMO for aerial lift certification in Maui?
– Low cost for courses
– Ready support anytime
– We stay up to date on changes with OSHA regulations which are incorporated into our training
– Certification is accessible with secure internet connectivity
– OSHA compliant, which is necessary for accidents and injuries
Sign up for Maui Aerial Lift Certification Today!
Train the Trainer Certification – $149.00
Aerial Lift and Scissor Lift – Maui Aerial Lift Certification – $75.00
Aerial Lift and Scissor Lift – Spanish – $75.00
Class 7 or Class 7 Spanish – $75.00
Rough Terrain Forklift Trucks
Straight mast forklift
Extended reach forklift
Fall Protection or Fall Protection Spanish – $75.00

Why Complete CMO Online Maui Scissor Lift Certification?
As an employer who hires scissor lift and aerial lift operators on Maui, you need to be certain they have received proper aerial lift or scissor lift operator training as required by OSHA. If you currently have operators who aren't certified, CertifyMeOnline.net is the fastest, easiest and most affordable way to have them trained and certified, which will bring your business into compliance with OSHA regulations.
OSHA compliance is required by law, and OSHA holds Maui employers responsible for seeing that their aerial lift and scissor lift operators are properly trained and certified before they allow them to operate the equipment. With the help of CertifyMeOnline.net, you and your workplace can become OSHA complaint quickly, efficiently and affordably.
Why CMO is the Best Choice for Aerial Lift Certification in Maui
CertifyMeOnline.net offers a great selection of courses for scissor lift and aerial lift certification Maui, all at great prices! This is good news for Maui employers who need to have their operators trained, certified and OSHA compliant quickly. CMO is here to help you make it happen – sign up today!
Choose CertifyMeOnline.net for Your Scissor Lift Certification in Maui
Our team at CertifyMeOnline.net is trained and thoroughly familiar with the certification process to legally operate aerial lifts and other machinery in Maui. Our courses were developed by specialists who know and understand how to provide you with the information to acquire aerial lift certification in Maui today.
Our certification process is quick and easy, making it possible for employers to have their workers get the certification they need in the fastest possible way. Our Maui aerial lift training can be completed in as little as an hour with our simple 5-step process. The Maui aerial lift certification training can be taken at any time, meaning our training works around the schedules of you and your employees. After they've completed the training, you can immediately download and print out your operators' Maui aerial lift certification cards. As soon as your employees are finished with our aerial lift certification Maui, they're 100% OSHA compliant and can operate aerial lift equipment.
For just a cost of $75, your employees can complete the aerial lift and scissor lift combination course with a certificate which prints out immediately after completion. If you have questions or need more information, you can speak with our training experts and OSHA compliance consultants at (602)277-0615.