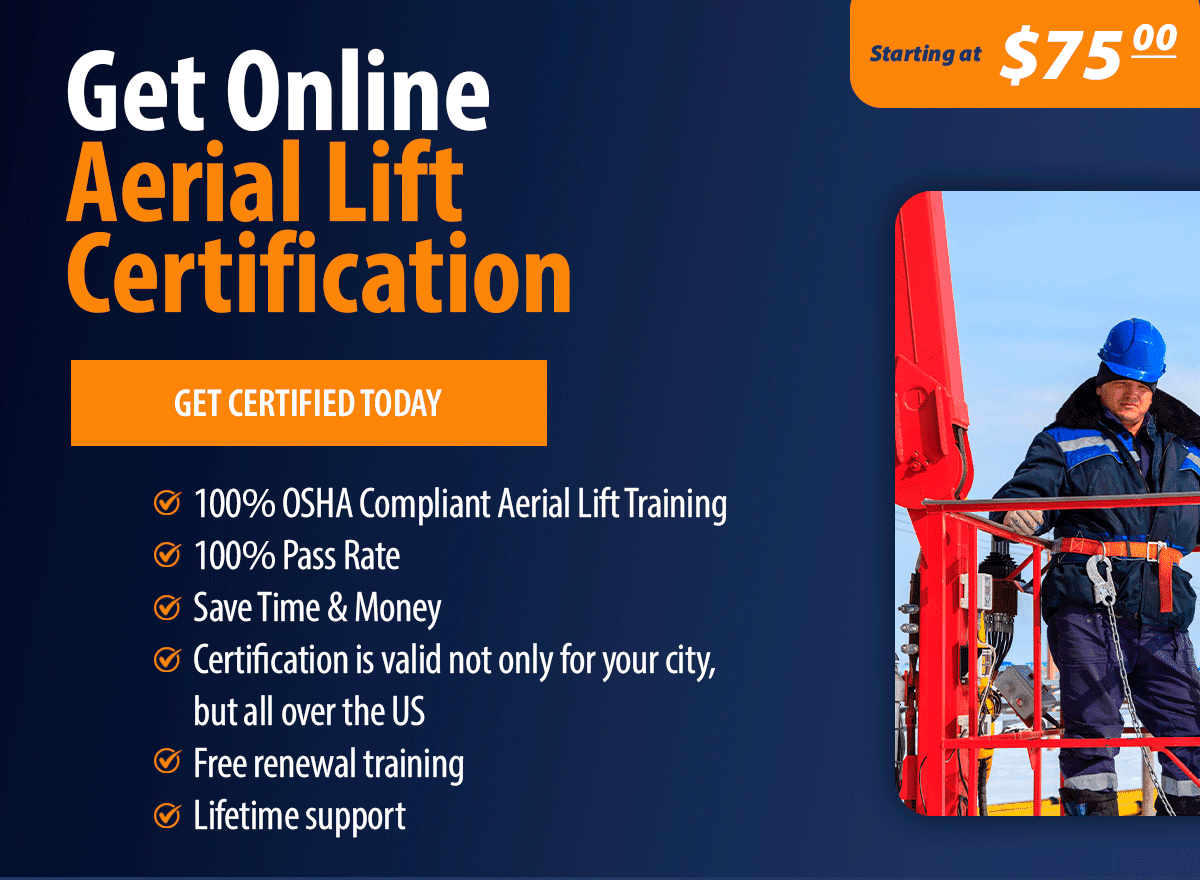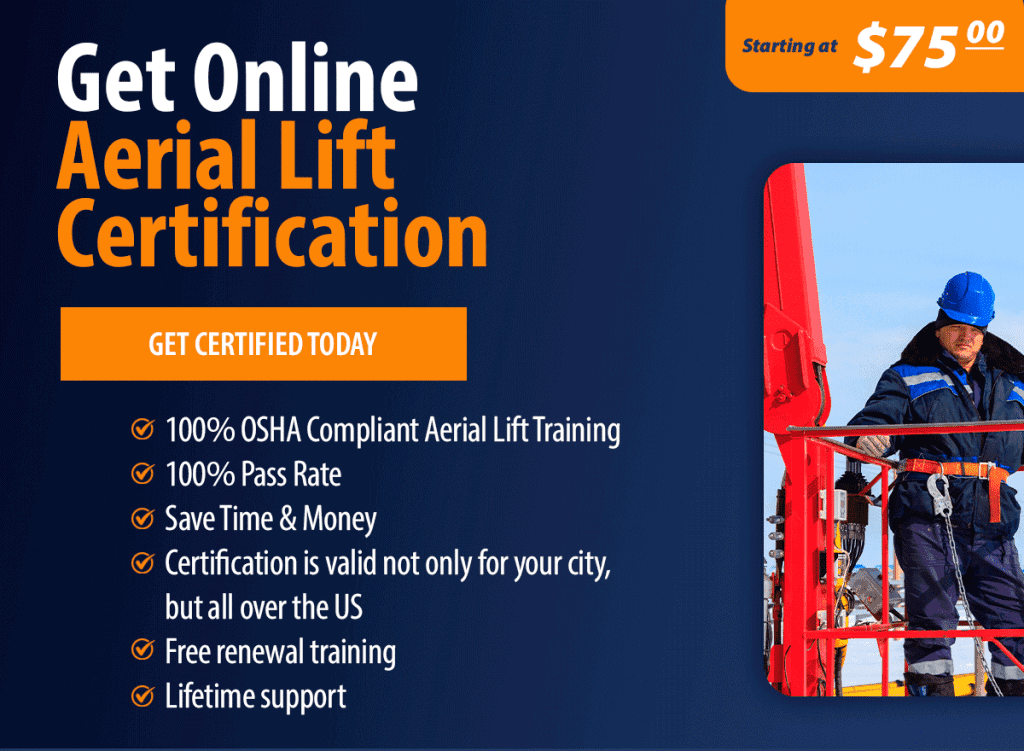 Is your aerial lift training up to date? OSHA requires every company that uses aerial work platforms (AWPs), scissor lifts, mobile elevating work platforms (MEWPs), cherry pickers, and similar equipment to train their employees.
What's the best way to get Memphis aerial lift certification? The answer is easy: CertifyMeOnline.net. We have a complete selection of training courses for every skill level, and our courses are available in Spanish, too. CMO will show you how to get aerial lift certified in Memphis in an affordable and smart way!
For OSHA-compliant aerial lift certification in Memphis, our Operator Training is only $75. Your workers will get up to speed with OSHA regulations and much more to become compliant. How about having your in-house trainer? This money-saving method is covered with CMO's Train the Trainer certification, just $149!
Register with CMO today, and enjoy peace of mind with 100% compliance! We'll show you all the ins and outs of online Memphis aerial lift certification.
How to Get Aerial Lift Certified in Memphis
It takes just a few steps to get aerial lift certification in Memphis.
Register. You'll create your company login info, and each employee can make theirs, too!
Complete the online portion of Memphis aerial lift certification. Your workers will learn about important OSHA safety standards and much more!
Skills evaluation. Can your workers apply what they've learned to the safe and efficient operation of AWPs? You'll find out here!
Hand out aerial lift licenses. In about 60 minutes (for some students), you can go from training to skills evaluation to printing their OSHA-compliant credentials!
And don't forget about 3-year recertification training. CMO keeps you compliant when the credentials expire.

See Why Companies Love Our Aerial Lift Certification in Memphis
You'll get these benefits with our training:
✓

Total compliance. Regardless of your aerial lift equipment, CMO keeps you compliant. We cover aerial lifts and also scissor lifts, too.

✓

Automatic updates: Since OSHA regulations change, we figured our training should update along with those changes!

✓

Avoid fines. Did you know some OSHA fines can reach $100,000 or higher? With CMO, you have proof of training to avoid some of the most expensive penalties.

✓

Prices that can't be beaten. You name it, and we have the aerial lift certification in Memphis. All at prices that meet your budget. Check out our pricing page to see how affordable Memphis aerial lift certification can be!
 

Memphis Aerial Lift Certification FAQs
Some of the most common questions we receive include?
How long does aerial lift training take?
Your employees can finish their training and online Memphis aerial lift certification in about 60 minutes! Of course, if other workers need more time, that's OK!
Who is covered with your aerial lift certification in Memphis?
Everyone from brand-new hires to experienced aerial lift operators benefit from our training. And we cover 3-year renewals, too.
I need additional training. What does CMO provide?
Our course catalog includes special training like fall protection, HAZCOM, HAZWOPER, and more.

Get the Best Aerial Lift Training in Memphis, TN
If your company's lift operators need Memphis aerial lift and scissor lift certification training, get started is now and you can have them fully trained, certified and OSHA-compliant today! The first step is to call us at (888) 699-4800 to speak with one of our knowledgeable Memphis aerial and scissor lift instruction experts who will be pleased to answer any questions you may have.
You can also reach us online through the CertifyMeOnline.net contact page to find out more about our aerial lift and scissor lift certification in Memphis, TN. Regardless of how you choose to get in touch with us, we'll take the time to carefully explain the benefits of Memphis scissor lift operator training, AWP instruction or our fall protection courses.