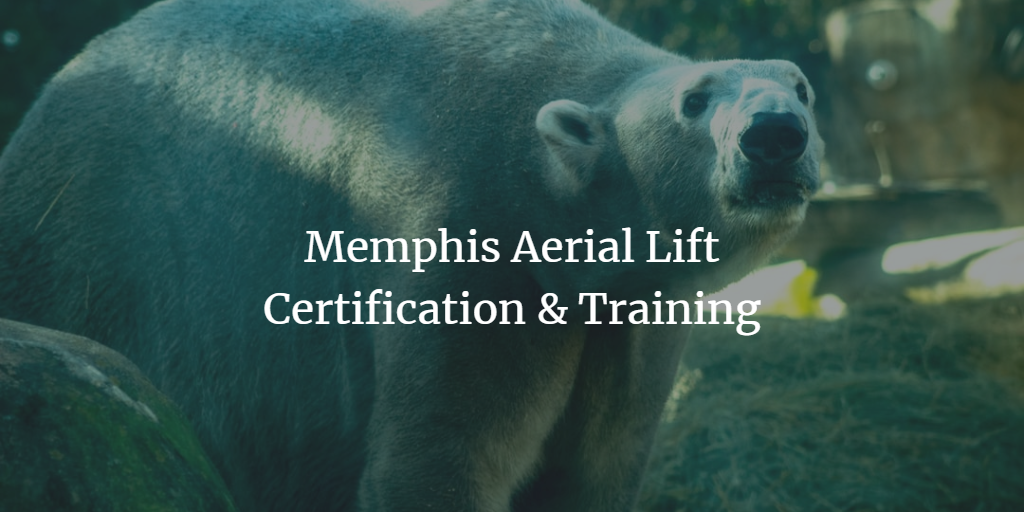 The city of Memphis has always played a huge role in keeping Tennessee's economy booming. This is due in large part to its strategic location on the Mississippi River. The area is one of the most important transportation and manufacturing hubs of the Southeast and Appalachian regions of the United States. This rapidly growing city has a forward-thinking civic and business leadership that combines traditional economic sectors with a commercial zone intended to attract new business and bring a brighter economic future to Memphis residents.
With a population of more than one-half-million people and an expanding economy, Memphis is an ideal location for any business involved with the production, use or distribution of heavy commercial equipment, including aerial work platforms (AWPs), aerial lifts and scissor lifts.  If you're a Memphis area business owner who employs aerial lift and scissor lift operators, you need to be aware that OSHA requires all lift drivers to undergo aerial lift certification Memphis administered by an approved trainer such as CertifyMeOnline.net before they're legally allowed to operate the equipment in the workplace.

Benefits of CMO Memphis Aerial Lift Certification and Scissor Lift Training For Your Employees
As an employer, two of the many benefits of our aerial lift and scissor lift operator training and certification program you'll enjoy are the affordable cost and overall convenience of having your workers trained and certified by CMO in as little as one hour.
Our primary objective is to make workplaces safer and more productive by providing fast, convenient and affordably priced Memphis scissor lift certification training to area businesses whose aerial lift operators need certifying in order to become OSHA-compliant. Here are a few more reasons why area employers consider CertifyMeOnline.net to be the preferred provider of Memphis aerial lift certification training:
✓ CMO's training program is 100% OSHA-compliant
As an employer trying to navigate and keep up with OSHA's ever-changing aerial lift operator safety rules and regulations, you'll need the expertise of the professionals at CertifyMeOnline.net on your team. When you enroll your employees to train with CMO, they will receive the best Memphis aerial lift certification and scissor lift instruction available anywhere. Our training program content has been created by instructors with years of OSHA knowledge and experience who are always up to date on any new or pending OSHA regulations.
✓ Our cost structure is budget-friendly
CertifyMeOnline.net  believes that any business with aerial lift operators that need Memphis aerial lift certification or scissor lift training should have access to an affordable, OSHA-approved training program – it's as basic as that! We've simplified and streamlined the process for training scissor lift and aerial lift operators in the greater Memphis area at prices that are easy to afford!
✓ CMO's lift operator training is fast and convenient
Although there are no time limits, our scissor lift and aerial lift certification Memphis can be completed in as little as one hour. All training materials are available online 24/7 using a smartphone, tablet or another digital device, which means the training can be completed any time that's convenient and any place there's an internet connection. After your workers complete the course material, their operator cards and training certificates can be immediately downloaded and printed and they're legally ready to operate the equipment.
✓ Recertification training is included in the price
All Memphis scissor lift and aerial lift workers are required by OSHA to be recertified and carry renewed operator licenses after three years or following a workplace accident where an aerial lift is involved. Free 3 year renewal training is included in our aerial lift certification Memphis training packages. Upon completion of the renewal training, operator certificates can immediately be downloaded and printed on-site for seamless HR training record updates. From initial enrollment in CMO's aerial lift training to operator recertification, CertifyMeOnline.net offers the most comprehensive aerial lift certification in Memphis!
Two important factors needed in order to succeed in any job are knowledge and training. When your workers are trained by CMO, they'll receive the best of both, which makes CertifyMeOnline.net the best choice by far for aerial lift and scissor lift certifications in the Memphis area. We provide the most advanced training techniques that incorporate the latest OSHA guidelines and related information – all in an easy to understand online format that's been used by thousands of businesses and individual clients all across the country.
CMO Provides the Best Memphis Aerial Lift Certification Training Available
When you choose CertifyMeOnline.net, it makes it really easy to bring your Memphis employees up to speed on all the latest OSHA aerial lift and scissor lift operator regulations. From enrollment to certification, our simple five step online training process only takes about an hour to complete. Unlike some other Memphis area lift training businesses, there's no need to travel to and from an off-site training facility and there are no paperwork hassles when you choose our aerial lift certification Memphis program to train your operators. With CMO, you're in complete control of your employees' aerial lift training and certification.
CertifyMeOnline.net  also provides free renewal training and recertification that OSHA requires every three years through our Memphis aerial lift certification program. Failure by you as a business owner to comply will leave gaps in employee training records and could result in OSHA imposing heavy fines on your company. With our three year renewal service, you won't miss a beat. After your operators complete the recertification training, just log on to your CMO account, download and print the certificates and send them back to work – that's all there is to it!. What's even better, CMO's operator recertifications are free for life!

Enroll Your Employees Today!
If your company's lift operators need Memphis aerial lift certification training, get started is now and you can have them fully trained, certified and OSHA-compliant today! The first step is to call us at (602) 277-0615 or (888) 699-4800 to speak with one of our knowledgeable Memphis aerial and scissor lift instruction experts who will be pleased to answer any questions you may have.. You can also reach us online through the CertifyMeOnline.net contact page to find out more about our aerial lift certification Memphis training and certification courses. Regardless of how you choose to get in touch with us, we'll take the time to carefully explain the benefits of Memphis scissor lift operator training, AWP instruction or our fall protection courses.
Thank you for your interest in CertifyMeOnline.net for your aerial and scissor lift operator certification training. We're here to help with all your Memphis aerial lift certification needs  – just give us a call!