Beginner Aerial Lift FAQ's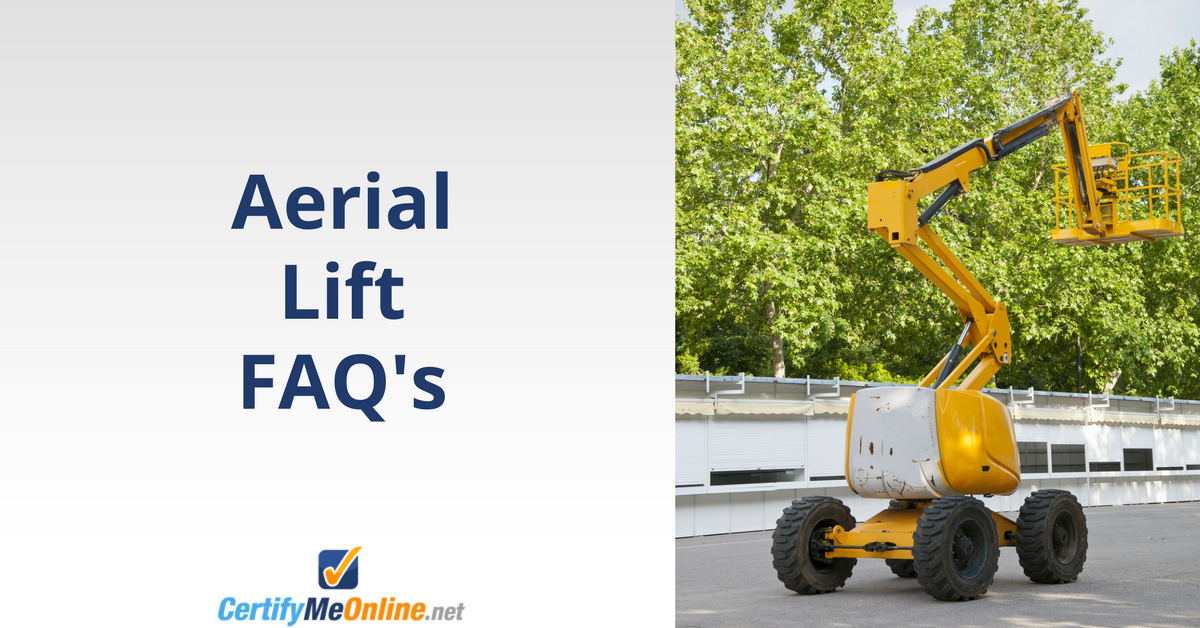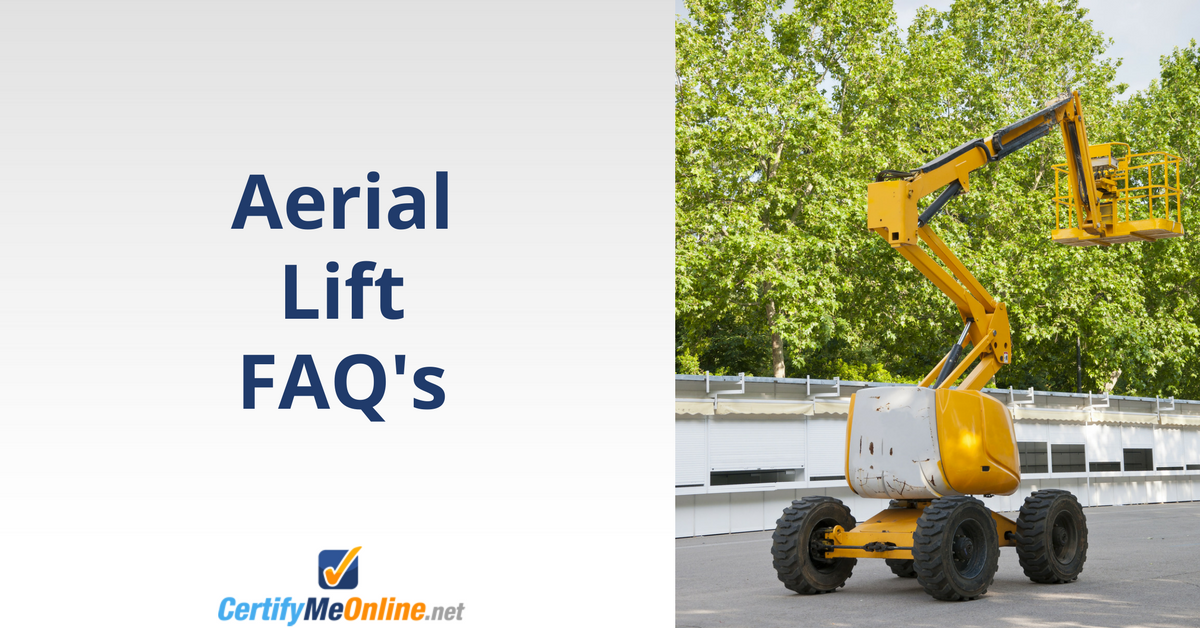 Are you new to aerial lifts? Looking to get a job in the industry? We've put together a list of frequently asked questions (FAQs) for anyone curious about these essential maintenance and construction machines.
What Is an Aerial Lift?
An aerial lift is defined as any vehicle-mounted device used to help workers complete tasks at heights. It can be a bucket truck, cherry picker, or other lift that is used to access elevated areas.
Aerial lifts are supported by a boom, which is different from a scissor-type lift mechanism. A boom can either be a telescopic lift, which is a straight arm or an articulating boom lift, which is able to bend, making it useful for jobs that require extra movement to avoid hazards or provide better accessibility.

Is a Bucket Truck an Aerial Lift?
Yes, a bucket truck is just another type of aerial lift.
What Types of Aerial Lifts Are Available?
✓ Common aerial lift options include:
✓ Extendable boom lifts
✓ Articulating boom lifts
✓ Vertical towers
Aerial lifts can be constructed from metal, plastic, and other strong, durable materials. They offer exceptional stability in comparison to ladders, and as such, represent top choices for businesses across a wide range of industries.
Is a Scissor Lift an Aerial Lift?
OSHA considered scissor lifts a type of aerial lift. Even though scissor lifts don't have their mobile work platform extend beyond the wheel base, they're classified as an aerial work platform (AWP) – the same category as other aerial lifts (cherry pickers, telescopic boom lifts, etc.).
What Is a Boom Lift?
A boom lift is another name for an aerial lift. You'll also see mobile elevating work platform (MEWP), mobile elevating work platform and aerial work platform (AWP) used, as well. All boom lifts fall under two different categories: articulating or telescoping. Boom lifts are not scissor lifts, which have their own type of lifting mechanism.
Can a Boom Lift Be Used As a Crane?
OSHA guidelines prohibit the use of a boom lift as a crane. A boom lift and crane are used for different jobs and are designed to handle specific tasks. If you use a boom lift as a crane, you're putting personal safety at risk – and the safety of your co-workers.
If you are unsure about OSHA regulations regarding safe use of boom lifts and other types of lifts, there is no need to stress. An aerial lift training and certification program offers insights into OSHA safety requirements. The program is designed for workers of all skill and experience levels and helps them become OSHA-compliant aerial lift operators.
Can Aerial Lifts Hold More Than One Person?
Large lifts are available that are built to accommodate multiple workers. But, most lifts usually are designed for use by one person.
Where Are Aerial Lifts Used?
Aerial lifts can be used indoors and outdoors. They are utilized in a variety of industries, including:
✓ Agriculture and landscaping
✓ Construction
✓ Demolition
✓ Energy
✓ Retail
The ideal aerial lift varies based on the jobsite. As such, it is paramount to evaluate different types of aerial lifts to find one that allows operators to safely and effectively perform work at heights.
How High Do Aerial Lifts Get?

Most aerial lifts are typically designed to lift workers anywhere from 20-60 ft. off the ground. However, there are some aerial lifts that go hundreds of feet up in the sky! An aerial lift's range in height depends upon the type of work being done. For indoor construction projects, an aerial lift may only be required to reach 30-40 ft. But for large-scale projects which require extensive range, it's not uncommon to have an aerial lift extend 100, 150, or 200 ft. and beyond.
Can I Operate an Aerial Lift in High Winds and Other Inclement Weather Conditions?
The weather can put aerial lift operators in danger. As such, it is important to account for weather conditions before using a lift.
OSHA requires workers to receive training that teaches them how to identify dangers relating to extreme temperatures, heavy winds, and other inclement weather conditions. This training offers immense value, as it teaches workers how to identify weather hazards that can otherwise affect their ability to safely use an aerial lift.
Can Aerial Lifts Tip Over?
Yes. This is one of the most common types of aerial lift accidents. Properly trained aerial lift operators are aware of the different hazards that can cause an aerial lift tip over. The main causes of aerial lift tip overs include uneven surfaces, unstable and/or heavy loads, and failure to properly understand the operational requirements for the equipment.
When Should an Aerial Lift Be Used Instead of a Ladder?
There are many different circumstances where an aerial lift is preferable over a ladder. Aerial lifts are more mobile than ladders and can hold more weight. What's more, they can also accommodate fall protection equipment. Plus, aerial lifts are stronger and more stable than ladders.
Are Aerial Lift Workers Well-Compensated?
Because the job has risks from falling and other hazards, aerial lift workers usually make a higher hourly rate than other workers. Of course, it depends on the employer, type of work, union considerations and other factors. Perhaps the biggest factor that determines an aerial lift worker's pay is the local job market.
It often helps to discuss your career aspirations with an employer before you pursue a career as an aerial lift operator. This allows you to gain insights into what aerial lift work opportunities are available and find out if they align with your career goals.
Do I Need to Wear a Harness on an Aerial Lift?
It depends on the work requirements for your jobsite. OSHA always recommends wearing a safety harness.
Is Any Special Training Required to Operate an Aerial Lift?
It is recommended that anyone looking to work on an aerial lift has the most recent OSHA compliant instruction. CertifyMeOnline.net is a great place to get started. We offer a comprehensive training program that teaches workers how to safely operate an aerial lift.
What Is Aerial Lift Certification?
Workers can become OSHA-certified aerial lift operators by completing a safety training program. OSHA certification verifies that workers understand how to safely operate and maintain an aerial lift.
Does OSHA Require Aerial Lift Training?
It is mandatory for aerial lift operators to complete a safety training program. Failure to do so can result in OSHA fines and penalties. In addition, untrained aerial lift operators can inadvertently put themselves or others at risk of accidents or injuries.
Do Aerial Lift Certifications Expire?
Aerial lift certification lasts three years. Thus, if a business has aerial lift operators on staff, it should monitor their certification status. This ensures that the company can help its operators keep their certification up to date.
How Much Time Is Required to Complete an Aerial Lift Certification Training Program?
The amount of time required to complete an aerial lift certification training program varies. With CertifyMeOnline.net, workers can earn OSHA aerial lift certification in as little as one hour.
How Can I Learn More About Aerial Lift Certification Training?
CertifyMeOnline.net has friendly, knowledgeable aerial lift certification training experts on staff. We are happy to respond to any concerns or questions regarding aerial lift safety training. That way, we can help you evaluate your aerial lift safety training options and make an informed decision.
Which Aerial Lift Certification Training Program Is the Best Option?
There is no shortage of aerial lift certification programs, but none can match the effectiveness of CertifyMeOnline.net's program. With our program, your workers can learn how to safely use a scissor lift, boom lift, and other types of aerial lifts. Plus, our learning materials are fully accessible anywhere an internet connection is available and lets your workers finish the program at their convenience.

Enroll Your Workers in CertifyMeOnline.net's OSHA Aerial Lift Certification Training Program
CertifyMeOnline.net makes it easy to enroll your workers in OSHA aerial lift certification training program. For more information, please contact us online or call us today at (602) 277-0615.