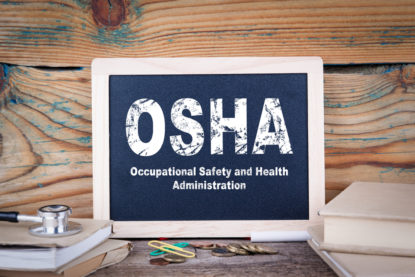 OSHA is a federal agency committed to fostering safe work environments across the United States. To better understand OSHA, let's answer some of the key questions surrounding the agency.
What Is OSHA, and Why Is It Important?
Somewhere, at this very moment, someone in the United States is violating a safety procedure. It could be something minor, such as not wearing gloves during one final warehouse task. But, it could also be a significant safety mistake — for example, something like driving a forklift with bald tires.
Whenever workplace safety rules are ignored, the possibility exists for on-the-job accidents that can lead to property and personal damage, including severe injuries and even death. OSHA, the U.S. government's regulatory body for determining workplace safety violations, is responsible for making sure that companies have their own safety plans in place to prevent these potential accidents and tragedies.
What Does OSHA Stand for?
OSHA stands for the Occupational Safety and Health Administration. Today, OSHA is led by Acting Assistant Secretary of Labor Loren Sweatt. It is part of the U.S. Department of Labor (USDL) and was officially created on Dec. 29, 1970 when President Richard Nixon signed the Occupational Safety and Health Act into law.
Under the Occupational Safety and Health Act, OSHA has a broad range of power in regards to workplace health and safety laws. The agency covers most private sector employers and their workers, along with various public sector employers and workers.

What Is OSHA Doing to Improve Workplace Safety? 
OSHA has maintained an ongoing commitment to improve workplace safety at companies nationwide. Initially, OSHA was allowed to create regulations based on guidelines established by industry standards organizations. It has capitalized on its abililty to offer best practices, recommendations, and insights to help companies safeguard employees against industry-specific workplace hazards. 
Meanwhile, OSHA has been a key contributor to addressing workplace safety issues. Some of the agency's aerial lift safety announcements over the past few years include:
2015 – Requiring businesses to report work fatalities within eight hours and hospitalizations within 24 hours. 
2018 – Requiring businesses to digitize information relating to on-the-job accidents, injuries, and illnesses. 
2019 – Requiring businesses to take additional measures to protect sensitive employee data stored on computers, smartphones, and tablets. These measures were designed to safeguard worker data against cyberattacks. 
OSHA has offered resources to help U.S. businesses keep workers safe during the coronavirus (COVID-19) pandemic as well. Instructions that OSHA provided to businesses during the pandemic have included:
– Verify that any employees who display symptoms of COVID-19 stay home and get tested. If these workers are diagnosed with COVID-19, they should quarantine from others until they fully recover. And anyone who came into contact with infected workers should undergo testing as well. 

– Require employees to wear a face mask that covers the nose and mouth at all times. 

– Use floor markers and posters to promote social distancing at worksites. 

– Encourage employees to wash their hands with soap and water as often as possible throughout the work day. 

– Clean worksites frequently. 
OSHA works closely with industry organizations to develop and implement workplace safety guidelines. It recognizes businesses that do their part to promote workplace safety. And OSHA also penalizes businesses that violate its workplace safety requirements.
To date, OSHA has helped many U.S. businesses maintain safe and productive worksites. It continues to seek out ways to optimize workplace safety at companies of all sizes and across all industries. 
What Is the Purpose of OSHA?
In addition to understanding what is OSHA, it is paramount to recognize the agency's purpose. 
OSHA's mission is to "assure safe and healthful working conditions for working men and women by setting and enforcing standards and by providing training, outreach, education and assistance." To accomplish this goal, OSHA supports private and public sector employers and workers in several areas, including:
Training and Certification
OSHA creates standards that require employers to teach workers how to safely perform daily tasks in a variety of industries.
Employer Assistance
OSHA is available to explain how employers can comply with safety mandates and keep their workers safe against on-the-job accidents, injuries, and fatalities.
Information for Workers
OSHA encourages workers to reach out to report unsafe work conditions; in the event that an employer ignores workers' complaints about an unsafe work environment, OSHA can inspect a workplace and evaluate and address dangerous work practices.
Does My Business Need to Comply with OSHA Requirements?
U.S. businesses must comply with OSHA requirements. Failure to do so may result in OSHA penalties and fines, along with workplace accidents, injuries, and fatalities. Furthermore, OSHA penalties and fines may damage a business' reputation, cause revenue losses, and make it difficult for a company to retain employees and customers.
Is OSHA Effective?
OSHA is effective as a workplace safety regulatory agency, but it can only do so much. Instead, employers must take action to ensure their workers understand best practices to maintain safe, productive workplaces.
Employers should follow OSHA guidelines and stay up to date on them. They can also provide workers with OSHA-approved training to help employees minimize risk day after day.
How Can My Business Comply with OSHA Requirements?
Employers should be proactive, particularly when it comes to workplace safety. By reaching out to OSHA and learning about its safety guidelines, any business can implement measures to limit risk and comply with federal guidelines.
Additionally, CertifyMeOnline.net offers safety training courses for businesses that want to ensure their aerial lift workers comply with OSHA mandates. Our courses are intended for workers of all experience levels and make it simple to quickly become a certified aerial lift operator.

Select CMO for OSHA-Compliant Aerial Lift Certification
Your business may have questions about what is OSHA and what the agency is all about. Fortunately, help is available to ensure your company and its employees operate in accordance with OSHA standards.  
For instance, CMO offers OSHA-approved aerial lift certification training. We ensure companies across the United States can provide their employees with seamless access to our online certification training courses. Thus, your workers can use our courses on their smartphones, tablets, and computers. They can then earn their OSHA aerial lift certification at their convenience. 
We are happy to provide additional details about our aerial lift certification safety training courses. To learn more or to sign up for one of our courses, please contact us online or call us today at (602) 277-0615.