Our Online, OSHA Compliant Florida Aerial Lift Certification Takes Only an Hour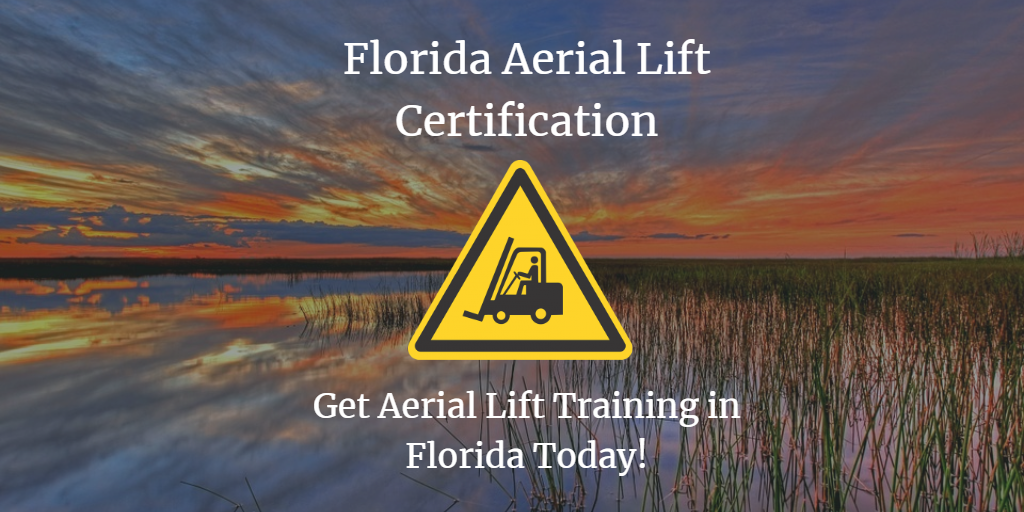 With a climate that varies from subtropical in the northern part of the state to tropical in the south, Florida's more than 21 million residents make it the third most populated state in the Union. Florida's booming $1 trillion economy, which is the country's fourth-largest, is centered around tourism, agriculture, and transportation. Each of these industries require skilled workers, including aerial lift and scissor lift operators.
With our easy 5-step process, it's simple to get started. Your operators can be certified in as little as an hour!

1. Create an account and register your company (this takes only a couple of minutes)
2. Register each aerial lift and scissor lift operator
3. Have your operators log in to the account
4. Have students take the test, which only takes about an hour
5. After completing the exam, a qualified trainer will observe students undergoing in-person, hands-on equipment operating evaluation
That's all there is to it! After students pass the test, they've completed their 100 % OSHA-compliant Florida aerial lift certification training. Download and print their aerial and scissor lift operator cards, add the certifications to their HR files and they're ready to go to work!
Employers need to be aware, however, that OSHA requires aerial lift and scissor lift operators throughout Florida to be properly trained and certified before they're legally allowed to operate lift equipment in the workplace. Regardless of the type or size of the business, employers need must that the operators they hire have received OSHA-compliant lift operator certifications. If the business already has uncertified operators on its payroll, it's imperative that employers arrange for them to receive their lift operator certifications as soon as possible.
Choose CertifyMeOnline.net for Florida Aerial Lift Certification Training
We're the premier provider of comprehensive aerial lift certification and scissor lift training in Florida. Priced to deliver optimum value, our courses will train your employees to levels that meet or exceed OSHA's safety standards. There's no need to look further than CMO for aerial lift certification  Florida. From Tallahassee to Miami and everywhere in between, CMO is your best option for your workers to complete scissor lift and aerial lift training.
Check out our course lineup and enroll your employees today in CMO's Florida aerial lift certification training program!
Reasons to Enroll Your Operators in CMO's Florida Aerial Lift Certification Training
It's also the law. The purpose of aerial lift and scissor lift certification training in Florida and elsewhere is to save lives through improved workplace safety. Since it's required by OSHA, failure to comply can result in severe penalties and fines.
With Florida aerial lift certification, you'll enjoy the peace of mind that comes with knowing your lift operators can safely operate the equipment. The certification will show your customers and OSHA that you are prepared to handle the job. OSHA takes safety issues seriously – if there's a gap in your training or paperwork, you could receive a hefty fine. Avoid legal trouble and costly penalties by enrolling your operators in Florida aerial lift training.
CertifymeOnline.net recently surveyed more than 100 managers, supervisors and safety personnel regarding workplace safety. Over half of the respondents reported having been audited by OSHA, and of these,18% had received fines, the majority of which exceeded $100,000. Click here to read the complete study.
Here are more reasons why CMO is your best choice for certifying your aerial lift operators:
✓ We're 100 % OSHA compliant
Having your workers complete CMO's aerial lift certification Florida means you'll have a safer workplace, and will also avoid the hefty OSHA fines and penalties that come with noncompliance.
✓ Our training is affordable
Our aerial lift and scissor lift training program costs just $75 per employee. There's no need to spend a fortune to properly train your operators and become OSHA compliant.
✓ CMO's training is convenient and flexible
Our courses can be taken any time and anywhere that's convenient. This can be at home, during a lunch break or at a coffee shop. There's no need to take time off work to travel to and from an expensive offsite training facility.
✓ Certifications and operator cards are immediately available
After students complete the training, their OSHA certifications and aerial lift operator cards are ready to be downloaded and printed, making it legal for them to resume operating aerial lift equipment. The need to wait for paperwork to arrive in the mail is eliminated!

Get Florida Aerial Lift Certification For Your Operators Today!.
Still have questions or need more information about CMO's aerial lift certification Florida training program?  Call us at (602) 277-0615 to speak with one of our knowledgeable aerial lift training experts who'll be pleased to assist you. Click here to register your business and enroll your employees in our Stockton aerial lift operator training program online. We're here to help you with all your Florida aerial lift certification and other training needs!