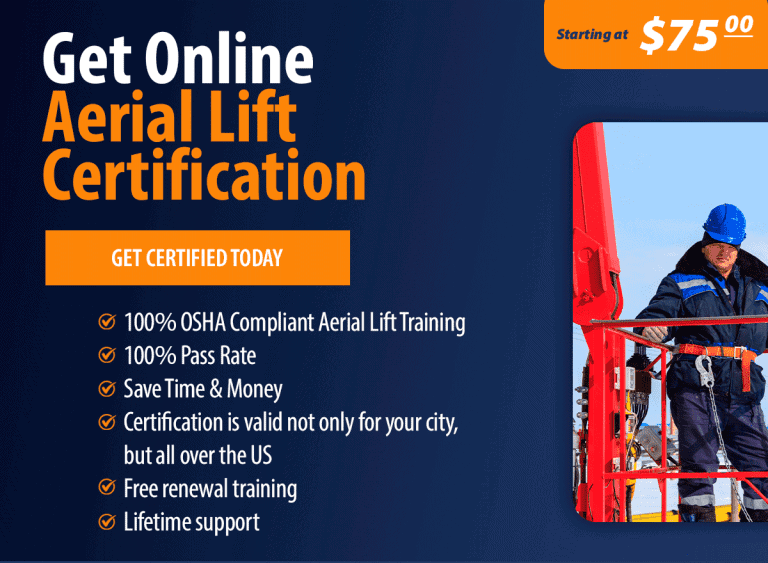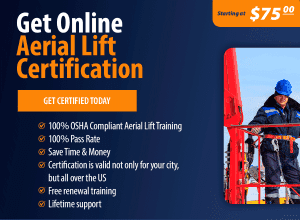 Every company that hires employees to operate aerial lifts, aerial work platforms (AWPs), mobile elevating work platforms (MEWPs), boom lifts, and similar equipment is responsible for OSHA-approved safety training. This applies to the Sunshine State and all over the United States.
But how can you manage aerial lift certification in Florida without that "insider's" knowledge of specific OSHA guidelines? OSHA standards charge all the time, which means you have to always be current with Florida aerial lift certification.
CertifyMeOnline.net is the training solution you need – and one you can certainly afford, too! Our Florida aerial lift certification is online and always accessible. With two primary training options for AWP and MEWP operators, we're the preferred training partner for Florida aerial lift certification.
We have Operator Training for only $75, plus a Train the Trainer certification for just $149. We'll show your company how to get aerial lift certified in Florida – and it's much easier and less expensive than you probably think! Don't delay any more with this critical task…it's illegal to have workers run aerial lifts and other industrial equipment without aerial lift certification in Florida.

How Online Certification in Florida Works
You need to provide Florida aerial lift certification for your operators. And CMO offers comprehensive resources and training content to ensure you have Florida aerial lift certification online.
Here are the easy steps:
Sign Up

– Employers may sign their operators up by creating an account on CertifyMeOnline.

Choose an Aerial Lift Course

– We feature a variety of aerial lift courses depending on your needs. Simply choose the course that best applies to your business and check out.

Complete Online Training

–  Trainees can complete the course in their own time, at their own pace, from any device. Once complete, they will need to take and pass an online skills test. There's zero pressure, as they can retake the test as many times as necessary to earn a passing score.

On-Site Evaluation

– An on-site employee of yours must next conduct a hands-on evaluation. If you don't have someone in mind, our

train-the-trainer course

can teach operators how to train others and perform this evaluation.

Print Your Operator Card

– After these four steps are complete, operators will be officially certified to drive aerial lifts in Chicago and the rest of the country. Employees may immediately print off proof of certification from our website.

 
CMO is here to help with all your training needs. Remember, our aerial lift certification in Florida also covers all scissor lift operators, too!
Advantages of Aerial Lift Certification in Florida
Sign up with CMO and experience all the benefits that come with our training program, including:
✓ 24/7 Curriculum Access

– This availability means employees can learn whenever and wherever is most convenient. The material can be accessed from any device connected to the internet.

✓ Fast and Simple

– Our course takes about an hour to complete, and the final exam may be taken as many times as necessary to earn a passing score.

✓ Certification Cards

– Once training is finished, employees can instantly print out proof of their OSHA compliance. 

✓ Free Renewals –

CertifyMeOnline is the only company offering free lifetime access to our resources. Since OSHA demands operators recertify every three years, this adds up to serious savings over time.

✓ Affordable

–  You'll also save money and time by avoiding sending operators off-site to train.

 

Florida Aerial Lift Certification FAQs
We get plenty of questions about aerial lift certification in Florida. Here are a few:
My Company Uses Cherry Pickers, Scissor Lifts and More. Am I Covered by CMO?
You bet! Our aerial lift and scissor lift certification in Florida is valid for all types of MEWPs and AWPs.  
Who Is Covered by the Prices for Each Course?
You don't have to sign up for each individual employee – our online Florida aerial lift certification accounts for all aerial lift operators.
What is Included with the Training Content?
CMO is staffed by experts in the safety field, with plenty of experience in equipment operation and dealing with OSHA. That means comprehensive training courses which cover everything from safety harness requirements to avoiding falling objects and much more!

Get Online Aerial Lift Certification in Florida Now!
Still have questions or need more information about CMO's online aerial lift certification in Florida?  Call us at (602) 277-0615 to speak with one of our knowledgeable aerial lift training experts who'll be pleased to assist you. Click here to register your business and enroll your employees in our Florida aerial lift operator training program online. We're here to help you with all your Florida aerial lift certification and other training needs!