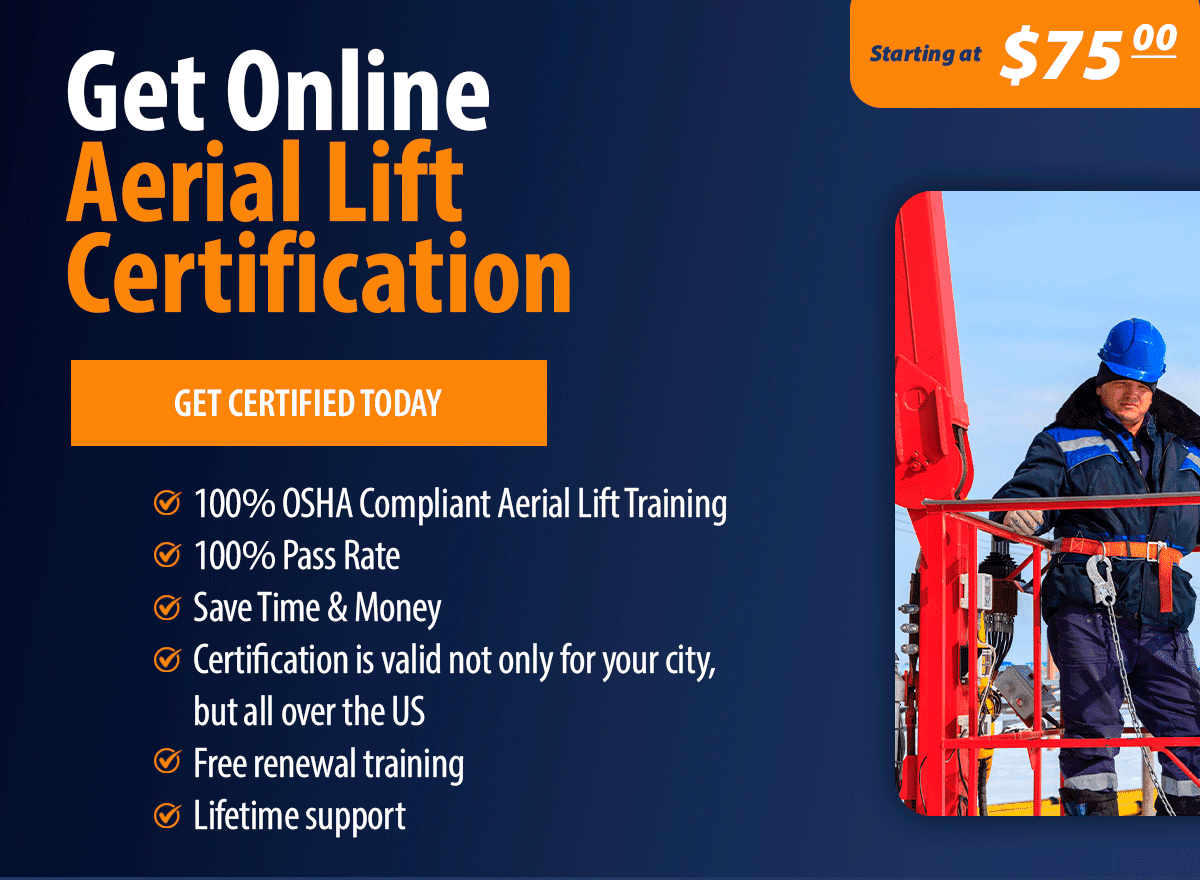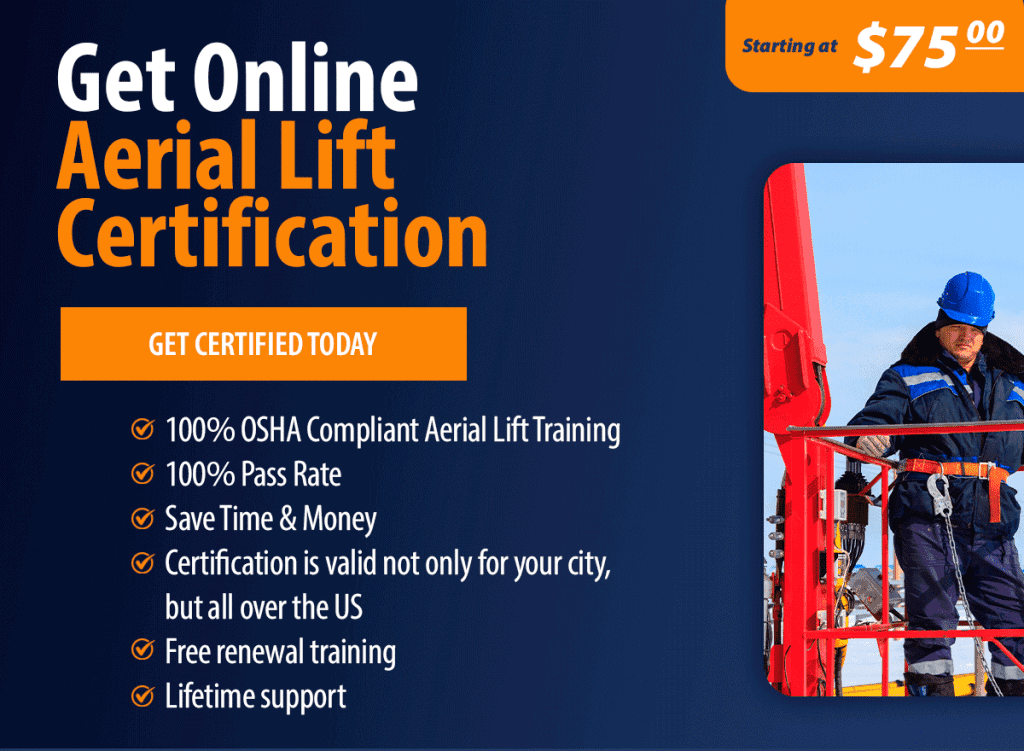 Are you up to speed with your aerial lift certification in Milwaukee? As an employer, you're responsible for training all employees that operate aerial work platforms (AWPs), mobile elevating work platforms (MEWPs), scissor lifts, man lifts, and other aerial lifts.
But how can you keep up with OSHA safety guidelines, which can change all the time? It can be nearly impossible to handle aerial lift certification in Milwaukee on your own. With  CertifyMeOnline.net, your company will stay and remain OSHA compliant!
Our popular Operator Training package is just $75 and ensures all your AWP operators are properly trained and certified. If you'd like to have your own certified trainer on hand to handle evaluations and training, our Train the Trainer certification course is only $149.
How to Get Aerial Lift Certified in Milwaukee
With CMO's Milwaukee aerial lift certification online, it's easier than ever to get your employees certified. Just follow these easy steps:
Register your company, and create login credentials for all your aerial lift operators.

Complete online testing. Our content covers important

OSHA safety guidelines

and other safety-critical information.

Testing & evaluation. It's time to take the

Milwaukee aerial lift certification online

info and apply it behind the wheel! With checklists and all required paperwork, each employee is tested to make sure they can operate your lifts safely.

Print out licenses. Once your employees have passed, you can print out their operator cards. No need to wait for OSHA to mail credentials! 
Your aerial lift certification in Milwaukee expires after 3 years. CMO will assist with 3-year recertification training!

Benefits of Aerial Lift Certification in Milwaukee
Why do our customers love aerial lift certification in Milwaukee with CMO? Here are a few reasons:
✓ Awesome prices

. Our Milwaukee

aerial lift certification is online

– and priced for everybody! Workplace safety is too important to skip, and we've priced our courses so any company can achieve OSHA compliance. Check out our

pricing page

and choose your training today.

✓ Training for ALL aerial lifts

. It doesn't matter which aerial lifts your company has – our

Milwaukee aerial lift certification

covers every type

!

✓ Current, up-to-date content

: OSHA guidelines change on a regular basis. Instead of keeping track on their website, let us handle all the updates for you! We'll notify your company when safety guidelines change, and automatically update our training courses.

✓ Save money – and save lives!

Did you know that non-compliance can result in

expensive fines and penalties

? But with our

aerial lift certification in Milwaukee

, you won't have to pay for having untrained employees. More importantly, our training gives your workers the skills and confidence to reduce the chance of on-the-job accidents.

 

Milwaukee Aerial Lift Certification FAQs 
Along with knowing how to get aerial lift certified in Milwaukee, here are some other common questions we receive on training & compliance:
Do my experienced operators need different training than beginners?
All your AWP & MEWP employees will benefit from the Operator Training course – no need to purchase different classes, as it covers all your workers. However, if you'd like to have some of your veteran aerial lift operators become certified trainers for your AWP fleet, our Train the Trainer certification course is a great option!
What else is included with your aerial lift certification in Milwaukee?
Exceptional customer service is always just a phone call away. You can always call us at (602) 277-0615 or drop a line if you have questions! With CMO, you have a compliance partner in your corner at all times!
Are there other types of training available with CMO's Milwaukee aerial lift certification?
CMO has advanced courses like fall protection and HAZWOPER training, just to name a few. Browse our course catalog for a more in-depth explanation of what is included with each program.

Get Online Aerial Lift Certification for Milwaukee Today!
Aerial lift certification is a requirement for any worker who uses a lift. If a Milwaukee business or any other in the United States has unlicensed aerial lift operators on staff, it risks OSHA penalties. Even worse, the company puts its employees in danger of aerial lift accidents, injuries, and fatalities. CMO ensures any Milwaukee business can provide comprehensive aerial lift certification training to its entire workforce. Our training enables your Milwaukee company to comply with OSHA requirements and ensure its workers can safely operate and maintain aerial lifts. 
We can provide additional details about the best aerial lift training in Milwaukee, WI. To learn more or to sign your workers up for aerial lift certification training, please contact us online or call us today at (602) 277-0615. Or, click here to get started.