Complete Easy, Online, OSHA-Compliant Aerial Lift Certification in an Hour or Less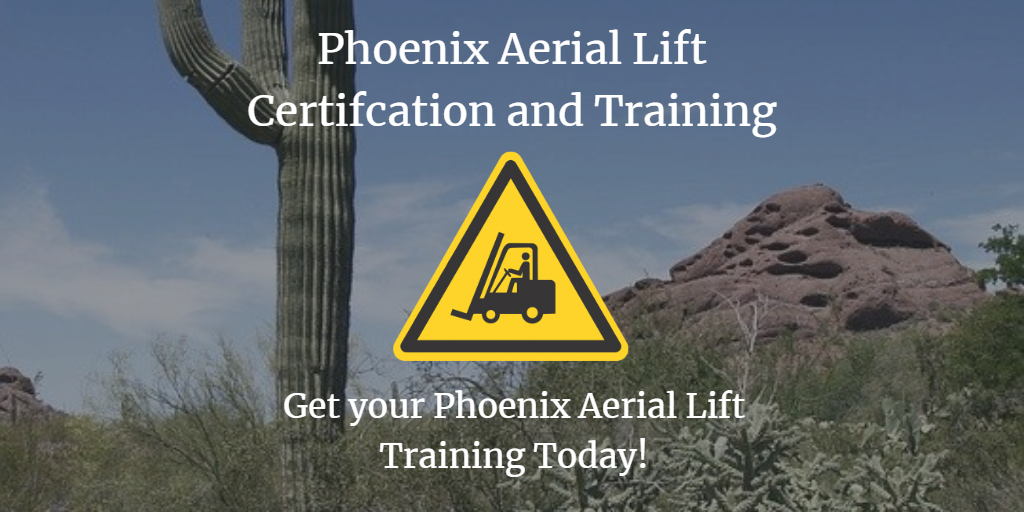 Over the past two decades, Phoenix has grown from a "small" big town to one of the largest cities in the U.S. Its booming economy is full of companies that make use of all types of aerial lifts on a daily basis. And with its warm, dry, year-round climate, aerial lifts can be used just about every day of the year. As the leader in Phoenix aerial lift certification, CertifyMeOnline.net offers expert lift training courses that ensure your workers know how to safely handle scissor and boom lifts of all types.
Our aerial lift certification in Phoenix features:
– OSHA-compliant training
– Lifetime support
– Convenient documentation support
– Free renewal training
– And more
There are many advantages to training your workers through CMO's Phoenix aerial lift certification programs. It gives you a well-trained group of lift workers. It helps reduce on the job accidents. And you can avoid costly fines by staying in compliance with OSHA aerial lift regulations.
Phoenix Aerial Lift Certification Courses
Phoenix Aerial Lift Certification Courses
Aerial lift certification and training in Phoenix is easier than ever before, thanks to CMO's convenient course offerings. Options include:
This comprehensive course ensures workers are well-versed in the best practices for aerial lift operation while training them to conduct evaluations of students completing the aerial lift certification program. The cost of this course is $149.
Aerial Lift and Scissor Lift Certification
Available in both English and Spanish, this course trains operators on the safest use of aerial and scissor lifts. For just $75, participants will learn all they need to know to be in compliance with OSHA regulations.
Class 7 Phoenix Aerial Lift Certification
Priced at an affordable $75, this course covers the use of straight mast forklifts, rough terrain forklift trucks, and features extended reach forklift training, too. Once complete, participants will have the skills and knowledge necessary to use such tools immediately.
Class 7 Phoenix Aerial Lift Certification (Spanish)
Seeking Phoenix aerial lift and scissor lift certification training in Spanish? This $75 course for Spanish speakers features in-depth exploration of the best practices for straight mast, rough terrain, and extended reach lifts.
Fall Protection
Workers learn to recognize safety risks and how to minimize those risks. This $75 investment is one of the best you can make in the health and safety of your work environment.
Fall Protection (Spanish)
Our $75 fall protection course content is also available in Spanish. Workers will learn the ropes – literally – to prevent workplace accidents and injuries.

Protect Your Employees and Your Business with Phoenix Aerial Lift Certification
A recent survey conducted by CMO reveals that 51 percent of participants had their safety plans audited by OSHA. A shocking 82 percent had to pay a fine – many of which topped $100,000. That's no small chunk of change, especially for small businesses. One of the best ways to avoid such fines is to enroll workers in Phoenix aerial lift and scissor lift certification courses.
Any employer that uses aerial lifts knows that it puts their workers at risk. Aerial lift accidents occur every day in the U.S. Workers that don't have Phoenix aerial lift certification are far more likely to get hurt in a lift accident than those that do. This can lead to hefty OSHA fines, medical costs, workers' comp payments, and expensive lawsuits. Having a worker die due to lack of training can seriously damage your company's reputation.
CMO's Phoenix aerial lift certification and scissor lift certification courses are ideal for both employers and employees. As part of our OSHA-approved training package you receive:
? Anytime Training
All CMO courses are taken online, which makes them available any time your workers want to take them. All they need is a computer or mobile device and an Internet connection. They can access the training materials at any time, and take the course at their convenience.
? Full Compliance
Our Phoenix aerial lift certification program is designed to comply with all OSHA guidelines. It includes everything from safe operation to how to spot work hazards, conduct aerial lift inspections and much more. We always keep the courses up to date with the latest OSHA safety guidelines for aerial and scissor lifts.
? Enhanced Productivity
Every business wants productive workers. With CMO aerial lift training, you'll have fewer accidents, which means less downtime for employees and equipment. You'll spend less time cleaning up after accidents. Work won't be interrupted by having to investigate the cause of accidents. Operating aerial lifts in a safe manner makes everyone on the job site more efficient.
? Save Time and Money
A poorly maintained aerial or scissor lift is more likely to have mechanical problems. Lifts with problems are more likely to require repairs or cause accidents. CMO's aerial lift certification Phoenix courses teach workers how to inspect and repair aerial lifts. This saves money and cuts losses in productivity due to out-of-service equipment.
? Certification Documentation
Accidents can still happen with certified workers. After all, we don't live in a perfect world. If an accident does happen, CMO training includes the documentation to show OSHA you have upheld your employer's responsibility to comply with their guidelines for training and certification.
? A Culture of Safety
When all lift workers have their Phoenix aerial lift certification, it creates a "culture of safety" throughout your entire business. Lift operators pay more attention to safety while on the job. Other workers become more aware of safety procedures when working on or near aerial lifts. This results in fewer accidents, less damage to equipment, and a safer job site.
How to Provide Aerial Lift Certification in Phoenix For Your Employees
Enrolling in Phoenix aerial lift certification with CMO is quick and easy.
1. First, register your company through the CMO website. There is no fee to register.
2. Then register each lift worker and assign them passwords and usernames.
3. To take the training, have workers log into their accounts using a computer or mobile device.
4. Once logged in, workers proceed with the training at their own pace. Most finish in about an hour.
5. After completing the training course, workers download and print their temporary operator cards. They receive a permanent one in the mail within a few weeks.
Once your safety manager determines the worker can safely operate an aerial lift, he or she is ready to start working!

Ready to Get Your Phoenix Aerial Lift Certification?
If you're eager to enroll your employees in CMO's Phoenix aerial lift certification program, there's no need to wait. Our training program is available online, allowing workers to get certified in about an hour's time. Whether you're hoping to certify individual workers or Train a Trainer, CMO has the course offerings you need to bring your organization in compliance with OSHA regulations.
For more information, contact us online or call us at 602-277-0615 to speak with a CMO team member. Get started today on the road to a safer, more productive workforce, and full compliance with OSHA aerial lift regulations.