Complete Easy, Online, OSHA-Compliant Aerial Lift Certification in an Hour or Less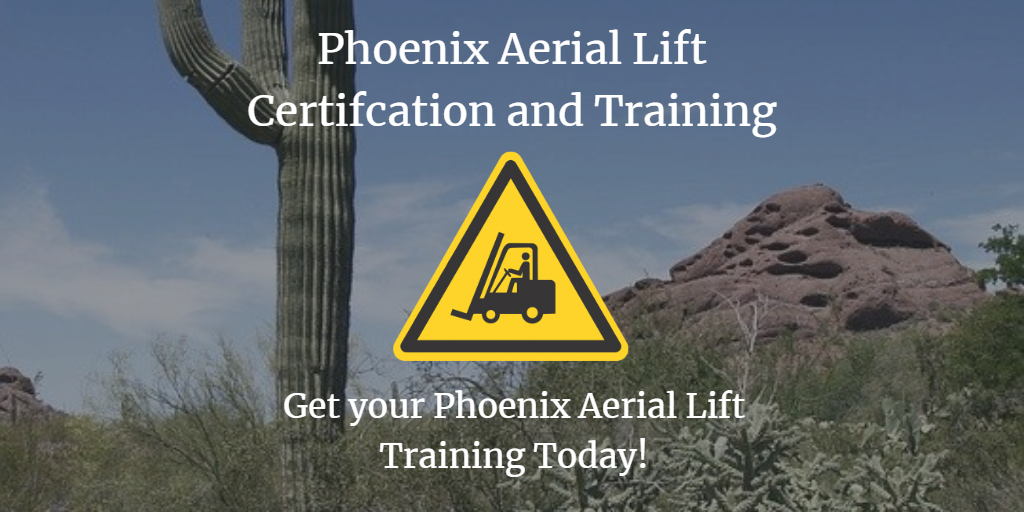 Over the past two decades, Phoenix has grown from a "small" big town to one of the largest cities in the U.S. It's booming economy is full of companies that make use of all types of aerial lifts on a daily basis. And with it's warm, dry year-round climate (there's a reason they call the larger Phoenix area the "Valley of the Sun"), aerial lifts can be used just about every day of the year.
All of which means there is a huge demand in the area for lift workers that hold a Phoenix aerial lift certification. With industry giants such as Intel Corporation, Boeing's Aerospace Division, and US Airways having a local presence, as well as the usual civic and government agencies that require skilled lift operators, certified lift workers can sometimes be hard to find.
Rather than spend time and money looking for certified lift workers, why not train your own workers with CertifyMeOnline.net (CMO). As the leader in aerial lift certification in Phoenix, we offer expert lift training courses that ensure your workers know how to safely handle scissor and boom lifts of all types. Our courses are available in English and Spanish. And they're surprisingly affordable – only $75 per student!
Our aerial lift certification in Phoenix features:
✓ OSHA-compliant training
✓ Lifetime support
✓ Convenient documentation support
✓ Free renewal training
✓ And more
There are many advantages to training your workers through CMO's Phoenix aerial lift certification programs. It gives you a well-trained group of lift workers. It helps reduce on the job accidents. And you can avoid costly fines by staying in compliance with OSHA aerial lift regulations.
Sign up for Aerial Lift Certification in Phoenix Today!

Protect Your Employees and Your Business With Phoenix Aerial Lift Certification
Any employer that uses aerial lifts knows that it puts their workers at risk. Aerial lift accidents occur every day in the U.S. Some of them result in minor injuries. Some of them cause serious injuries. Others are fatal. On average, 20 lift workers lose their lives due to aerial lift accidents each year in the U.S. The best way to prevent these accidents is to ensure all your lift operators are properly trained.
This is why OSHA requires all scissor or aerial lift workers to be trained and certified. Workers that don't have Phoenix aerial lift certification are far more likely to get hurt in a lift accident than those that do. This can lead to hefty OSHA fines, medical costs, workers' comp payments, and expensive lawsuits. Having a worker die due to lack of training can seriously damage your company's reputation. It can also cause morale problems and make it hard to recruit new lift workers.
That's why Phoenix aerial lift certification is so important. It keeps your company compliant with OSHA guidelines. It improves job site safety by reducing the chances of accidents. It also creates a more efficient and productive workforce.
If you think aerial lift certification in Phoenix takes too much time or costs too much, take a look at CMO. Our training is fast and affordable. Each online course takes about an hour to complete. Workers can take it on their own time.  And all CMO training is 100% OSHA compliant.
If you're serious about protecting your employees and your business, don't delay – enroll in CMO Phoenix aerial lift certification today!
Why You Need Phoenix Aerial Lift Certification
Avoiding accidents is reason enough for making sure your lift workers have their aerial lift certification Phoenix. But it's not the only one.
CMO recently conducted a survey of 100 companies that use boom and/or scissor lift in their daily operations. The main purpose of the survey was to see how many of the companies had interacted with OSHA. To our surprise, 51% of participants said that OSHA had audited their safety plan. Even more surprising, 82% reporting having to pay an OSHA fine, some of which cost more than $100,000!
If the thought of paying a huge fine isn't enough, there are still more reasons for getting your lift workers OSHA trained and certified. For one, it's the law. All aerial lift workers must have their Phoenix aerial lift certification before they can legally work on lifts. If you use lift workers that aren't certified, your company is breaking the law.
Responsible employers only use lift workers who are trained and certified. They do this because it ensures workers have the training and skills to safely operate scissor and aerial lifts. They also do it because it's the right thing to do for their business and their employees.
Being certified benefits your employees as well. Having aerial lift certification in Phoenix:
✓ Enables lift workers to qualify for better and higher-paying jobs
✓ Helps them advance in their careers
✓ Keeps them safe on the job
Why CMO is the Best Choice for Aerial Lift Certification in Phoenix
CMO's Phoenix aerial lift certification and scissor lift certification courses are ideal for both employers and employees. As part of our OSHA-approved training package you receive:
✓ Anytime Training
All CMO courses are taken are online, which makes them available any time your workers want to take them. All they need is a computer or mobile device and an Internet connection. They can access the training materials at any time, and take the course at their convenience.
✓ Full Compliance
Our Phoenix aerial lift certification program is designed to comply with all OSHA guidelines. It includes everything from safe operation to how to spot work hazards, conduct aerial lift inspections and much more. We always keep the courses up to date with the latest OSHA safety guidelines for aerial and scissor lifts.
✓ Enhanced Productivity
Every business wants productive workers. With CMO aerial lift training, you'll have fewer accidents, which means less downtime for employees and equipment. You'll spend less time cleaning up after accidents. Work won't be interrupted by having to investigate the cause of accidents. Operating aerial lifts in a safe manner makes everyone on the job site more efficient.
✓ Save Time and Money
A poorly maintained aerial or scissor lift is more likely to have mechanical problems. Lifts with problems are more likely to require repairs or cause accidents. CMO's aerial lift certification Phoenix courses teach workers how to inspect and repair aerial lifts. This saves money and cuts losses in productivity due to out-of-service equipment.
✓ Certification Documentation
Accidents can still happen with certified workers. After all, we don't live in a perfect world. If an accident does happen, CMO training includes the documentation to show OSHA you have upheld your employer's responsibility to comply with their guidelines for training and certification.
✓ A Culture of Safety
When all lift workers have their Houston aerial lift certification, it creates a "culture of safety" throughout your entire business. Lift operators pay more attention to safety while on the job. Other workers become more aware of safety procedures when working on or near aerial lifts. This results in fewer accidents, less damage to equipment, and a safer job site.
How to Provide Aerial Lift Certification in Phoenix For Your Employees
Enrolling in Phoenix aerial lift certification with CMO is quick and easy.
1. First, register your company through the CMO website. There is no fee to register.
2. Then register each lift worker and assign them passwords and usernames.
3. To take the training, have workers log into their accounts using a computer or mobile device.
4. Once logged in, workers proceed with the training at their own pace. Most finish in about an hour.
5. After completing the training course, workers download and print their temporary operator cards. They receive a permanent one in the mail within a few weeks.
Once your safety manager determines the worker can safely operate an aerial lift, he or she is ready to start working!
If you need more reasons for enrolling your workers in CMO aerial lift training, consider the following:
✓ CMO has a 100% pass rate.
✓ The cost is only $75 per student.
✓ Our online training eliminates the time and expense of sending workers to off-site training.
✓ With CMO, the 3-year renewal training (as required by OSHA) is free for life!
We also offer a Train the Trainer program. This certifies one or more operators within your company to train other workers how to safely operate aerial and scissor lifts.

Sign Up Today!
Why wait? Enroll your lift workers in CMO's Phoenix aerial lift certification and training program and they can be certified in as little as one hour!
For more information, contact us online or call us at 602-277-0615 to speak with a CMO team member. Get started today on the road to a safer, more productive workforce, and full compliance with OSHA aerial lift regulations.