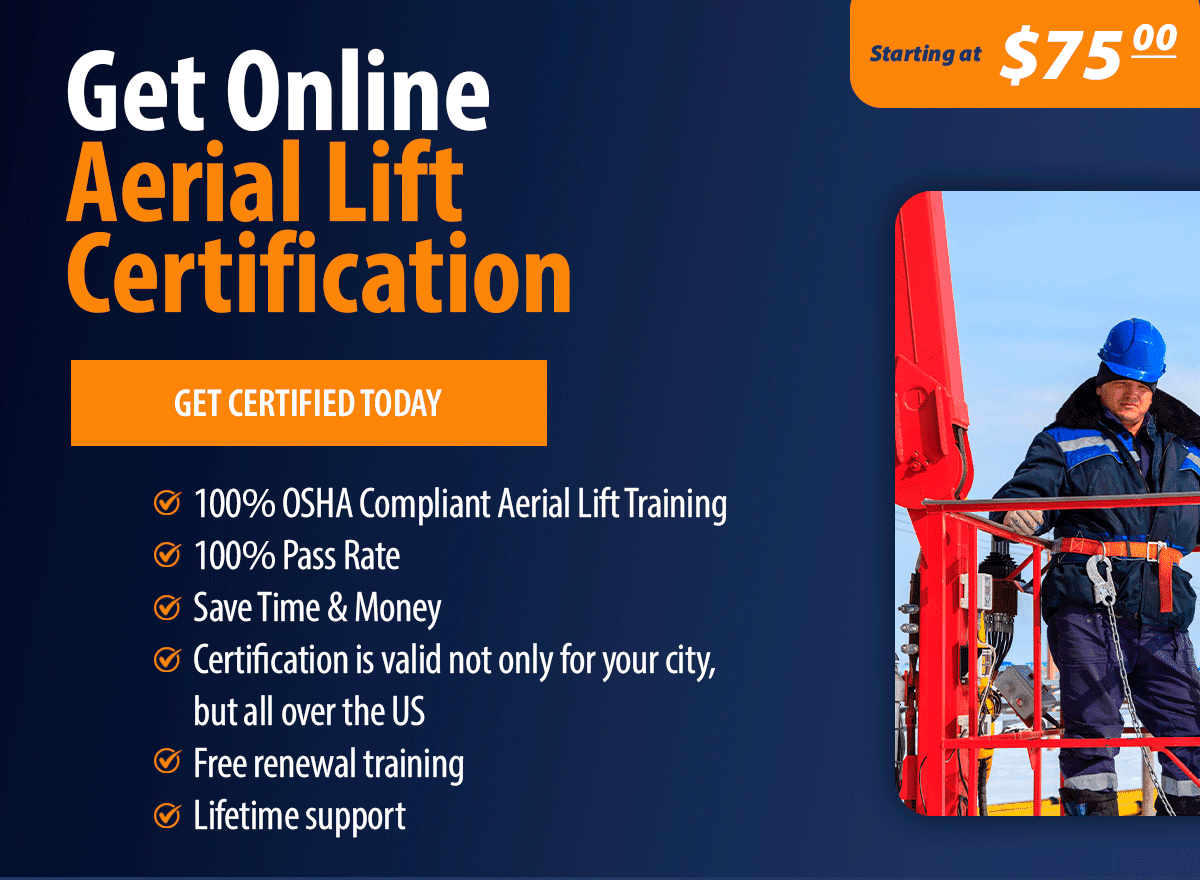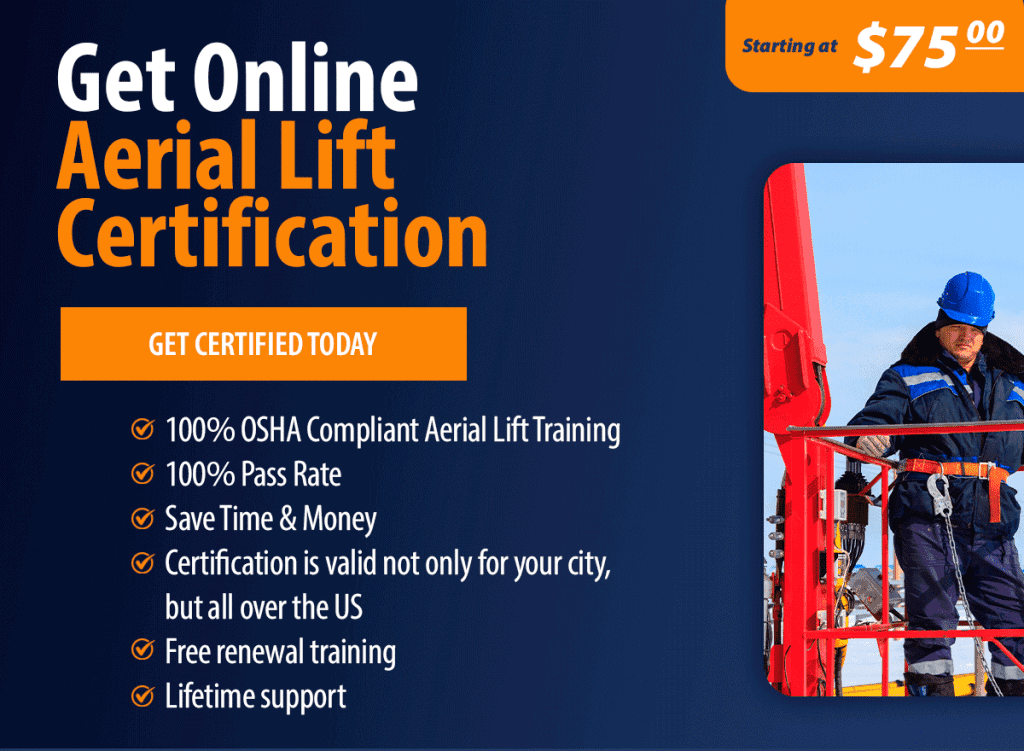 According to OSHA guidelines, employers are required to give their workers training for any employee who runs cherry pickers, man lifts, mobile elevating work platforms (MEWPs), aerial work platforms (AWPs), scissor lifts, and similar equipment.
That's a challenge for many safety supervisors. It's tough keeping up with OSHA regulations, and besides, what exactly do workers need to know about running aerial lifts? And what about updated safety rules?
With CertifyMeOnline.net, we put aerial lift certification in Phoenix in your control. Our courses are priced for tremendous value, and we have an excellent customer service group to make sure you're always on track. Think Phoenix aerial lift certification online is difficult? Think again with CMO – we're the #1 option for complete OSHA compliance, and we'll show you how to get aerial lift certified in Phoenix!
CMO's Phoenix aerial lift certification starts with our Operator Training course, which is only $75. It's the ideal course for new workers, experienced aerial lift drivers, and everyone in between. If you'd like one of your employees to handle your aerial lift certification in Phoenix, sign up for our Train the Trainer certification for just $149. You'll always have a competent person to handle your OSHA training requirements.
As the cost of non-compliance increases, there's never been a better time to register with CMO!
How to Get Aerial Lift Certified in Phoenix
Here's how easy it is to get aerial lift certification in Phoenix:
Get registered online. Just make login IDs for your company and each worker.
Coursework online. Your employees can access our coursework anytime. They'll learn how to avoid accidents, helpful OSHA safety guidelines, and more – and it's available with the click of a mouse.
Skills test and on-site evaluation. This critical step in online Phoenix aerial lift certification is where your employees take what they've learned online and apply it while running your aerial lift.
Print credentials. In about one hour from start to finish (don't worry, some students will take longer), you can print aerial lift licenses and they're ready to work!
After 3 years, your aerial lift certification in Phoenix expires. However, CMO has you covered with FREE 3-year recertification training.

Advantages of CMO's Phoenix Aerial Lift Certification
Experience training the way it was meant to be with CMO! We give you:
✓

Liability protection. Did you know some OSHA fines can go up to $100,000 and beyond? But the most costly penalties are avoided if you have proof of training with CMO.

✓

Complete compliance. With CMO, you'll have the peace of mind that comes with a fully compliant aerial lift fleet. From regular AWPs to more specialized models like scissor lifts, our training covers every make & model!

✓

When OSHA updates, so does our training: OSHA safety rules can change. And when they do, CMO's courses reflect any important updates.

✓

Awesome prices. Aerial lift certification in Phoenix shouldn't break your budget. Check out our pricing page to see how affordable compliance is with the leader in Phoenix aerial lift certification online.

Phoenix Aerial Lift Certification FAQs
Some FAQs we typically receive on aerial lift certification in Phoenix include:
Do you have more courses besides Operator Training and Train the Trainer?
Besides our two main courses, we have special training like fall protection, HAZWOPER, HAZCOM, and more. Visit the CMOcourse catalog and pick what you need.
What if I have questions about Phoenix aerial lift certification?
Just contact us! Our staff has the expertise and knowledge to guide you at all times.
Will your Operator Training take care of all my AWP operators?
Yes, regardless of skill level, our main training for Phoenix aerial lift certification is flexible enough to account for anyone in your aerial lift fleet.
Make the right move and improve your safety program today register with CMO for the best aerial lift certification in Phoenix!

Ready to Get Your Phoenix Aerial Lift Certification?
If you're eager to enroll your employees in CMO's Phoenix aerial lift certification program, there's no need to wait. Our training program is available online, allowing workers to get certified in about an hour's time. Whether you're hoping to certify individual workers or Train a Trainer, CMO has the course offerings you need to bring your organization in compliance with OSHA regulations. 
For more information, contact us online or call us at 602-277-0615 to speak with a CMO team member. Get started today on the road to a safer, more productive workforce, and full compliance with OSHA aerial lift regulations.