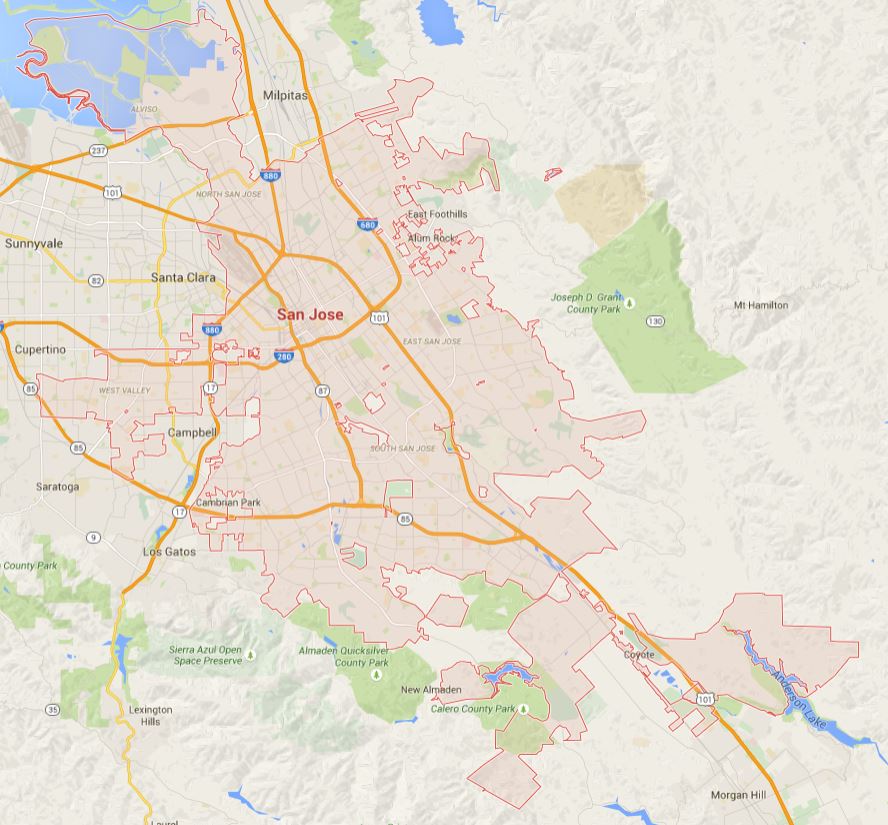 With a population of more than one million people, San Jose is California's third largest city. It's also the tenth largest in the US. San Jose is the seat of Santa Clara County, which is the home of Silicon Valley and is the West Coast's most affluent county. According to the Brookings Institution, Santa Clara County has the world's third highest GDP after Zurich, Switzerland and Oslo, Norway. This affluence is due primarily to the booming tech industry.
The phenomenal growth of the high tech and electronics industries have transformed San Jose from what was once an agricultural center into a world class metropolitan area. It's now a cultural, political and economic center that's been dubbed the "Capital of Silicon Valley".
Within easy reach of San Francisco and Marin County, things to see and do in San Jose include the Downtown Historic District with the De Anza and Sainte Claire Hotels, both of which are on the National Register of Historic Places. Cultural attractions include the Tech Museum of Innovation, the Children's Discovery Museum, and the San Jose Repertory Theater. It's also home to numerous musical and theatrical performing art companies and several art museums.
If you've been thinking about moving to San Jose but aren't interested in a career as an IT technician or being an office worker, you'll find plenty of opportunities to work as an aerial lift operator. If this interests, you read on to find out more about getting a job in this exciting and rewarding field by becoming a certified aerial lift operator in San Jose.
Why Get San Jose Aerial Lift Certification?
Being at the center of innovation and technological advancements, San Jose continues to grow and expand, and along with it, job opportunities in construction and maintenance. Businesses will only consider working with companies whose aerial lift operators are properly trained and individual operators who are certified. Without aerial lift certification in San Jose, you'll miss out on some great opportunities. CertifyMeOnline.net offers San Jose aerial lift training and certification that will help you stand out from the crowd in a very competitive market.
Aerial Lift Jobs in San Jose
With its diverse base of businesses and organizations, you're sure to find an aerial lift operator job in San Jose that you enjoy. These include being a scissor lift operator, arborist, electrical worker, window washer, sign installer, maintenance crew member, aircraft mechanic and an entertainment event employee to name just a few.
To give you an idea of some recent aerial lift job operator openings in San Jose, check these out:
– Tree Trimmer, DL Union Utility Tree Service
– Field Mechanic, H&E Equipment Services
– Groundskeeper, San Jose/Evergreen Community College District
– Electrician, City of San Jose
– Fiber Optic Cable Splicer, MasTec Utility Services Group
– Aircraft Mechanic/Washer, San Jose International Airport
Becoming a certified aerial lift operator will open the door to these and hundreds of similar jobs in the San Jose area. Your OSHA-approved training and certification will appeal to employers and set you apart from other applicants.
How to Get San Jose Aerial and Scissor Lift Training
CMO's aerial lift equipment industry knowledge and in-depth familiarity with OSHA regulations will help you or your company excel. San Jose aerial lift training gives independent contractors, employees, and employers peace of mind in knowing that their operators have the education, training and certifications to get the job done safely. With CMO training, you'll have the knowledge, skills and tools needed to advance your career.
OSHA takes safety seriously. If you or your company lack proper San Jose aerial lift training and certification, you could have serious legal problems. With CMO San Jose aerial lift training and certification, you'll gain the knowledge and ability to safely handle aerial lifts in San Jose. You'll also protect yourself against the legal and financial consequences of OSHA safety violations.
Why Choose CMO for San Jose Aerial Lift Operator Certification?
Whether it's for yourself or an entire team of operators, it's easy to get San Jose aerial lift operator certification. CertifyMeOnline.net's certification process is simple, streamlined and fast. You can complete the OSHA-compliant aerial lift certification training in San Jose at your convenience using your computer or smartphone. To top it off, we also provide free three-year renewal training to keep you and your workforce up to date on the latest OSHA regulations. OSHA looks for gaps in training, so make sure you have the required paperwork to confirm your renewal training.
Ready to start your aerial lift operator training in San Jose? Click here to get started today! We'll provide all the information and guidance you'll need to get your aerial lift certification in San Jose.
San Jose Aerial Lift Operator Classes
Our two main types of certifications are for aerial lift and scissor lift operators, which cost $75 each. We also provide the following San Jose online training and certification courses:
All CMO courses are OSHA compliant. Most can be completed online in 60 minutes, and are available in both English and Spanish.
Enroll today for aerial lift or scissor lift certification in San Jose or any other CMO OSHA approved training courses, and you can be certified in as little as one hour! Questions? Contact us  online or call us at 602-277-0615 for more information.