Operating aerial lifts or scissor lifts, which are categories of Mobile Elevated Work Platforms, or MEWPs, is a well-paying and highly rewarding career. Before workers can get a job and start collecting paychecks, however, they will need to demonstrate to prospective employers that they're capable of safely operating the equipment.

Employer's Responsibility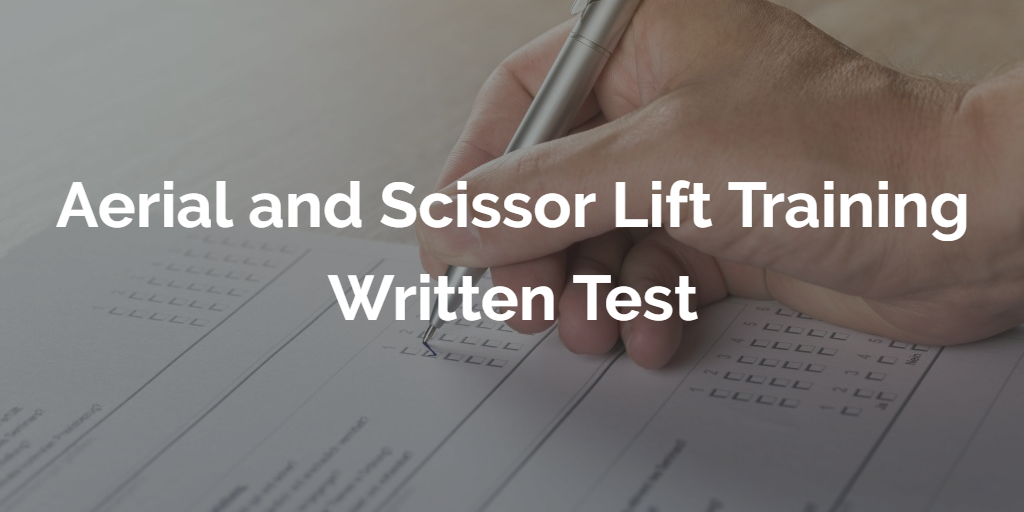 If you're an employer, it's your responsibility to make sure your employees are properly trained and familiar with the latest OSHA requirements. For a complete list of aerial lift and scissor lift training requirements, see OSHA Standard 1926.453.
Accident investigation is one of OSHA's main tasks, and they take it seriously. If an employee operating an aerial lift is involved in an accident at your workplace, OSHA will ask the employer for evidence that the employee has taken and passed aerial lift or scissor lift written training tests. With CertifyMeOnline.net's aerial lift and scissor lift online training, it's easy for everyone involved to become OSHA compliant. Whether you or your employees are preparing to take the scissor lift written test or just want to brush up on scissor lift safety, CertifyMeOnline.net is the only training you'll need.
What the Aerial and Scissor Lift Training Test Includes
Before being legally allowed to operate a scissor lift or aerial lift, employees will need to pass both a written test and an operator skills evaluation. Here are some of the topics the aerial and scissor lift training written tests will cover:
• Basic Operating Techniques – Common sense ways to safely operate scissor lifts and aerial lifts
• Operating Near Overhead Electrical Hazards – Avoiding accidents when operating MEWPs near or beneath power lines, cell phone towers and other overhead threats
• Basics of Fall Protection – Requirements for using guard rails, harnesses. Lanyards and other safety devices to prevent falls
• Safely Maneuvering MEWPs – Avoiding potential hazards while the vehicle is in motion
• Accident Prevention – Recognizing potential pitfalls that could result in accidents and injuries
• OSHA Standards – Overview of OSHA safety requirements currently in effect
• And More
Here are a few examples of the type of scissor lift training test questions you'll be asked, along with the answers:
Q. Having the lift's platform extended while exposed to the wind, will ___________ the stability of the machine.
A) Decrease
B) Increase
C) Have no effect on
D) Make it possible to get more work done
A. A) – Decrease
Q. Aerial platforms are meant to be operated on __________________ surfaces.
A) Rocky
B) Uneven
C) Wet
D) Firm and level
A. D) – Firm and level
Q. Which of the following conditions is most likely to result in a tipping hazard while operating aerial lift?
A) Damage tires or low tire pressure
B) No fire extinguisher
C) No operator's manual present
D) It is not possible for an aerial lift to tip over
A. A) Damage tires or low tire pressure
Preparing for the Aerial Lift and Scissor Lift Test
CertifyMeOnline.net's online training will thoroughly prepare you or your employees for taking the aerial lift and scissor lift written tests.  Here are a few other suggestions for getting ready to take the exams:
• Visit OSHA's website. The official OSHA website has a wealth of information related to aerial lift and scissor lift training, operation and safety, including some content that will be in your scissor lift written
• Try to relax. CMO's scissor lift written tests and aerial lift training courses have been specifically designed to help workers learn important safety concepts and procedures at their own pace rather than penalizing them for not having given the right answers the first time. If there's a problem, just try again!
• Talk to a scissor lift or aerial lift operator. It's hard to beat first-hand knowledge from those who've actually been there. Before taking the scissor lift training exam, spend some time speaking with someone who currently works in the field. You'll be amazed how helpful this can be in getting ready to take the scissor lift written test. It's almost as if they know the questions that will be asked on the training exam, along with the correct answers to those questions!
• Visit some aerial lift and scissor lift websites. Check out the equipment specs and online reviews for manufacturers such as JLG, Haulotte, Nifty Lift, Reach Master, and other aerial lift and scissor lift makers.

Train with CMO and Receive Your Aerial Lift Certification Today
Our OSHA-approved training will prepare you or your employees to take the aerial lift training and scissor lift training written test with confidence. Sign up with CMO today to take the guesswork out of receiving your aerial lift operator, scissor lift operator or other OSHA certification.  In addition to scissor lift and aerial lift training, here are some of the other certification programs offered by CMO:
• Class 7 Vehicle Safety Training. Our OSHA-approved Class 7 training includes operating both electric and internal combustion-powered forklifts over rough or uneven
• Train the Trainer Program. This is a great way for having an employee become your company's safety coordinator and main point of contact with After completing the program, the designated employee will be qualified to train and evaluate other company employees.
• Fall Protection. This program covers the proper use of safety harnesses, lanyards, and other pieces of fall protection equipment.
All CertifyMeOnline.net classes are designed specifically to help students prepare for and pass the aerial lift and scissors lift written tests. CMO's affordable prices mean you and your employees can receive OSHA-compliant aerial and scissor lift training without breaking the bank!
Planning on enrolling in aerial lift and scissor lift written exams soon? The right way to begin is to contact CMO. Our proven methods mean you'll receive the best OSHA-approved training available to prepare you or your employees for taking the exam. To get started today, enroll online or call us at 602-277-0615 – you'll be glad you did!