What Are the Best Aerial Lift Accessories?

Aerial lift accessories serve many purposes. Some accessories increase aerial lift safety. Others help operators work comfortably at heights. Various accessories enable operators to become more productive and efficient than ever before, too. 
Your business can browse and purchase spill guards, tool trays, and other accessories for aerial lifts. But some of these accessories are essential. Meanwhile, other accessories are not. 
Many aerial lift accessories are available to help your workers get the most value out of your aerial lift. Yet, the sheer volume of available boom lift accessories can make it difficult to determine which ones are necessary.
Ultimately, it is your company's responsibility to figure out what accessories its aerial lift operators need to complete everyday tasks safely. Now, let's answer some of the biggest questions surrounding aerial lift accessories, so your business can determine which ones are essential for your operators.

What Aerial Lift Accessories Do Your Workers Need?
Here's a look at modern aerial lift accessories and how they can help you improve aerial lift performance and safety.
1. Secondary Guarding System
The Genie Lift Guard™ Contact Alarm is an optional electronic secondary guarding solution. It works when an obstruction makes contact with a Genie lift to alert the operator, occupants, and ground personnel about the incident.
To use the alarm, an operator only needs to press down on the device's footswitch. At this point, the alarm is activated, and it will deliver notifications. Meanwhile, to reset the alarm, an operator can click the device's activation cable into place.
Installation of the alarm usually takes less than 30 minutes, and it requires a few fasteners and electrical harness connectors. Upon completion, the alarm will continue to perform consistently — and help lower the risk of aerial lift accidents.
2. Platform Mesh
Genie Lift Guard™ Platform Mesh is quickly becoming a must-have for those who need aerial lift accessories. The mesh provides a screen that helps prevent objects from falling at aerial worksites.
The platform mesh is fully encapsulated at the aerial lift platform's top rail to beneath the bottom. Also, the mesh is constructed from durable materials, so it can withstand rain, wind, and other harsh weather conditions.
Typical installation of the platform mesh requires about 10 minutes. After the mesh is installed, it can help reduce the risk of objects falling from an aerial lift that otherwise can endanger workers, bystanders, and property.
3. Bucket Hanging Step
In terms of boom lift accessories, a bucket hanging step is crucial. It provides a hanging, repositionable step that enables workers to get in and out of a bucket on a bucket truck.
A hanging step slips right onto the lip of a bucket to provide workers with a step that helps improve stability and prevent falls. It can fit onto buckets made with or without liners and is constructed with multiple layers of fiberglass to ensure strength and durability.
To install a hanging step, put the step over the bucket lip on the inside or outside of the bucket. Reposition the step when entering or leaving the bucket, and you can continuously use the step safely.
4. Pipe/Rebar Rack or Board Carrier for Scissor Lifts
Scissor lift accessories can deliver exceptional results — just consider the DRX multi® materials attachment from British company Aerial and Handling Services. 
Specifically designed for scissor lifts, DRXmulti® looks like a metal bar fitted with four vertical metal bars that attach to the side of a scissor lift. It is designed to hold tools and piping to free up space on an aerial lift platform and reduce trip hazards for workers. 
DRXmulti® can be installed on any scissor lift make and model of scissor lifts. The device also weighs about 30 lbs., and it can be positioned in under 5 minutes and removed in less than 60 seconds.
What Aerial Lift Bucket Accessories Do Your Workers Need?
Along with aerial lift accessories, you can purchase or rent bucket accessories. Popular aerial bucket accessories include:
1. Tool Holder
A tool holder makes it simple for an aerial lift operator to keep essential tools at arm's length. Most tool holders are water-repellent and resistant to the sun's ultraviolet (UV) rays. Plus, they offer ample space for anchors, clamps, drill bits, and other tools.
2. Cover
A cover offers protection to aerial lift operators who complete tasks outdoors. The cover safeguards lift operators against extreme sunlight or excessive rain. A typical cover can be set up in less than a minute, and it ensures that aerial lift operators can work safely and comfortably in a wide range of weather conditions.
3. Chainsaw Holder
A chainsaw holder lets an aerial lift operator mount their standard or hydraulic pistol grip chainsaw to a bucket. It can simultaneously extend the life of a chainsaw blade and ensure a lift operator can safely use a chainsaw at heights.
Evaluate aerial bucket accessories to determine which ones are suitable for a worksite. Next, you can pick up bucket accessories to help aerial lift operators perform day-to-day tasks safely and effectively.
Can You Rent Accessories for an Aerial Lift?
Aerial lift accessories are available for rent, including:
1. Personal Fall Arrest System
A personal fall arrest system enables an aerial lift operator to walk outside of the platform. The system includes a body harness, anchorage, and connector. Together, these components help limit an aerial lift operator's fall distance and their body's deceleration force if he or she slips or trips. 
2. Glass and Panel Tray Kit
A glass and panel tray kit enables aerial lift operators to safely store glass and panels outside of a lift. In doing so, the kit helps protect glass and panels from bumping into the lift or cracking or falling.
3. Gravity Assist Tool Support Arm
A gravity assist tool attachment attaches directly to an aerial lift and helps an operator use power tools to complete tasks at heights. The attachment holds a power tool in place to reduce the risk that an operator will drop the tool or get injured from strain.
Aerial lift accessory rental costs vary, and you may be charged a daily, weekly, or monthly rate, depending on how long you need various accessories.
Tips for Choosing Boom Lift Accessories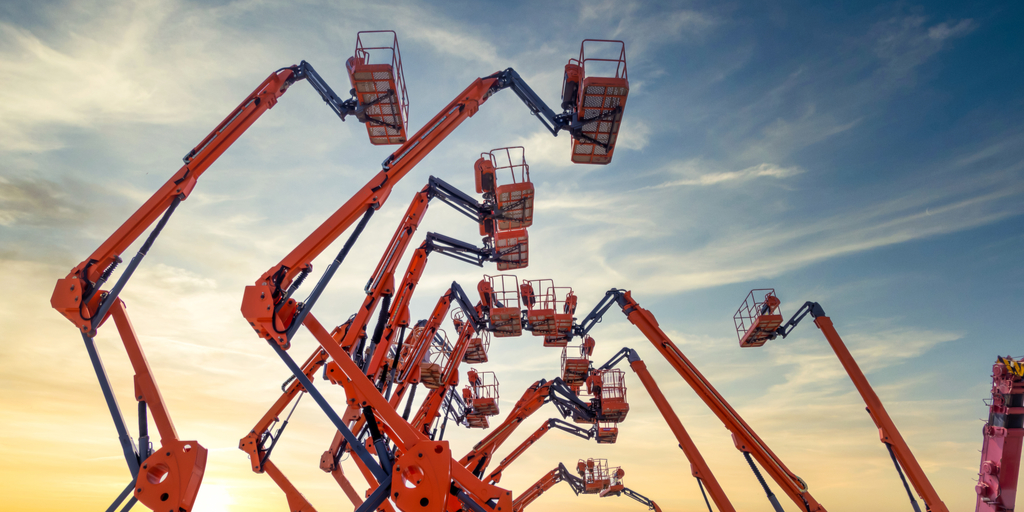 The aforementioned accessories for aerial lifts can be valuable if you know how to use them properly. However, you must consider your worksite requirements before you invest in boom lift accessories, so you can select the right accessories for your job.
In addition, it is paramount to consider the wellbeing and safety of all workers, regardless of whether they will be using aerial lift accessories. A workplace accident can have far-flung effects on workers, and you need to evaluate scissor lift accessories and other types of accessories accordingly.
With any boom lift accessories you buy, they must be properly installed and maintained as well. Otherwise, if an accessory does not perform correctly, it can increase the risk of on-the-job accidents.
The accessories you purchase for your aerial lift are vital for workers. If you plan to buy accessories, perform a thorough evaluation and look beyond an accessory's price.
You should also provide workers with instructions that teach them how to use aerial lift accessories. If workers receive aerial lift accessory training, they can use different accessories to improve their performance and limit on-the-job accidents.
How to Teach Workers About Scissor Lift Accessories Safety
Accessories for aerial lifts include instructions. And aerial lift operators must review these instructions before use. This ensures operators know how to correctly utilize accessories from the get-go. It also confirms operators understand how to maintain accessories and get the most value out of them. 
If there are any concerns or questions regarding proper use of accessories for aerial lifts, seek out assistance. Generally, an accessory manufacturer can offer assistance. It can be helpful to get in touch with an accessory supplier as well. 
Meanwhile, if an aerial lift accessory looks worn down or damaged, workers should err on the side of caution. At this point, a worker should notify their supervisor and ensure the accessory is taken out of use. The accessory can then be repaired or replaced. Furthermore, there is no risk that a defective accessory could put an aerial lift operator or others in danger. 
Aerial lift certification training can play an important part in a workplace safety program, too. By enrolling workers in OSHA-approved aerial lift certification training, they can learn about different types of accessories. These workers can then earn aerial lift certification and guard against aerial lift hazards.  

Capitalize on Aerial Lift Certification Training
Aerial lift operators must have a valid license to work at any U.S. jobsite. Thanks to OSHA-approved aerial lift certification training, a worker can earn this license. Next, this worker can operate an aerial lift in alignment with OSHA standards. He or she should have no trouble safely using accessories for aerial lifts, too. 
When it comes to scissor lift accessories, safety is critical. Aerial lift accessories safety training is available from CertifyMeOnline.net, a leading provider of aerial lift safety training programs.
We offer comprehensive aerial lift safety training courses designed for workers of all experience levels. Each course teaches workers about aerial lift safety, and it provides tips and strategies they can use to enhance on-the-job safety.
Our course catalog includes aerial lift, fall protection, and scissor lift certification offerings. We also provide a Train the Trainer program and hands-on training for aerial and scissor lifts. There is even forklift certification training available from CertifyMe.net, our sister site. 
To learn more about our aerial lift safety training courses, please contact us online or call us today at (602) 277-0615.